Aitutaki, Cook Islands by Christoph Burgdorfer on Unsplash.
Travel Notes: Oceania - Cook Islands Travel Notes.
Short URL: https://tnot.es/CK
Cook Islands Travel and Tourism on Travel Notes

Find Cook Islands Travel and Tourist Information with links to official travel and tourism websites and state resources for visitors to the Cook Islands.
About Cook Islands
The Cook Islands are self Governing; in free association with New Zealand.
Cheap Hotels and Hostels in Cook Islands.
Consisting of 15 islands in the South Pacific, the administrative centre is the port of Avarua, on Rarotonga.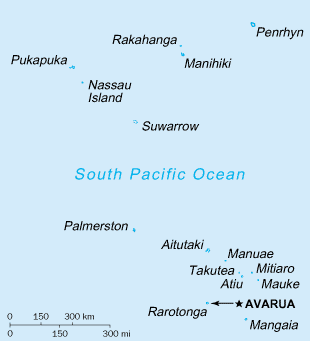 The population of an average provincial town peoples an area the size of a sub-continent.
Although these friendly Polynesians share the same language, their islands are very different.
Even with 50,000 foreigners a year visiting the capital island, Rarotonga, the Cook Islands have not been prostituted to tourism.
Urban dwellers may well be in for a shock here. The pace is slow, and you can forget about hailing a cab.
History:
Oh to have lived on the islands in innocence, before the arrival of the Europeans. Did the Maori migrations to New Zealand start from Rarotonga?
Weather in The Pacific:
Local weather forecasts for destinations around the Pacific region.
Cook Islands Travel - Cook Islands Maps.
The Southern Group of the Cook Islands are mostly mountainous and volcanic in origin.
These are: Rarotonga, Aitutaki, Atiu, Mangaia, Mauke, Mitiaro, Manuae, and Takutea.
Cook Islands Geographically:
Find out where they are in the world, and where the outlying islands are in relation to Rarotonga.
How to Get There:
Flying in is the choice of many, although a sea voyage is the stuff of legends.
Rarotonga:
The capital island is the one most visitors arrive at.
Sea Change Rarotonga:
Luxury Cook Island beach bungalow accommodation, with self-contained villas perfect for resort style vacations or honeymoons.
The Northern Group are more low-lying coral islands and include: Pukapuka, Tongareva (also called Penrhyn), Manihiki, Palmerston, Rakahanga, Suwarrow, and Nassau.
Cook Islands Hotels
Accommodation on Rarotonga
Hotel Resorts around Titikaveka and Muri.

Travel Notes Online Guide to Travel
The Travel Notes Online Guide to Travel helps visitors plan their trip with country and city travel guides, local tourist information, reviewed web sites, and regular travel articles.

Join Michel on Meta-Travel.

Airlines and Airports.

Add a Business Listing - Add a Destination - Add a Place to Stay - Add URL.



Affiliates - Oceania Tourism - Oceania Travel Websites.
If you find Travel Notes useful, please take a moment to like us on Facebook and share with your friends on social media.