Travel to Spain:
Spain tourist information with details about travel to and around the country. Where to stay and what to see is made easier with insider tips and hand-selected Spain links, by dedicated editors and visitors to TravelNotes.org - The Online Guide to Travel.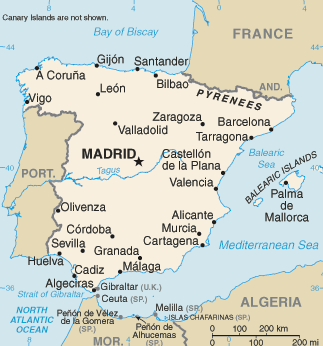 The capital of Spain is Madrid.
The flag of Spain has three horizontal bands of red, yellow (double width), and red with the national coat of arms on the hoist side of the yellow band. The coat of arms includes the royal seal framed by the Pillars of Hercules, which are the two promontories (Gibraltar and Ceuta) on either side of the eastern end of the Strait of Gibraltar.
Spain's powerful world empire of the 16th and 17th centuries ultimately yielded command of the seas to England.
Subsequent failure to embrace the mercantile and industrial revolutions caused the country to fall behind Britain, France, and Germany in economic and political power.
Spain remained neutral in World Wars I and II, but suffered through a devastating civil war (1936-39). A peaceful transition to democracy following the death of dictator Francisco FRANCO in 1975, and rapid economic modernization (Spain joined the EU in 1986), have given Spain one of the most dynamic economies in Europe and made it a global champion of freedom. Continuing challenges include Basque Fatherland and Liberty (ETA) terrorism and relatively high unemployment.
Geographically
Southwestern Europe - bordering the Bay of Biscay, Mediterranean Sea, North Atlantic Ocean, and Pyrenees Mountains; southwest of France.
Administrative Divisions
2 autonomous cities:
(ciudades autonomas, singular - ciudad autonoma)
Ceuta; Melilla.
17 autonomous communities:
(comunidades autonomas, singular - comunidad autonoma)
Andalucia; Aragon; Asturias; Baleares (Balearic Islands); Canarias (Canary Islands); Cantabria; Castilla-La Mancha; Castilla y Leon; Cataluna; Comunidad Valenciana; Extremadura; Galicia; La Rioja; Madrid; Murcia; Navarra; Pais Vasco (Basque Country).
Note:
The autonomous cities of Ceuta and Melilla plus three small islands of Islas Chafarinas, Penon de Alhucemas, and Penon de Velez de la Gomera, administered directly by the Spanish central government, are all located along the coast of Morocco and are collectively referred to as Places of Sovereignty (Plazas de Soberania).
Independence
The Iberian peninsula was characterized by a variety of independent kingdoms prior to the Muslim occupation that began in the early 8th century AD and lasted nearly seven centuries; the small Christian redoubts of the north began the reconquest almost immediately, culminating in the seizure of Granada in 1492; this event completed the unification of several kingdoms and is traditionally considered the forging of present-day Spain.
National Holiday
National Day: 12th October.

Add a Business Listing - Add a Destination Guide - Add a Place to Stay.



If you find Travel Notes useful, please take a moment to like us on Facebook and share with your friends on social media.