Quick Links
Argentina Cities, Argentina Culture, Argentina Hotels, Argentina News, Argentina Regions, Argentina Skiing, Argentina Tourism, Argentina Tours, Bariloche, Buenos Aires, Business Corner, Learning Spanish, Patagonia.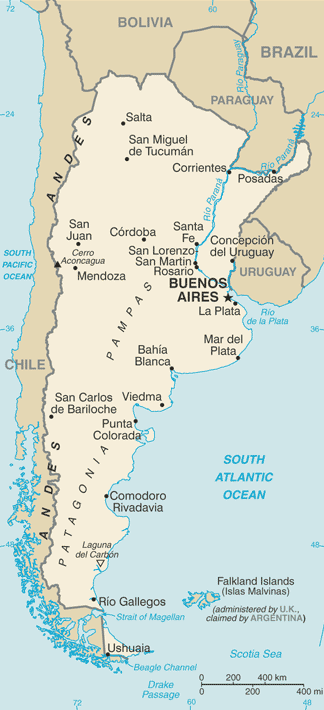 The capital of Argentina is Buenos Aires.

The flag of Argentina is three equal horizontal bands of light blue (top), white, and light blue; centred in the white band is a radiant yellow sun with a human face known as the Sun of May.
The colours represent the clear skies and snow of the Andes; the sun symbol commemorates the appearance of the sun through cloudy skies on 25th May, 1810 - during the first mass demonstration in favour of independence.


The sun features are those of Inti, the Inca god of the sun.
In 1816, the United Provinces of the Rio Plata declared their independence from Spain.
After Bolivia, Paraguay, and Uruguay went their separate ways, the area that remained became Argentina.
The country's population and culture were heavily shaped by immigrants from throughout Europe, but most particularly Italy and Spain, which provided the largest percentage of newcomers from 1860 to 1930.
Up until about the mid-20th century, much of Argentina's history was dominated by periods of internal political conflict between Federalists and Unitarians and between civilian and military factions.
After World War II, an era of Peronist populism and direct and indirect military interference in subsequent governments was followed by a military junta that took power in 1976.
Democracy returned in 1983 after a failed bid to seize the Falkland (Malvinas) Islands by force, and has persisted despite numerous challenges, the most formidable of which was a severe economic crisis in 2001-02 that led to violent public protests and the successive resignations of several presidents.
Geographically
Southern South America - bordering the South Atlantic Ocean; between Chile and Uruguay.
Administrative Divisions
23 provinces:
(provincias, singular - provincia)
Buenos Aires; Catamarca; Chaco; Chubut; Cordoba; Corrientes; Entre Rios; Formosa; Jujuy; La Pampa; La Rioja; Mendoza; Misiones; Neuquen; Rio Negro; Salta, San Juan; San Luis; Santa Cruz; Santa Fe; Santiago del Estero; Tierra del Fuego - Antartida e Islas del Atlantico Sur; Tucuman.
The US does not recognise any claims to Antarctica.
1 autonomous city:
(distrito federal)
Buenos Aires Capital Federal.
Independence
9th July, 1816 (from Spain).
National Holiday
Revolution Day: 25th May (1810).

Add a Business Listing - Add a Destination Guide - Add a Place to Stay.



If you find Travel Notes useful, please take a moment to like us on Facebook and share with your friends on social media.
South America Index - South America Tourism - South America Websites.