Short URL: https://tnot.es/UY
Uruguay Travel and Tourism on Travel Notes

Find Uruguay Travel and Tourist Information with links to official travel and tourism websites and state resources for visitors to Uruguay.
About Uruguay
Uruguay is the second smallest country in South America; located in the Rio Plata region, between Argentina and Brazil.
Rising in the coastal range of southern Brazil, between Curitiba and Porto Alegre, the river flows west towards Argentina; forming the boundary between the two nations.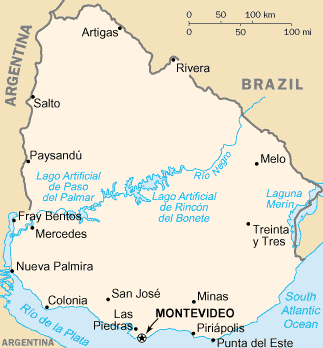 The River Uruguay then runs south, between Argentina and Uruguay and empties into the Rio de la Plata.
Large boats can reach Paysandu and smaller vessels may continue to Salto; 320 km from the river's mouth.
Weather in South America:
Local weather forecasts for destinations around Latin America.
The capital of the Republica Oriental del Uruguay is in the southern part of the country, on the Rio de la Plata; a modern city with the heart of a village and excellent beaches nearby.
Montevideo was founded by the Spanish governor of Buenos Aires, in 1726, to prevent the Portuguese from Brazil extending south and fortifying the strategic heights in the region.
Spanish-Portuguese rivalry continued into the early 19th century, until Montevideo was made the capital of independent Uruguay, in 1828, acting as a buffer state between Spanish Argentina and Portuguese Brazil.
Punte del Este is a popular beach resort.
Also visit the nearby islands of Gorniti and Lobos.
The northern Uruguayan border town of Rivera shares a through street with the Brazilian city of Santana do Livramento.
This is the northern terminus of the Uruguayan railway system and a good place to Enter Brazil.
Uruguay Total:
Directory for sites related to Uruguay. Most of it is in Spanish.
RedUy:
Another Uruguayan directory that is needlessly slowed down with a Java news applet that has nothing to do with Uruguay.
Embassy of Uruguay: (USA)
2715 M st. N.W, 3rd Floor, Washington D.C.. You'll need Java running on your browser to follow their links to further information and related websites.

Add a Business Listing - Add a Destination Guide - Add a Place to Stay.



If you find Travel Notes useful, please take a moment to like us on Facebook and share with your friends on social media.
South America Index - South America Tourism - South America Websites.