If you're browsing through top travel lists for the best travel blogs and travel bloggers try looking at some top destinations in travel blogging from here.
Top travel lists are often ranked by page views, influence, social media likes, or 'you scratch my back and I'll scratch yours'.
In truth, the top travel blogs are a matter of taste; and our tastes are changing all the time. Join me at the top table for a gourmet feast of travel.
I've never been a fan of top ten lists but I know a lot of people are; usually the ones who create and tweet them.
Michel writes the Travel Notes Blog.
Let's Go Travelling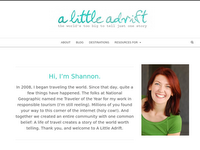 A Little Adrift - by Shannon O'Donnell:


Over the years A Little Adrift has evolved from a pure travelogue into a resource point intended to inspire and encourage other travelers through Shannon's personal stories, advice, and photography.
The Art of Slow Travel - by Denise Pulis:


Denise was born in Malta, lived in Switzerland, moved to Australia and dreams of living in Japan. Until then, Den Den will continue travelling (and living) in different countries around the world until she can find a place to call home.
Regional Directory - Search The Web - Add Your Travel Blog.

If you find Travel Notes useful, please take a moment to like us on Facebook and share with your friends on social media.