Travel to Croatia:
Croatia tourist information with details about travel to and around the country. Where to stay and what to see is made easier with insider tips and hand-selected Croatia links, by dedicated editors and visitors to TravelNotes.org - The Online Guide to Travel.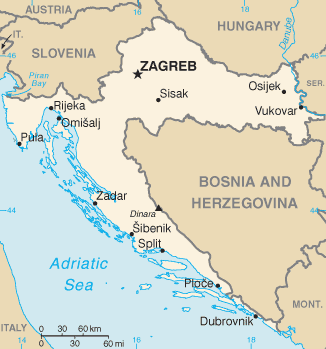 The capital of Croatia is Zagreb.

The flag of Croatia is three equal horizontal bands of red (top), white, and blue superimposed by the Croatian coat of arms (red and white checkered).
The lands that today comprise Croatia were part of the Austro-Hungarian Empire until the close of World War I.
In 1918, the Croats, Serbs, and Slovenes formed a kingdom known after 1929 as Yugoslavia.
Following World War II, Yugoslavia became a federal independent Communist state under the strong hand of Marshal TITO.
Although Croatia declared its independence from Yugoslavia in 1991, it took four years of sporadic, but often bitter, fighting before occupying Serb armies were mostly cleared from Croatian lands.
Under UN supervision, the last Serb-held enclave in eastern Slavonia was returned to Croatia in 1998.
Geographically
South-eastern Europe - bordering the Adriatic Sea; between Bosnia-Herzegovina and Slovenia.
Administrative Divisions
1 city:
(grad - singular)
Zagreb.
20 counties:
(zupanije, zupanija - singular)
Bjelovarsko-Bilogorska; Brodsko-Posavska; Dubrovacko-Neretvanska; Istarska; Karlovacka; Koprivnicko-Krizevacka; Krapinsko-Zagorska; Licko-Senjska; Medimurska; Osjecko-Baranjska; Pozesko-Slavonska; Primorsko-Goranska; Sibensko-Kninska; Sisacko-Moslavacka; Splitsko-Dalmatinska; Varazdinska; Viroviticko-Podravska; Vukovarsko-Srijemska; Zadarska; Zagrebacka.
Independence
25th June, 1991 (from Yugoslavia).
National Holiday
Independence Day, 8 October (1991).
25th June, 1991 is the day the Croatian Parliament voted for independence. Following a three-month moratorium to allow the European Community to solve the Yugoslav crisis peacefully, Parliament adopted a decision on 8th October, 1991 to sever constitutional relations with Yugoslavia.
Find Croatia:
A comprehensive on-line travel guide to Croatia with all the details and information about Croatia a visitor needs to know. This guide includes pages on Croatia art and culture, its museums, architecture and natural beauties, as well as information about hotels in Croatia, holiday accommodations in Croatia and transportation around and travel to Croatia.
Holiday Rentals in Croatia:
One thing that's always popular are the cheap apartments for rent along the coast of Croatia.

Add a Business Listing - Add a Destination Guide - Add a Place to Stay.



If you find Travel Notes useful, please take a moment to like us on Facebook and share with your friends on social media.