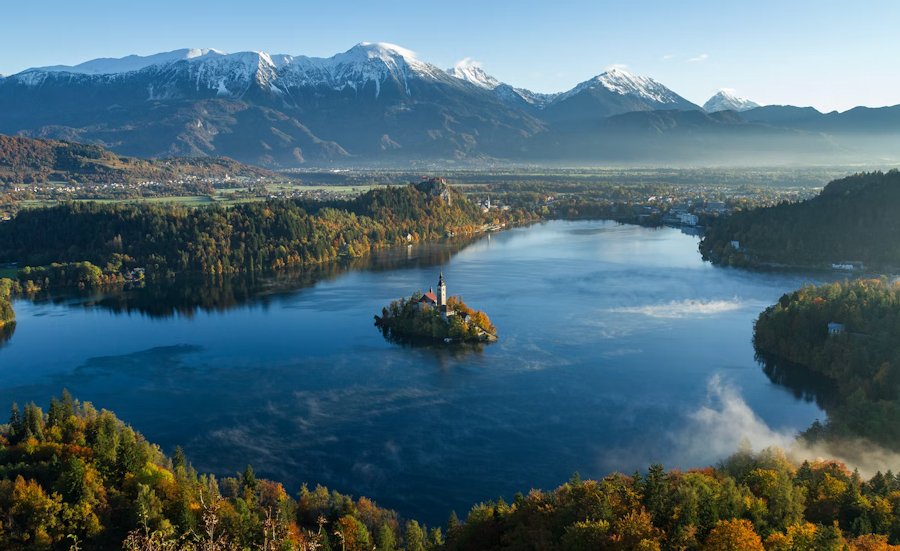 Bled, Slovenia by Neven Krcmarek on Unsplash.
Travel Notes: Europe - Slovenia Travel Notes.


Short URL: https://tnot.es/SI
Slovenia Travel and Tourism on Travel Notes

Find Slovenia Travel and Tourist Information with links to official travel and tourism websites and state resources for visitors to Slovenia.
About Slovenia
From Alpine peaks to the Adriatic coast, Slovenia is a beautiful and diverse country and popular destination for tourists seeking outdoor adventures.
The Julian Alps dominate north-east Slovenia, near the borders of Italy and Austria; with Slovenia's highest mountain, Mount Triglav (2,863 m) located in this area.
The country also has architecturally grand and cultured cities, making it an appealing destination for those interested in history, culture, and urban lifestyle.
Countries neighbouring Slovenia: Italy, Austria, Hungary and Croatia.
Map of Slovenia
Slovenia, formerly a part of the Socialist Federal Republic of Yugoslavia, proclaimed its independence in June 1991.
Slovenia has a very small coastline on the Adriatic.
Slovenia by Car
The best way to get around Slovenia is by car. Just be sure to have a good map.
Slovenia by Train
Ljubljana is easily reached from Venice, Italy, while Trieste is almost in Slovenia itself.
As of January 1st, 2007 Slovenia's official currency became the Euro.
The capital of Slovenia is in the centre of the country, on an ancient East-West trade route.
According to Greek mythology the city was founded by Jason, a prince of Iolcus.
Ljubljana's history includes periods of occupation by the Huns, Magyars, French, Austrians, and Germans.
For nearly 1,000 years, Slovenes have been influenced by Italian, German, and Austrian cultures.
Slovenia has a very limited coastline; around the Italian looking Koper.
The best of the Adriatic Coast is further south, in Croatia.
Maribor, formerly Marburg, is on the Drava River in northern Slovenia, near the border with Austria.
There is an impressive 15th-century castle here, and a 12th-century cathedral but most tourists come to Maribor for the skiing.
Where to Stay in Maribor
The official language of Slovenia is Slovene.
Slovenia Tourism like to promote the country as the 'Green Heart of Europe'.
Sustainable Cycling with Culinary Stops in Slovenia
Nothing brings more pleasure than discovering the local culinary delicacies and hidden culinary gems of Slovenia's Green Gourmet Route, sleeping in boutique family hotels and guest houses, admiring the lush green countryside and feeling the wind in your hair when cycling along forest trails.
TrekTrek Slovenia
The Slovenian mountains are a true pleasure to spend countless hours walking in.
Breathtaking views, peaceful peaks, interesting flora and fauna and excellently maintained mountain huts and trails are a very special reason for Active Holidays in Slovenia.
Slovenia Travel Guides - Slovenia Maps.
Weather in Europe:
Local weather forecasts for destinations around Europe.
Travel Notes Online Guide to Travel
Africa - Asia - Caribbean - Europe - Middle East - North America - Oceania - South America.

The Travel Notes Online Guide to Travel helps visitors plan their trip with country and city travel guides, local tourist information, reviewed web sites, and regular travel articles.
Travel and Tourism Guides on Travel Notes
If Travel Notes has helped you, please take a moment to like us on Facebook and share with your friends on social media.


Travel & Tourism With Industry Professionals.

Spain.