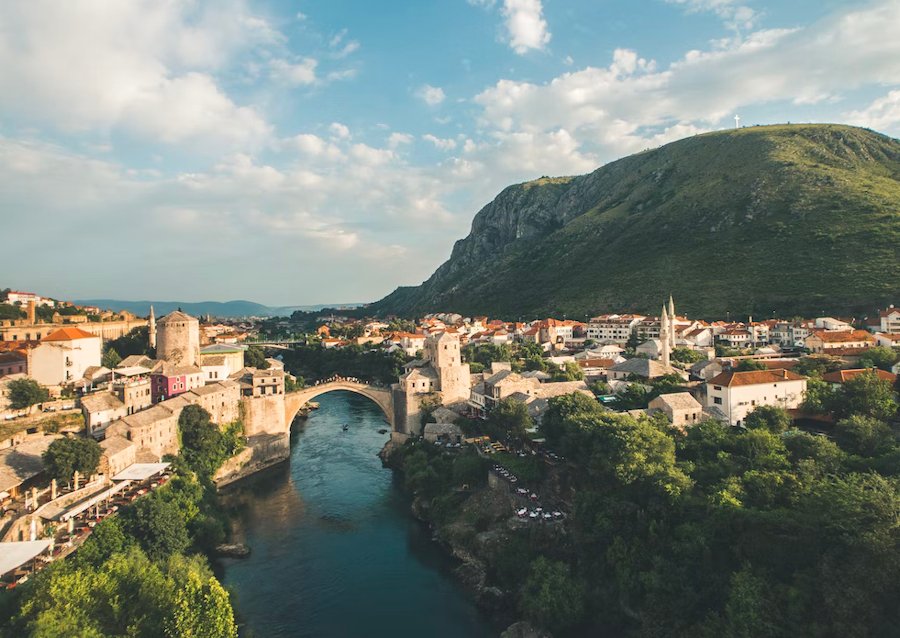 Mostar, Bosnia by Yu Siang Teo on Unsplash.
Travel Notes: Europe - Bosnia-Herzegovina Travel Notes.


Short URL: https://tnot.es/BA
Bosnia-Herzegovina Travel and Tourism on Travel Notes

Find Bosnia-Herzegovina Travel and Tourist Information with links to official travel and tourism websites and state resources for visitors to Bosnia-Herzegovina.
About Bosnia
Bosnia and Herzegovina declared its independence from Yugoslavia in March 1992, and in April 1992 the sovereignty of Bosnia and Herzegovina was accepted by the United States and the European Community.
Map of Bosnia
Countries neighbouring Bosnia:
Serbia, Montenegro and Croatia.
Bosnia Travel Guides - Bosnia Maps.
Weather in Europe:
Local weather forecasts for destinations around Europe.
The first inter-ethnic armed clashes had already taken place around Mostar, on February 4th, 1992, and the European recognition of Bosnian independence only made matters worse.
Bosnia became the centre of one of Europe's blackest memories in modern history as Serbs, Croats, and Muslims all fought to expand or keep their territories within Bosnia, and carve out their own states within a state.
By mid-1995, the majority of the country's land area was held by Bosnian ethnic Serbs, who carried out atrocious ethnic cleansing programmes.
Many empty peace agreements were signed, but even the safe havens in Bosnia could not be adequately protected.
After attacks on the Bosnian Serb capital of Pale, the Serbs took revenge by seizing Srebrenica and Zepa, and systematically killing thousands of their citizens.
Only when 37 citizens were killed by a Bosnian Serb mortar shell hitting a crowded Sarajevo market on August 28, 1995, did public opinion finally force the politicians' hand.
NATO justifiably renewed air attacks on Bosnian Serb targets across Bosnia; it sometimes seems that peacekeeping can only be done by force.
An agreement was signed on December 14, 1995 that formally ended the war.
Bosnia is now a safe place to visit and a very beautiful, somewhat mountainous country to drive around.
Bosnia and Herzegovina is one of the last undiscovered regions of the southern Alps. Vast tracks of wild and untouched nature make it an ideal holiday destination for adventurers and nature lovers alike.
Feel the combination of the east and the west, get to know the diverse culture and fascinating history of Bosnia and Herzegovina.
Visit BiH and see what the heart-shaped land has to offer.
Sarajevo
Travel Notes Online Guide to Travel
The Travel Notes Online Guide to Travel helps visitors plan their trip with country and city travel guides, local tourist information, reviewed web sites, and regular travel articles.

Join Michel on Meta-Travel.

Airlines and Airports.

Add a Business Listing - Add a Destination - Add a Place to Stay - Add URL.



Affiliates - Europe Tourism - Europe Travel Websites.
If you find Travel Notes useful, please take a moment to like us on Facebook and share with your friends on social media.