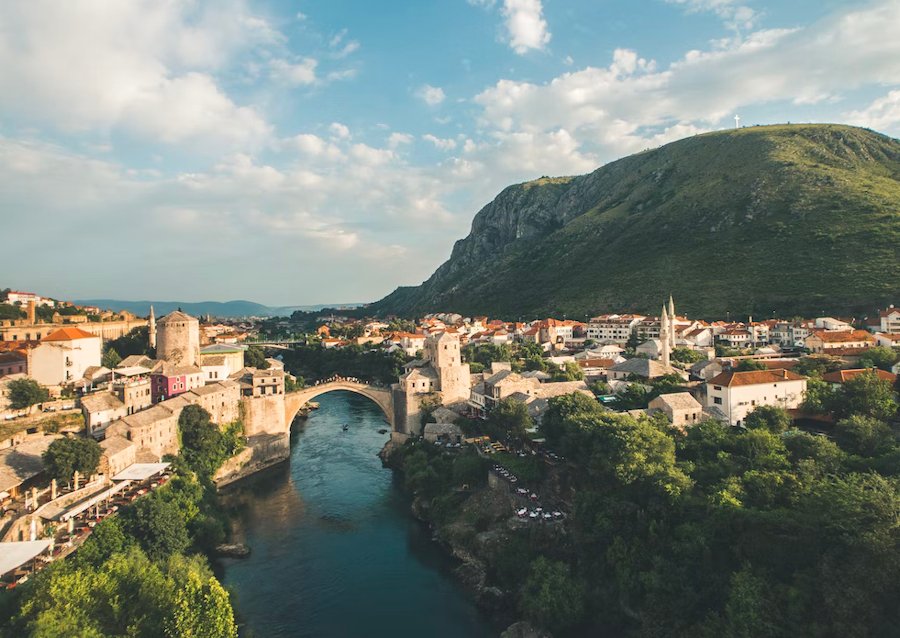 Mostar, Bosnia by Yu Siang Teo on Unsplash.
Travel Notes: Europe - Bosnia-Herzegovina Travel Notes.


Short URL: https://tnot.es/BA
Bosnia-Herzegovina Travel and Tourism on Travel Notes

Find Bosnia-Herzegovina Travel and Tourist Information with links to official travel and tourism websites and state resources for visitors to Bosnia-Herzegovina.
About Bosnia
Bosnia and Herzegovina is a beautiful country with a rich cultural and historical heritage, as well as breathtaking natural landscapes.
Countries neighbouring Bosnia: Serbia, Montenegro and Croatia.
Map of Bosnia
Bosnia is bordered by Croatia to the north, west, and south, Serbia to the east, and Montenegro to the south-east.
The capital and largest city of Bosnia-Herzegovina is Sarajevo.
Bosnia and Herzegovina, often shortened to just Bosnia, is a country located in Southeastern Europe.
Bosnian Ethnic Groups
Bosnia and Herzegovina has a diverse population of around 3.3 million people, with three main ethnic groups: Bosniaks (Bosnian Muslims), Croats, and Serbs.
Bosnian Political System
The country has a complex political system, consisting of two entities: the Federation of Bosnia and Herzegovina, which is predominantly Bosniak and Croat, and the Republika Srpska, which is predominantly Serbian.
There is also a small Brčko District, which is a self-governing administrative unit.
Complex History
Bosnia and Herzegovina has a rich and complex history.
It was part of the Ottoman Empire from the 15th to the 19th century, before being annexed by Austria-Hungary in 1878.
After the First World War, it became part of the Kingdom of Yugoslavia, and later the Socialist Federal Republic of Yugoslavia.
Bosnia and Herzegovina declared its independence from Yugoslavia in March 1992, and in April 1992 the sovereignty of Bosnia and Herzegovina was accepted by the United States and the European Community; which led to a brutal and devastating war that lasted until 1995.
The first inter-ethnic armed clashes had already taken place around Mostar, on February 4th, 1992, and the European recognition of Bosnian independence only made matters worse.
Bosnia became the centre of one of Europe's blackest memories in modern history as Serbs, Croats, and Muslims all fought to expand or keep their territories within Bosnia, and carve out their own states within a state.
By mid-1995, the majority of the country's land area was held by Bosnian ethnic Serbs, who carried out atrocious ethnic cleansing programmes.
Many empty peace agreements were signed, but even the safe havens in Bosnia could not be adequately protected.
After attacks on the Bosnian Serb capital of Pale, the Serbs took revenge by seizing Srebrenica and Zepa, and systematically killing thousands of their citizens.
Only when 37 citizens were killed by a Bosnian Serb mortar shell hitting a crowded Sarajevo market on August 28, 1995, did public opinion finally force the politicians' hand.
NATO justifiably renewed air attacks on Bosnian Serb targets across Bosnia; it sometimes seems that peacekeeping can only be done by force.
The Dayton Agreement, signed signed on 14th December, 1995, formally ended the war and established the current political structure of the country.
Economy
Bosnia and Herzegovina has a diverse economy, with industries such as mining, manufacturing, and agriculture.
Tourism is also an important sector, with many visitors attracted to the country's natural beauty, historical sites, and cultural events.
Ethnic Tensions
Bosnia and Herzegovina still faces significant challenges, including high unemployment, corruption, and political instability.
The country is also grappling with the aftermath of the war, including ongoing ethnic tensions and the struggle to bring war criminals to justice.
Bosnia is now a safe place to visit and a very beautiful, somewhat mountainous country to drive around.
The country has a rich cultural heritage, with influences from both the East and the West, and is home to several UNESCO World Heritage Sites.
Bosnian Cuisine
Bosnian food is a delicious blend of Balkan, Turkish, and Central European influences.
Some must-try dishes include cevapi (grilled meat sausages), burek (a flaky pastry filled with meat, cheese, or spinach), and baklava (a sweet pastry filled with nuts and honey).
Bosnian Hospitality
Bosnia and Herzegovina is known for its warm and welcoming people, so be sure to take some time to interact with the locals and experience their hospitality.
Visit Bosnia i Herzegovina
Whether you're interested in history, nature, or food, Bosnia and Herzegovina has something for everyone.
Bosnia i Herzegovina is a beautiful country located in the Balkans region of Southeast Europe with a rich cultural heritage and is well worth a visit.
One of the last undiscovered regions of the southern Alps, Bosnia-Herzegovina is known for its stunning natural landscapes, rich history, and diverse culture.
The country offers vast tracks of wild and untouched nature; making it an ideal holiday destination for adventurers and nature lovers alike.
Feel the combination of the east and the west, get to know the diverse and fascinating cultural history of Bosnia i Herzegovina.
Some must-visit places and things to do in Bosnia-Herzegovina.
Kravice Waterfalls
Located in the south of the country, these stunning waterfalls are a must-visit for nature lovers.
The falls cascade over a series of limestone cliffs and are surrounded by lush greenery.
Mostar
This charming city is famous for its iconic Stari Most (Old Bridge), which spans the Neretva River.
The bridge is a UNESCO World Heritage Site and is a popular spot for diving competitions.
Sarajevo
The capital city of Bosnia and Herzegovina is a fascinating blend of Ottoman, Austro-Hungarian, and Yugoslav influences.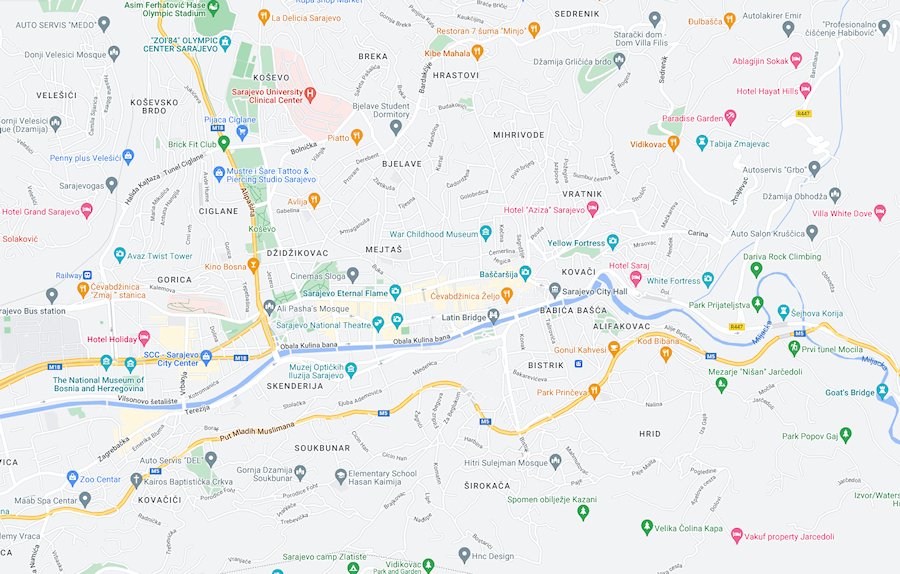 Map of Sarajevo.
It is home to many historical sites, such as the Latin Bridge, where Archduke Franz Ferdinand was assassinated, sparking World War I.
Sutjeska National Park
This beautiful park is home to Bosnia and Herzegovina's highest peak, Maglić, as well as the stunning Skakavac Waterfall.
It is also home to the famous Battle of Sutjeska memorial.
Visegrad
This small town on the Drina River is famous for its Ottoman-era bridge, the Mehmed Pasha Sokolović Bridge.
It was built in the 16th century and is another UNESCO World Heritage Site in Bosnia.
Visit BiH and see what the heart-shaped land has to offer.
Bosnia Attractions
Where to Stay in Sarajevo
Bosnia Travel Guides - Bosnia Maps.
Weather in Europe:
Local weather forecasts for destinations around Europe.
Travel Notes Online Guide to Travel
Africa - Asia - Caribbean - Europe - Middle East - North America - Oceania - South America.

The Travel Notes Online Guide to Travel helps visitors plan their trip with country and city travel guides, local tourist information, reviewed web sites, and regular travel articles.
Travel and Tourism Guides on Travel Notes
If Travel Notes has helped you, please take a moment to like us on Facebook and share with your friends on social media.


Travel & Tourism With Industry Professionals.

Bulgaria.