Short URL: https://tnot.es/BG
Bulgaria Travel and Tourism on Travel Notes

Find Bulgaria Travel and Tourist Information with links to official travel and tourism websites and state resources for visitors to Bulgaria.
About Bulgaria
The Bulgarian state was founded as a unification of Slavs, Thracians and Bulgars in 681 AD.
Countries neighbouring Bulgaria are: Greece, Macedonia, Serbia, Romania and Turkey.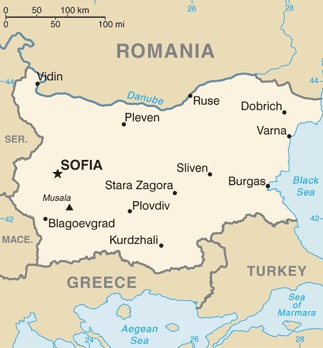 Weather in Europe:
Local weather forecasts for destinations around Europe.
The Thracians had developed their civilisation Before Christ, and were joined by the Slavs towards the end of the 5th century.
The Bulgars came down from the steppes of Central Asia and crossed the Danube in the mid-7th century.
This First Bulgarian Empire lasted until 1018, when it fell to the Byzantines.
The Second Bulgarian Kingdom was established in 1185, and Bulgaria entered a Golden Age; in which the kingdom touched three seas.
The Ottoman Turks put a stop to that for almost 500 years, and subjugated the Bulgarians to Islamic rulers.
Sofia became the capital of Bulgaria in 1879, after liberation from the Turks.
Two Balkan wars followed, and then the Bulgarians lost twice on the side of Germany in the World Wars too.
Georgi Dimitrov took power for the Communist party in 1945, and proclaimed Bulgaria a People's Republic.
Bulgaria finally declared itself a democracy in 1989, when Todor Zhivkov was peacefully ousted following the lead of other East European states.
On January 1st, 2007 Bulgaria joined the European Union.
Once the cradle of Slav culture the Cyrillic alphabet was created in Bulgaria by the brothers Cyril and Methodious.
Budget Travel in Bulgaria:
Lustrous in the springtime and awesome in the summer, Bulgaria is one of the last remaining budget destinations in Europe.
Forget about the expensive, crowded beaches and ski resorts in France and Italy and discover the Beauty of Bulgaria.
Bulgarian Monasteries
The building of monasteries in Bulgaria started as early as the 4th - 5th century. Rila Monastery is perhaps the most visited.
Sofia Sightseeing
The main points of interest in Sofia are: Alexander Nevski Memorial Church, Rotunda of St. George, St. Sofia Church, National Palace of Culture, Church of St. Nedelya, Vassil Levski Monument, Sofia University, the Russian Church and Mount Vitosha.
Outside Sofia, visit the Boyana Church and Dragalevtsi Monastery.
Accommodation in Sofia
Sofia Guesthouse:
Budget rooms in the centre of Sofia, at 27 Patriarch Evtimiy Blvd; just 350m from Sofia's famous meeting point - the monument of Patriarch Evtimiy.
Borovets, Burgas, Plovdiv, Varna.
At 1350m, Borovets was once the hunting estate of Bulgarian Kings. Today it is a fine place to ski in the winter, and only 73 km from Sofia.
Bulgarian Coast:
If you're looking for a great-value Mediterranean style holiday on perfect golden sand beaches with beautiful, clear seas and a sunny, seasonable climate from May through October, consider the Black Sea coast.
Chiflik
Starting point for hikers visiting the mountain trails, Chiflik also has a mineral spring.
The mineral water, with a temperature of 50 degrees, fills a large open-air swimming pool and some smaller ones in the neighbourhood.
Rural Bulgaria - Kostenets:
Village Kostenets is one of the most idyllic and relaxing places in Bulgaria.
Varna
Varna is Bulgaria's number one resort on the Black Sea, with a wonderful beach and cosy cafes.
Varna Black Sea coast offers a combination of marvellous conditions for sea tourism, rich cultural heritage and incredible nature. The sea capital of Varna gives opportunities for pleasant recreation at seaside, entertainment and cultural tourism.
To the north of Varna are located some of the most beautiful and luxurious Bulgarian sea resorts, such as 'St. St. Konstantin and Elena', 'Sunny day', 'Riviera', 'Golden sands', 'Albena', which offer excellent conditions for wonderful summer vacations, entertainment and water sports.
Motoroads:
Canadian-owned and Bulgarian-operated company dedicated to providing off-road motorcycle tours and panoramic road trips around Bulgaria. Enjoy the awesome beauty of winding river gorges, breathtaking waterfalls, gorgeous lakes, pre-historic caves and hidden old villages that time forgot.

Add a Business Listing - Add a Destination Guide - Add a Place to Stay.



If you find Travel Notes useful, please take a moment to like us on Facebook and share with your friends on social media.
Europe Index - Europe Tourism - Europe Travel Websites.