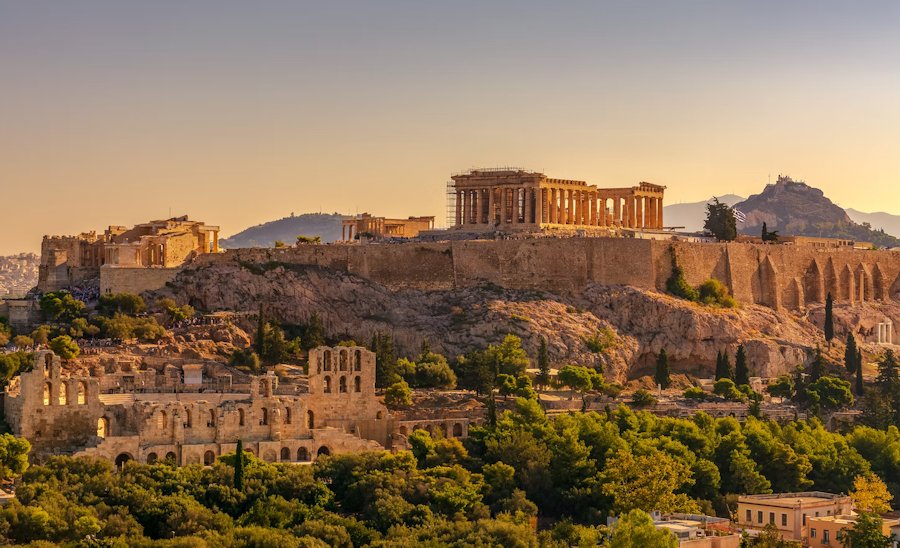 Acropolis, Athens, Greece by Constantinos Kollias on Unsplash.
Travel Notes: Europe - Greece Travel Notes - Updated 04 August, 2023.
Short URL: https://tnot.es/GR
Greece Travel and Tourism on Travel Notes

Find Greece Travel and Tourist Information with links to official travel and tourism websites and state resources for visitors to Greece.
About Greece
Greece is a popular tourist destination, offering beautiful beaches, rich history, and delicious cuisine.
Popular places to visit in Greece include Athens, Santorini, Mykonos, Crete, and the Peloponnese.
Countries neighbouring Greece: Albania, North Macedonia, Bulgaria and Turkey.
Map of Greece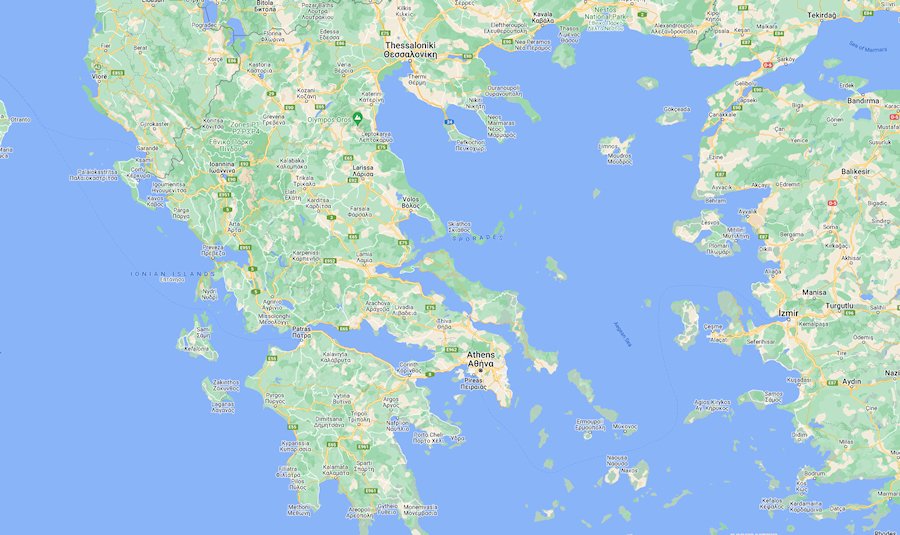 Greece shares land borders with Albania to the north-west, North Macedonia to the north, Bulgaria to the north-east, and Turkey to the east.
Greece is a country located in southern Europe, surrounded by the Aegean Sea, Ionian Sea, and Mediterranean Sea.
Aegean Sea
The eastern border of Greece is formed by the Aegean Sea.
Many Greek islands, including famous ones like Crete, Rhodes, and Santorini, are situated in the Aegean Sea.
Ionian Sea
The western coast of Greece is bordered by the Ionian Sea.
This sea separates Greece from Italy and includes several Greek islands, such as Corfu, Zakynthos, and Kefalonia.
Mediterranean Sea
The southern coast of Greece faces the Mediterranean Sea, connecting Greece to other Mediterranean countries like Egypt and Libya.
Ancient Greece
Greek mythology, philosophy, art, and literature have had a significant influence on Western culture.
Generally considered to be the cradle of Western civilization, Greece is also the birthplace of the Olympic Games.
Greece is known for its iconic ancient landmarks such as the Acropolis in Athens, the Parthenon temple, and the ancient city of Olympia.
Greek Food
Greece is famous for its cuisine, which includes dishes such as moussaka, souvlaki, and Greek salads.
Landscape
Greece has a diverse landscape, with a combination of mountainous regions, forests, and beautiful coastlines.
The climate is Mediterranean, with mild winters and hot summers.
Population
The country has a population of around 10.7 million people, with the majority living in urban areas.
The official language is Greek, and the predominant religion is Greek Orthodox Christianity.
Tourism
Tourism is a significant contributor to the Greek economy, with millions of visitors coming to the country each year to experience its history, culture, beautiful scenery and experience island life.
Visit Greece
If you are planning to visit Greece you're in for a treat, as there are many wonderful places to see and things to do.
Destination Management Companies in Greece.
Meteora
Meteora is an unique destination in central Greece, known for its towering rock formations and monasteries built on top of them.
It is an UNESCO World Heritage Site and a popular destination for hiking and rock climbing.
Mykonos
Mykonos is a beautiful island known for its sandy beaches, turquoise waters, and vibrant nightlife.
It is a popular destination for partygoers, but it also has plenty of cultural and historical attractions, such as the Windmills, Little Venice, and the Archaeological Museum.
Santorini
Santorini is a picturesque island in the Aegean Sea, famous for its stunning sunsets, white-washed buildings, and blue-domed churches.
You can take a boat tour around the island and swim in the clear waters or enjoy a glass of wine in one of the many vineyards.
Crete is the largest island in Greece and has a rich history and culture.
It is home to the ancient Minoan civilization, and you can visit the famous Knossos Palace, which is believed to be the mythical Labyrinth of King Minos.
Crete also has stunning beaches and picturesque villages.
Athens is the capital city of Greece and the birthplace of Western civilisation.
Map of Athens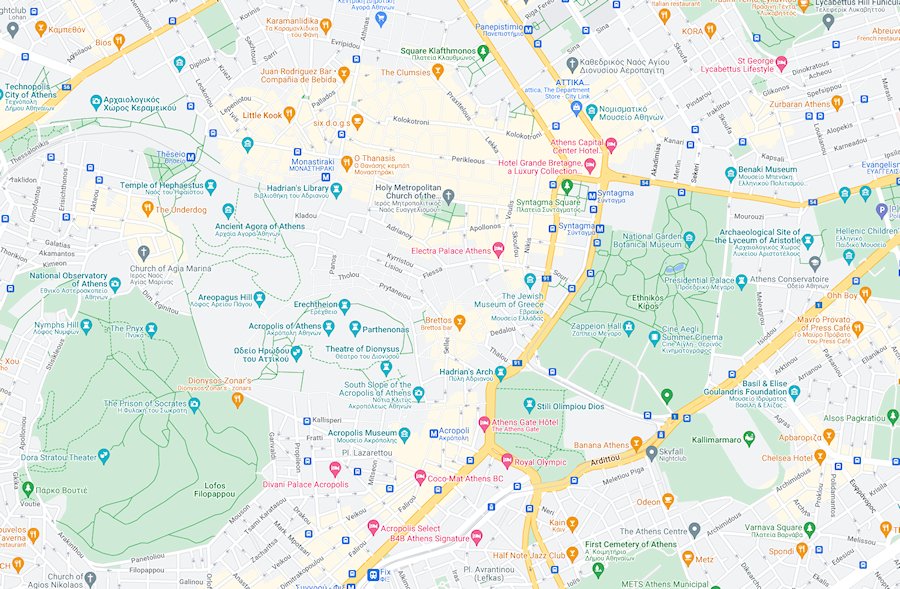 It is home to iconic landmarks such as the Acropolis, the Parthenon, and the Ancient Agora.
Make sure to visit the Acropolis Museum, which houses artifacts from ancient times.
Athens Survival Guide:
Matt Barrett's entertaining and informative guide to the city of Athens.
Morphis Rent a Car:
Rent a car in Athens.
Driving From Athens, Driving From Patras, Driving From Thessaloniki.
Getting Around Athens
Athens Airport Taxi:
When exiting Athens Airport you will find taxis waiting between Exit 2 and Exit 3 at the arrival level.
Greece Travel Guide:
Matt Barrett's extensive guide to Greece and the Greek islands. Some people spend more time on the website than they do in Greece.
Visit Greece:
The official site of the Greek National Tourism organisation.
With offices in London, San Francisco and Melbourne, Unforgettable Greece designs luxury Greece vacation packages for customers looking for unique Greek experiences.
Greece Excursions
Greece Travel Tips
Beware of taxi drivers and restaurants that may over charge and offer below average service.
In 1981, Hellas signed the UNESCO treaty for the protection of the monuments and sites of the world's cultural heritage. The aim of this treaty is to protect these monuments from erosion and destruction, and to preserve them for future generations.
Ancient Greece:
Don't expect to pop in and out, take your time and learn something about Greek Mythology and Philosophers.
Greek Landscapes:
Greece is a paradise for those who want to enjoy the sea and the sun for a few weeks; a mecca for yachters who get to explore hundreds of islands; and the perfect playground for scholars of classical antiquity and art.
Greece Travel Guides - Greece Maps.
Weather in Europe:
Local weather forecasts for destinations around Europe.
Travel Notes Online Guide to Travel
Africa - Asia - Caribbean - Europe - Middle East - North America - Oceania - South America.

The Travel Notes Online Guide to Travel helps visitors plan their trip with country and city travel guides, local tourist information, reviewed web sites, and regular travel articles.

Greenland.
Travel and Tourism Guides on Travel Notes
Travel Professionals Based in Greece.
If Travel Notes has helped you, please take a moment to like us on Facebook and share with your friends on social media.


Travel & Tourism With Industry Professionals.