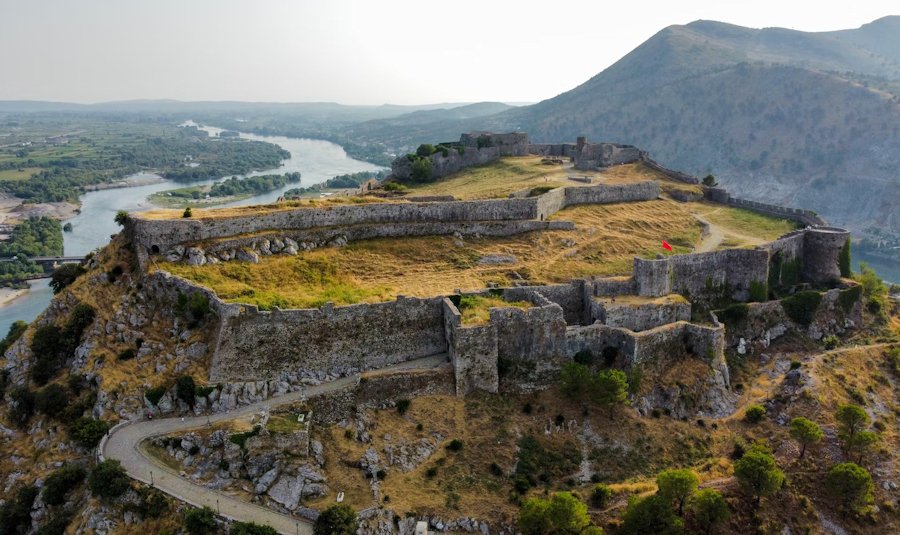 Rozafa Castle, Albania by Fabian Kühne on Unsplash.
Travel Notes: Europe - Albania Travel Notes.

Short URL: https://tnot.es/AL
Albania Travel and Tourism on Travel Notes

Experience a blend of Eastern and Western cultures in Albania, through its art, music, and traditions; a diverse cultural tapestry that makes Albania unique.
About Albania
Albania is a relatively undiscovered gem in Europe, offering unique experiences for travellers looking to explore off-the-beaten-path destinations.
One can expect warm hospitality, stunning scenery, and a rich cultural heritage when travelling to Albania.
Countries neighbouring Albania: Montenegro, Kosovo, North Macedonia and Greece.
Map of Albania
Albania is bordered by Montenegro to the north-west, Kosovo to the north-east, North Macedonia to the east, Greece to the south, and the Adriatic and Ionian Seas to the west.
Tirana is the capital of Albania, with Durres the country's major port on the Adriatic Sea.
Albania Background
Located in South-eastern Europe, Albania is known as Eagle's Country, Shqiperi in Albanian.
Albania has a population of approximately 2.9 million people and is known for its stunning natural beauty, including rugged mountains, crystal-clear lakes, and pristine beaches.
Albanian History
Albania has a rich history and cultural heritage, with ancient ruins, castles, and Ottoman-era architecture scattered throughout the landscape.
Located close to the town of Korca (South-east Albania), on the Korca-Kolonja national road, the Tumulus of Kamenica is one of the most representative monuments of the prehistory of Albania and of the wider region.
Rome conquered the Illyrian Kingdom in 168 BC, and went on to rule for more than five centuries. Some of the emperors were even of Illyrian descent, as the region became a major transit route through Byzantium.
As the Roman Empire declined, Goths, Huns, Bulgars, and Slavs all tried to fill the vacuum. Then came the Normans and the Serbs.
After the collapse of Stephan Dushan's Serbian Empire, and the death of Scanderbeg, the feudal lords were soon overrun by the Turks.
Albanian language and culture were suppressed for almost 400 years during Ottoman rule, although the Turks were never able to totally control the people.
Ismail Qemal led a series of revolts against Turkey, and on November 28, 1912, Albania declared its independence from the Ottoman Empire in 1912, but was conquered by Italy in 1939 and occupied by Germany in 1943. Communist partisans took over the country in 1944.
Albania allied itself first with the USSR (until 1960), and then with China (to 1978).
In the early 1990s, Albania ended 46 years of xenophobic communist rule and established a multiparty democracy.
The economy of Albania has been steadily growing in recent years, driven by industries such as tourism, agriculture, and energy.
Albania is also a member of several international organizations, including the United Nations, NATO, and the World Trade Organization.
Albania Landscape
One of the smallest countries in Europe, Albania is also very mountainous and little known to outsiders.
Albania Language and Culture
The official language of Albania is Albanian, which is spoken by the vast majority of the population.
The country has a diverse religious makeup, with Islam and Christianity being the two dominant religions.
Albania underwent a cultural revolution in the mid-1960s, when Western influences were scorned, Soviet and Chinese systems were followed, and hardly anyone could enter the country.
Albania Traditions and Customs
Predominately an Indo- European people, descendants of the ancient Illyrians, the Albanians are divided into two main groups: the Ghegs to the north of the Shkumbi River, and the Tosks to the south.
In all, Albania is an unique and fascinating country with a rich history, diverse culture, and stunning natural beauty.
The capital city of Albania is Tirana.
Map of Tirana
Whether you're interested in history, culture, nature, or just want to relax on the beach, Albania has something for everyone.
Where to Go in Albania
Berat
Also known as the 'City of a Thousand Windows', Berat is an UNESCO World Heritage Site and home to many well-preserved Ottoman-era buildings.
You can visit Berat Castle, the Onufri Museum, and the Ethnographic Museum.
Butrint
An ancient city located on a hilltop overlooking the Vivari Channel, Butrint is an UNESCO World Heritage Site and one of the most important archaeological sites in Albania.
You can see the ruins of the ancient city, including the theater, the agora, and the baptistery.
Gjirokastra
An UNESCO World Heritage Site, Gjirokastra is a charming hillside town with traditional Ottoman architecture.
You can visit Gjirokastra Castle, the Skenduli House, and the Ethnographic Museum.
Saranda
A popular seaside town on the Albanian Riviera, Saranda offers beautiful beaches, crystal-clear waters, and stunning sunsets.
You can also visit the ancient city of Butrint from Saranda.
Shkoder
The largest city in northern Albania, Shkoder is a historic city with a rich cultural heritage. You can visit Rozafa Castle, the Marubi National Museum of Photography, and the Ebu Bekr Mosque.
Tirana
The capital city of Albania is a vibrant and colourful city with a rich history and culture.
You can visit the National History Museum, the National Art Gallery, the Ethnographic Museum, and the famous Skanderbeg Square.
Valbona Valley National Park
Located in the northern part of Albania, Valbona Valley National Park is a pristine natural area with rugged mountains, crystal-clear rivers, and dense forests.
Go hiking, camping, or simply enjoy the stunning scenery.
Tirana Bank now has access to the Visa system. I withdrew some Lek from a Skodra branch of Tirana Bank with no problems. It was a little un-nerving to have a guard with a machine gun on duty 24 hours a day but much better than bringing in hard cash.
By Ian Lawrence.
Albanian Cities - Albanian Tourism - Albanian Tours.
Albania Attractions
Albania is a fascinating country that reflects a rich tapestry of cultural influences, blending Eastern and Western elements in its art, music, and traditions.
Albania's cultural tapestry is a testament to its history of diverse influences, creating a truly unique and captivating experience for those who explore its art, music, and traditions.
Whether wandering through historical sites, attending traditional celebrations, or enjoying local cuisine, visitors can immerse themselves in the dynamic fusion that defines Albania's cultural identity.
Albanian Art and Architecture
Byzantine and Ottoman Influence
Albania's history includes periods of Byzantine and Ottoman rule, which have significantly influenced its art and architecture.
Mosques, churches, and fortresses showcase a mix of Eastern and Western architectural styles.
Religious Art
Icons and religious art often exhibit a blend of Orthodox Christian and Islamic influences, creating an unique Albanian aesthetic.
Albanian Contemporary Arts
Modern Art Scene
Albania's contemporary art scene often explores the intersection of Eastern and Western ideas.
Young artists draw inspiration from both local traditions and global trends, creating a dynamic and evolving artistic landscape.
Albanian Cuisine
Mediterranean and Balkan Flavours
Albanian cuisine is a fusion of Mediterranean and Balkan flavours.
Dishes like burek (a pastry filled with meat or cheese), tavë kosi (yogurt and lamb casserole), and qofte (grilled meatballs) showcase this blend of influences.
Albanian Festivals and Traditions
Religious Celebrations
Both Christian and Muslim festivals are celebrated in Albania, often with a mix of customs from both traditions.
For example, the celebration of Bajram during Ramadan is a significant event.
Traditional Costumes
Albanian traditional costumes vary across regions but often showcase a synthesis of influences.
Intricate embroidery and vibrant colours are common elements.
Albanian Language
Linguistic Blend
The Albanian language itself reflects an unique blend of influences, with its roots in the Illyrian language but also containing words borrowed from Latin, Greek, Slavic, and Turkish.
Albanian Literature
Blend of Influences
Albanian literature reflects a blending of Eastern and Western literary traditions.
Themes often explore the country's complex history and cultural identity.
Albanian Music and Dance
Iso-Polyphony
A distinctive form of traditional Albanian singing known as iso-polyphony is recognized by UNESCO as a Masterpiece of the Oral and Intangible Heritage of Humanity.
This polyphonic singing style often involves multiple vocal parts, creating a harmonious blend.
Influence of Ottoman Music
Ottoman musical traditions have also left their mark, with instruments like the saze (an Ottoman-era string instrument) finding a place in Albanian folk music.
Getting To and Around Albania
Flights to Tirana - TIA
Airlines and Airports - Flights.
Driving Distances from Tirana.
Albania Accommodation
Albanian Hotels - Bed and Breakfast - Self Catering.
Most people visiting Albania will be looking for Hotels in Tirana, the capital.
Cheap Hotels and Hostels in Albania.
Albania Travel Guides - Albania Maps.
Weather in Europe:
Local weather forecasts for destinations around Europe.
Travel Notes Online Guide to Travel
Africa - Asia - Caribbean - Europe - Middle East - North America - Oceania - South America.

The Travel Notes Online Guide to Travel helps visitors plan their trip with country and city travel guides, local tourist information, reviewed web sites, and regular travel articles.
Travel and Tourism Guides on Travel Notes
If Travel Notes has helped you, please take a moment to like us on Facebook and share with your friends on social media.


Travel & Tourism With Industry Professionals.

Andorra.