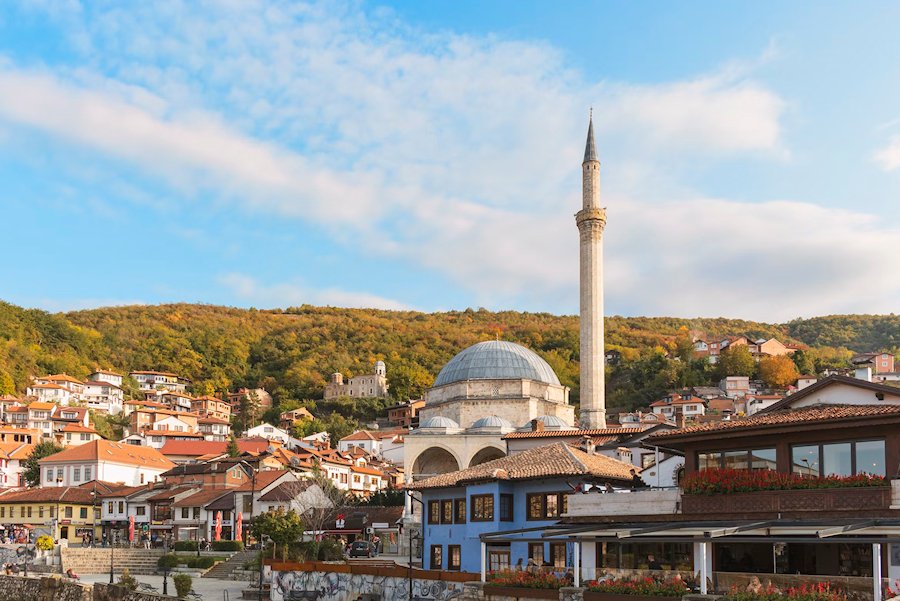 Prizren, Kosovo by Mrika Selimi on Unsplash.
Travel Notes: Europe - Kosovo Travel Notes.
Short URL: https://tnot.es/XK
Kosovo Travel and Tourism on Travel Notes

Find Kosovo Travel and Tourist Information with links to official travel and tourism websites and state resources for visitors to Kosovo.
About Kosovo
Kosovo is a fascinating country in the Balkans region of Europe with a rich cultural and natural heritage, and an unique history that has shaped its identity.
Kosovo's attractions, include Rugova Canyon, the Accursed Mountains, and its archaeological and religious sites.
Countries neighbouring Kosovo: Albania, Montenegro, Serbia and North Macedonia.
Map of Kosovo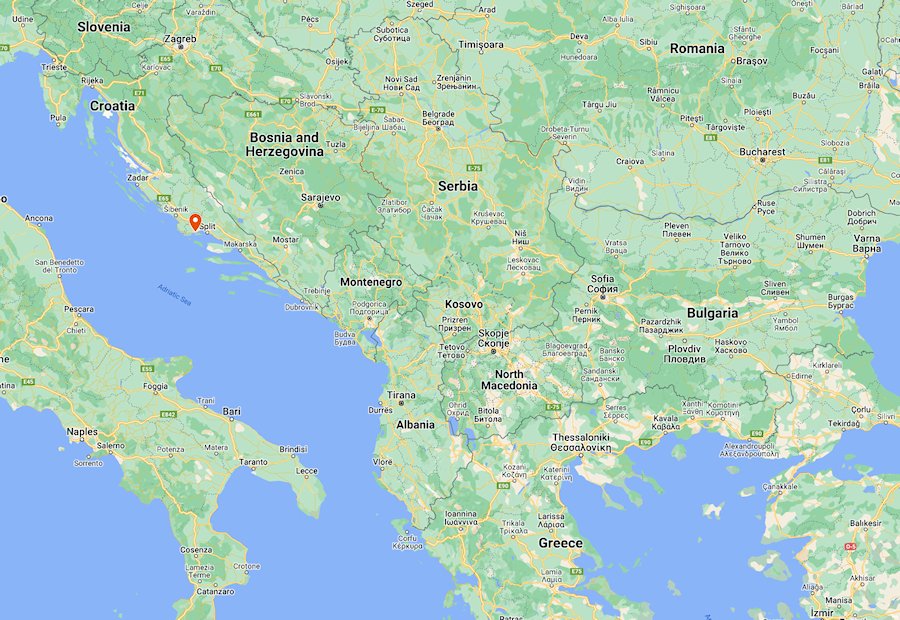 Kosovo is bordered by Serbia to the north and east, North Macedonia to the south-east, Albania to the south-west, and Montenegro to the west.
The capital and largest city of Kosovo is Pristina.
Kosovo is a disputed territory located in the Balkans.
Serbs migrated to the territories of modern Kosovo in the 7th century, but did not fully incorporate them into the Serbian realm until the early 13th century.
Albanian
Kosovo is predominantly ethnically Albanian, with Albanians comprising around 90% of the population.
The country has been influenced influenced by various civilisations and empires that have ruled the region throughout history, including Illyrians, Romans, Byzantines, Ottomans, and more.
Cultural Heritage
Kosovo is known for its rich cultural heritage, including historical sites, traditional music, and cuisine.
Economy
The economy of Kosovo is predominantly based on services, including trade, construction, and remittances from the large number of Kosovars living abroad.
Agriculture and mining also play a role in the country's economy.
Language
The official languages of Kosovo are Albanian and Serbian, reflecting the ethnic composition of the population.
Kosovo has a complex history and has been a source of tension and conflict for many years.
The Serbian defeat at the Battle of Kosovo, in 1389, led to five centuries of Ottoman rule; during which large numbers of Turks and Albanians moved to Kosovo.
By the end of the 19th century, Albanians replaced the Serbs as the dominant ethnic group in Kosovo.
Serbia reacquired control over Kosovo from the Ottoman Empire during the First Balkan War (1912), and after World War II (1945) the government of the Socialist Federal Republic of Yugoslavia, led by Josip Broz Tito, reorganised Kosovo as an autonomous province within the constituent republic of Serbia.
Over the next four decades, Kosovo Albanians lobbied for greater autonomy and Kosovo was granted the status almost equal to that of a republic in the 1974 Yugoslav Constitution.
Despite the legislative concessions, Albanian nationalism increased in the 1980s leading to nationalist riots and calls for Kosovo's independence.
Serbs in Kosovo complained of mistreatment and Serb nationalist leaders, such as Slobodan Milosevic, exploited those charges to win support among Serbian voters; many of whom viewed Kosovo as their cultural heartland.
Under Milosevic's leadership, Serbia instituted a new constitution in 1989 that drastically curtailed Kosovo's autonomy and Kosovo Albanian leaders responded in 1991 by organising a referendum that declared Kosovo independent from Serbia.
The Milosevic regime carried out repressive measures against the Albanians in the early 1990s as the unofficial government of Kosovo, led by Ibrahim Rugova, tried to use passive resistance to gain international assistance and recognition of its demands for independence.
In 1995, Albanians dissatisfied with Rugova's non-violent strategy created the Kosovo Liberation Army and launched an insurgency. In 1998, Milosevic authorised a counterinsurgency campaign that resulted in massacres and massive expulsions of ethnic Albanians by Serbian military, police, and paramilitary forces.
The international community tried to resolve the conflict peacefully, but Milosevic rejected the proposed international settlement - the Rambouillet Accords - leading to a three-month NATO bombing of Serbia, beginning in March 1999; which forced Serbia to withdraw its military and police forces from Kosovo in June 1999.
UN Security Council Resolution 1244 (1999) placed Kosovo under a transitional administration, the UN Interim Administration Mission in Kosovo (UNMIK), pending a determination of Kosovo's future status.
Under the resolution, Serbia's territorial integrity was protected, but it was UNMIK who assumed responsibility for governing Kosovo.
In 2001, UNMIK promulgated a Constitutional Framework, which established Kosovo's Provisional Institutions of Self-Government (PISG), and in succeeding years UNMIK increasingly devolved responsibilities to the PISG.
On 17th February 2008, the Kosovo Assembly declared its independence from Serbia, but its status remains a subject of international dispute.
While Kosovo has been recognised as an independent country by a significant number of nations, including the United States and many European Union member states, Serbia, along with Russia and some other countries, does not recognize its independence.
Since its declaration of independence, Kosovo has made progress in developing its institutions and infrastructure.
Kosovo aspires to become a member of the European Union and has taken steps towards integration into the international community. However, Kosovo still faces significant challenges, including political stability, economic development, and the normalisation of relations with Serbia.
Its people continue to work towards building a stable and prosperous future while navigating the challenges of political, economic, and diplomatic circumstances.
Administrative Divisions
The capital of Kosovo is Pristina.
Kosovo's 30 Municipalities:
Decan (Decani); Dragash (Dragas); Ferizaj (Urosevac); Fushe Kosove (Kosovo Polje); Gjakove (Dakovica); Gllogoc/Drenas (Glogovac); Gjilan (Gnjilane); Istog (Istok); Kacanik, Kline (Klina); Kamenice/Dardana (Kamenica); Leposaviq (Leposavic); Lipjan (Lipljan); Malisheve (Malisevo); Mitrovice (Mitrovica); Novoberde (Novo Brdo); Obiliq (Obilic); Peje (Pec); Podujeve (Podujevo); Prishtine (Pristina); Prizren; Rahovec (Orahovac); Shtime (Stimlje); Shterpce (Strpce); Skenderaj (Srbica); Suhareke (Suva Reka); Viti (Vitina); Vushtrri (Vucitrn); Zubin Potok; Zvecan.
When planning a visit to Kosovo, it's essential to check the latest travel advisories and ensure you have the necessary documents and permissions, as the political situation and travel requirements may change.
Cuisine
Kosovo's cuisine is influenced by Turkish, Albanian, and Balkan flavors.
Don't miss the opportunity to try traditional dishes such as 'flija' (layered pastry with cream), 'qebapa' (grilled meat sausages), and 'baklava' (sweet pastry).
Kosovo also produces excellent local wines.
Cultural Etiquette
It is advisable to respect local customs and traditions.
Dress modestly, particularly when visiting religious sites in Kosovo.
It's also customary to remove your shoes before entering someone's home.
Currency
The official currency of Kosovo is the Euro (EUR).
Credit cards are widely accepted in major establishments, but it's a good idea to carry some cash for smaller businesses or when visiting more remote areas.
Entry Requirements
Check the entry requirements for your specific nationality before travelling to Kosovo.
Many nationalities can enter Kosovo visa-free or obtain a visa on arrival.
Ensure that your passport is valid for at least six months beyond your intended stay.
Getting There
The easiest way to reach Kosovo is by flying into Pristina International Airport (PRN), which is the country's main airport.
It is served by various international airlines.
Alternatively, you can enter Kosovo by road from neighboring countries such as Serbia, Montenegro, Albania, or North Macedonia.
Safety
With a low crime rate, Kosovo is generally safe for tourists; but keep an eye on the political situation.
It is always wise to take common safety precautions, such as avoiding isolated areas at night, keeping an eye on your belongings, and being cautious in crowded places.
Kosovo offers a mix of natural beauty, historical landmarks, and cultural experiences.
Decani Monastery
An UNESCO World Heritage Site, the Dečani Monastery - in the western part of Kosovo - is renowned for its medieval architecture and stunning frescoes.
Gjakova Bazaar
The old bazaar from 17th century was burned down by the Serbian Army, in 1999, but has been reconstructed. There's also an old mosque here, dating from the 15th century.
Mitrovica Bridge
Considered the dividing line between the Mitrovice Serbs and Mitrovica Albanians things have been known to get heated around here.
Nature and Outdoor Activities
Kosovo is known for its picturesque landscapes.
The Rugova Canyon, located in the western part of the country, offers stunning natural beauty with its towering cliffs and the Rugova River flowing through it.
There are also opportunities for hiking, skiing, and other outdoor activities.
Pec Patriachy
A beautiful monastery with many spectacular paintings, just two kilometres north-west of Pec, this was the seat of the Patriarchy of the Serbian Orthodox Church, from 1302; and is considered to be of extreme national importance to the Serbs.
With most of the Serbs gone, the Patriarchate of Peć has to be guarded by NATO troops.
Prizren
This historic city in southern Kosovo is known for its well-preserved Ottoman architecture; with the Sinan Pasha Mosque dominating the town centre.
Prizren is home to the Sharr Mountains National Park, the Kalaja Fortress, and the League of Prizren Complex, which played a significant role in the country's history.
Rugova Gorge
A picturesque natural area with hiking and outdoor activities, the Rugova gorge is a little further out of Pec than the Pec Patriachy; along the same road.
As with any travel destination, it's a good idea to research further, check travel advisories, and consult with local tourism authorities or your embassy or consulate before your trip to Kosovo.
Map of Pristina
The capital city of Pristina offers a blend of old and new.
You can visit historical landmarks such as the Kosovo Museum and Pristina Clock Tower, as well as modern attractions like the National Library of Kosovo, the Newborn Monument, and the Ethnographic Museum.
The Gracanica Monastery is an important Serbian Orthodox monastery near Pristina.
Kosovo by Road
While it is possible to drive into Kosovo from Serbia, tensions can still run high in the area and a foreign number plate might attract some attention.
Buses run from Belgrade and Nis (Serbia) to Pristina and Prizren.
You can also enter Kosovo from Montenegro, through Rozaje to Peja/Pec; from Macedonia there's a bus to Pristina; and the really adventurous could travel from Albania on the Tirana-Prizren bus, along a mountainous road.
Kosovo Road Trips
There are also international buses from Belgium, Bulgaria, Germany, Switzerland and Turkey.
Kosovo by Train
Trains cross into Kosovo from Kraljevo, in Serbia; and from Skopje, in Macedonia. Trains are very slow but you will get to see a lot of the country.
Kosovo by Air
With the large number of Kosovo Albanians working in Germany and Switzerland these countries also offer the possibilities of charter flights to Pristina.
International Airport
Flights to Kosovo from Budapest, Dusseldorf, Frankfurt, Geneva, Hamburg, Hannover, Istanbul, Ljubljana, London, Milan, Munich, Stuttgart, Tirana, Verona, Vienna and Zurich.
Kosovo Travel Guides - Kosovo Maps.
Weather in Europe:
Local weather forecasts for destinations around Europe.
Travel Notes Online Guide to Travel
Africa - Asia - Caribbean - Europe - Middle East - North America - Oceania - South America.

The Travel Notes Online Guide to Travel helps visitors plan their trip with country and city travel guides, local tourist information, reviewed web sites, and regular travel articles.
Travel and Tourism Guides on Travel Notes
If Travel Notes has helped you, please take a moment to like us on Facebook and share with your friends on social media.


Travel & Tourism With Industry Professionals.

Latvia.