Short URL: https://tnot.es/XK
Kosovo Travel and Tourism on Travel Notes

Find Kosovo Travel and Tourist Information with links to official travel and tourism websites and state resources for visitors to Kosovo.
About Kosovo
Serbs migrated to the territories of modern Kosovo in the 7th century, but did not fully incorporate them into the Serbian realm until the early 13th century.
Countries neighbouring Kosovo are: Albania, Montenegro, Serbia and FYRO Macedonia.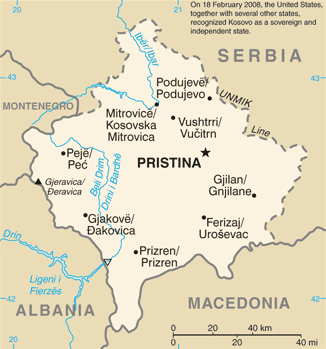 The capital of Kosovo is Pristina.
Weather in Europe:
Local weather forecasts for destinations around Europe.
The Serbian defeat at the Battle of Kosovo, in 1389, led to five centuries of Ottoman rule; during which large numbers of Turks and Albanians moved to Kosovo.
By the end of the 19th century, Albanians replaced the Serbs as the dominant ethnic group in Kosovo.
Serbia reacquired control over Kosovo from the Ottoman Empire during the First Balkan War (1912), and after World War II (1945) the government of the Socialist Federal Republic of Yugoslavia, led by Josip Broz Tito, reorganised Kosovo as an autonomous province within the constituent republic of Serbia.
Over the next four decades, Kosovo Albanians lobbied for greater autonomy and Kosovo was granted the status almost equal to that of a republic in the 1974 Yugoslav Constitution.
Despite the legislative concessions, Albanian nationalism increased in the 1980s leading to nationalist riots and calls for Kosovo's independence.
Serbs in Kosovo complained of mistreatment and Serb nationalist leaders, such as Slobodan Milosevic, exploited those charges to win support among Serbian voters; many of whom viewed Kosovo as their cultural heartland.
Under Milosevic's leadership, Serbia instituted a new constitution in 1989 that drastically curtailed Kosovo's autonomy and Kosovo Albanian leaders responded in 1991 by organising a referendum that declared Kosovo independent from Serbia.
The Milosevic regime carried out repressive measures against the Albanians in the early 1990s as the unofficial government of Kosovo, led by Ibrahim Rugova, tried to use passive resistance to gain international assistance and recognition of its demands for independence.
In 1995, Albanians dissatisfied with Rugova's non-violent strategy created the Kosovo Liberation Army and launched an insurgency. In 1998, Milosevic authorised a counterinsurgency campaign that resulted in massacres and massive expulsions of ethnic Albanians by Serbian military, police, and paramilitary forces.
The international community tried to resolve the conflict peacefully, but Milosevic rejected the proposed international settlement - the Rambouillet Accords - leading to a three-month NATO bombing of Serbia, beginning in March 1999; which forced Serbia to withdraw its military and police forces from Kosovo in June 1999.
UN Security Council Resolution 1244 (1999) placed Kosovo under a transitional administration, the UN Interim Administration Mission in Kosovo (UNMIK), pending a determination of Kosovo's future status.
Under the resolution, Serbia's territorial integrity was protected, but it was UNMIK who assumed responsibility for governing Kosovo.
In 2001, UNMIK promulgated a Constitutional Framework, which established Kosovo's Provisional Institutions of Self-Government (PISG), and in succeeding years UNMIK increasingly devolved responsibilities to the PISG.
On 17th February 2008, the Kosovo Assembly declared its independence from Serbia.
Administrative Divisions
30 municipalities:
(komunat, singular - komuna in Albanian; opstine, singular - opstina in Serbian)
Decan (Decani); Dragash (Dragas); Ferizaj (Urosevac); Fushe Kosove (Kosovo Polje); Gjakove (Dakovica); Gllogoc/Drenas (Glogovac); Gjilan (Gnjilane); Istog (Istok); Kacanik, Kline (Klina); Kamenice/Dardana (Kamenica); Leposaviq (Leposavic); Lipjan (Lipljan); Malisheve (Malisevo); Mitrovice (Mitrovica); Novoberde (Novo Brdo); Obiliq (Obilic); Peje (Pec); Podujeve (Podujevo); Prishtine (Pristina); Prizren; Rahovec (Orahovac); Shtime (Stimlje); Shterpce (Strpce); Skenderaj (Srbica); Suhareke (Suva Reka); Viti (Vitina); Vushtrri (Vucitrn); Zubin Potok; Zvecan.
Kosovo by Road
While it is possible to drive into Kosovo from Serbia, tensions can still run high in the area and a foreign number plate might attract some attention.
Buses run from Belgrade and Nis (Serbia) to Pristina and Prizren.
You can also enter Kosovo from Montenegro, through Rozaje to Peja/Pec; from Macedonia there's a bus to Pristina; and the really adventurous could travel from Albania on the Tirana-Prizren bus, along a mountainous road.
There are also international buses from Belgium, Bulgaria, Germany, Switzerland and Turkey.
Kosovo by Train
Trains cross into Kosovo from Kraljevo, in Serbia; and from Skopje, in Macedonia. Trains are very slow but you will get to see a lot of the country.
Kosovo by Air
With the large number of Kosovo Albanians working in Germany and Switzerland these countries do offer the possibilities of charter flights to Pristina.
Pristina International Airport:
Flights to Kosovo from Budapest, Dusseldorf, Frankfurt, Geneva, Hamburg, Hannover, Istanbul, Ljubljana, London, Milan, Munich, Stuttgart, Tirana, Verona, Vienna and Zurich.
Gjakova Bazaar
The old bazaar from 17th century was burned down by the Serbian Army, in 1999, but has been reconstructed. There's also an old mosque here, dating from the 15th century.
Mitrovica Bridge
Considered the dividing line between the Mitrovice Serbs and Mitrovica Albanians things have been known to get heated around here.
Pec Patriachy
A beautiful monastery with many spectacular paintings, just two kilometres north-west of Pec, this was the seat of the Patriarchy of the Serbian Orthodox Church, from 1302; and is considered to be of extreme national importance to the Serbs.
With most of the Serbs gone, the Patriarchy has to be guarded by NATO troops.
Prizren
In the south of Kosovo, this historical city has plenty of Islamic architecture; with the Sinan Pasha Mosque dominating the town centre.
Rugova Gorge
The Rugova gorge is a little further out of Pec than the Pec Patriachy; along the same road.
Balkan Sunflowers:
Volunteer organisation founded in 1999 to aid the Kosovar refugees.
United Nations Mission in Kosovo.

Add a Business Listing - Add a Destination Guide - Add a Place to Stay.



If you find Travel Notes useful, please take a moment to like us on Facebook and share with your friends on social media.
Europe Index - Europe Tourism - Europe Travel Websites.