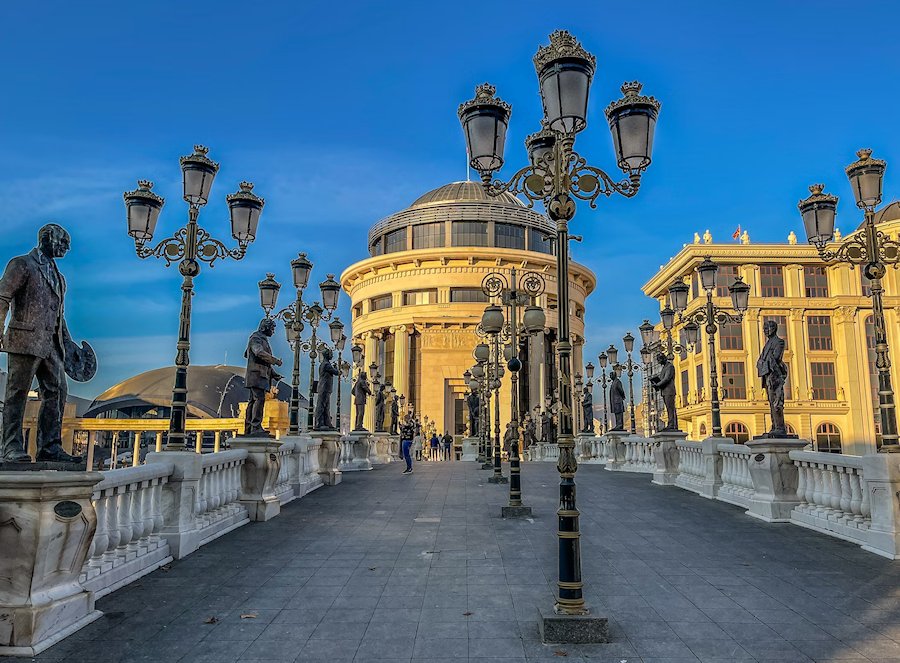 Skopje, North Macedonia by Lex Melony on Unsplash.
Travel Notes: Europe - North Macedonia Travel Notes.


Short URL: https://tnot.es/MK
North Macedonia Travel and Tourism on Travel Notes

Find North Macedonia Travel and Tourist Information with links to official travel and tourism websites and state resources for visitors to North Macedonia.
About North Macedonia
North Macedonia is a fascinating travel destination with stunning mountain ranges and ancient villages to unique cultural experiences and outdoor adventures.
Some popular tourist sights include Matka Canyon, Mavrovo National Park, and Vrelo Cave.
Travellers can also explore the country's rich history and culture, including its many churches, monasteries, and museums.
Countries neighbouring North Macedonia: Albania, Kosovo, Serbia, Bulgaria and Greece.
Map of North Macedonia
North Macedonia is bordered by Greece to the south, Bulgaria to the east, Serbia to the north, Albania to the west, and Kosovo to the north-west.
The capital and largest city of North Macedonia is Skopje.
A landlocked country located in the Balkan Peninsula of South-east Europe, the Former Yugoslav Republic of Macedonia, or FYROM, is now known as the Republic of North Macedonia (North Macedonia); in a bid to join NATO and the European Union, without causing Greece to veto their applications.
About Macedonia
The use of the name of Republic of Macedonia was contested by Greece, when the former Yugoslav republic declared itself an independent nation in 1991.
The name change, to North Macedonia, aimed to differentiate it from the Greek region of Macedonia.Brief History of Macedonia
Historically, the region of Macedonia has been significant due to its location at the crossroads of various civilisations and empires.
It was once part of the ancient Macedonian kingdom ruled by Alexander the Great, who expanded his empire across much of the known world in the 4th century BC.
Later, the area came under the rule of the Roman Empire, Byzantine Empire, Ottoman Empire, and various other powers throughout history.
The modern state of Macedonia emerged after the breakup of Yugoslavia in the early 1990s.
Initially, it declared independence in 1991 as the Republic of Macedonia. However, a long-standing naming dispute with Greece led to a change in the country's name in 2019, resolving the issue.
Tensions exist in North Macedonia, especially between the ethnic Albanians and the ethnic Macedonian Slav majority, but ethnic cleansing hasn't been carried out.
Cultural Heritage
The cultural heritage of North Macedonia is diverse and rich.
The country is known for its archaeological sites, such as the ancient city of Stobi and the ruins of Heraclea Lyncestis.
The city of Ohrid, situated on Lake Ohrid, is an UNESCO World Heritage site renowned for its Byzantine churches, monasteries, and ancient Roman theatre.
North Macedonia offers a blend of natural beauty, with picturesque landscapes, mountains, lakes, and national parks
It has a rich cultural scene, including traditional music, dance, cuisine, and festivals.
The country is known for its warm hospitality and friendly atmosphere, making it a growing tourist destination.
Democracy
North Macedonia is a parliamentary democracy with a mixed economy.
The country has made significant strides in its integration with Euro-Atlantic institutions, including becoming a member of the United Nations (UN) in 1993 and joining the North Atlantic Treaty Organization (NATO) in 2020.
Macedonians
The people of North Macedonia, known as Macedonians, belong to various ethnic groups.
The majority are ethnic Macedonians, followed by Albanians, Turks, Roma, and other smaller communities.
The official language is Macedonian, a Slavic language, but Albanian is also recognised as an official language in areas with a significant Albanian population.
Macedonian was proclaimed a language in 1944, although Greece doesn't recognise this name. The language uses the Cyrillic script and is closely related to Bulgarian.
North Macedonia is a small but vibrant country with a fascinating history, diverse culture, and beautiful landscapes.
North Macedonia Highlights
North Macedonia's rich history, stunning landscapes, and warm hospitality make it a fantastic destination for exploration and discovery.
Bitola
Travel to Bitola, a city with a rich cultural heritage and a charming Ottoman-era atmosphere.
Explore the Shirok Sokak, a bustling pedestrian street lined with shops, cafes, and historic buildings.
Don't miss the Heraclea Lyncestis archaeological site, showcasing impressive ruins from the ancient Greek and Roman periods.
Kokino Observatory
For history and astronomy buffs, Kokino Observatory is a must-visit.
This ancient archaeological site features a 3,800-year-old megalithic observatory, which is one of the oldest in the world.
Learn about the astronomical knowledge of the Bronze Age civilisation and admire the panoramic views.
Lake Ohrid
Head south-west to Lake Ohrid, one of Europe's oldest and deepest lakes.
The town of Ohrid, located on its shores, is an UNESCO World Heritage site.
Admire the beautiful Byzantine churches, such as the Church of St. John at Kaneo, and enjoy the stunning views of the lake and surrounding mountains.
Matka Canyon
Just outside of Skopje, you'll find the picturesque Matka Canyon.
Take a boat ride along the river and marvel at the vertical cliffs, caves, and diverse flora and fauna.
Visit the Monastery of St. Andrew, perched on a cliff overlooking the canyon.
Mavrovo National Park
If you're a nature enthusiast, make sure to visit Mavrovo National Park.
Located in the western part of the country, the national park offers breathtaking scenery, including mountains, lakes, and dense forests; great for hikers.
Pelister National Park
South-east of Bitola, you'll find Pelister National Park, known for its diverse flora and fauna.
Explore the rugged mountain landscap
Skopje
The capital of North Macedonia offers an interesting mix of Ottoman and European architectural influences.
Take a stroll along the Vardar River and visit the iconic Stone Bridge, the symbol of Skopje.
Explore the Old Bazaar, an atmospheric area filled with shops, cafes, and historic buildings.e, hike to the peak of Mount Pelister, and discover the enchanting landscapes, including the Big Lake and the beautiful Pelister Lakes.
Skopje Excursions
When visiting North Macedonia be sure to purchase a good map and be aware that signs may be in Cyrrilic.
Main Airports
Skopje (Alexander the Great) is 25km (16 miles) from the city.
To/from the airport:
Taxis are available to the city centre (journey time – 25 to 30 minutes).
Facilities:
Include duty-free shop, bar and restaurant, bank/bureau de change, baggage facilities, post office and car hire.
There is also an airport at Ohrid.
Getting Around By Air
There are no regularly scheduled domestic flights - however, there are occasional flights between Ohrid and Skopje.
Macedonia by Rail
Intercity trains operate between Skopje and Belgrade (Serbia). Trains also run between Skopje and Thessaloniki (Greece).
Getting Around by Rail
All the main internal road and rail services are operating normally, with links from Skopje to Kumanovo in the north, to Stip in the east, to Veles and Gevgelija in the south, and to Prilep and Bitola in the southwest.
Rail Passes
InterRail's One-Country Pass offers travel for three, four, six or eight days in one month within North Macedonia.
Macedonia by Road
The E75 European Highway passes through the heart of Macedonia, from Skopje, Veles, the wine region, to Gevgelija, the road continues on down to Greece.
Along the highway, Macedonia offers plenty of attractions for visitors who transit through the country.
Getting Around by Bus
The international bus station in Skopje serves buses destined for Tirana (Albania), Sofia (Bulgaria), Belgrade (Serbia) and Istanbul (Turkey). There are also buses to Germany.
The bus network in North Macedonia is well developed with frequent services from Skopje to Ohrid and Bitola. Long-distance buses need to be booked well in advance.
Visit Macedonia
The Agency for Promotion and Support of Tourism in the Republic of North Macedonia is an institution established by the Government of the Republic of North Macedonia.
The main function of the Agency for Promotion and Support of Tourism is promoting tourism resources of the Republic of North Macedonia for foreign markets, as well as management and support of projects aimed at developing tourism in general.
Travel 2 Macedonia
If you visit Macedonia from April to October, most places in Macedonia have an ideal climate that is perfect for relaxing and enjoying the beautiful nature of mountains and lakes, while the rest of the year you have the clear Macedonian mountains and ski resorts.
Macedonia remains one of Europe's last great undiscovered countries: a natural paradise of mountains, lakes and rivers, where life moves to a different rhythm, amidst the sprawling grandeur of rich historical ruins and idyllic villages that have remained practically unchanged for centuries.
The capital of North Macedonia is in the north of the country, on the Vardar River.
Map of Skopje
Skopje, then called Scupi, was the capital of the kingdom of ancient Dardania.
The Serbs and then the Turks came through in the late Middle Ages, and it became an important city in the Ottoman Empire.
An earthquake destroyed most of the city in 1963, including many ancient mosques.
Where to Stay in Skopje
Best Western Hotel Turist
Best Western Hotel Turist: Gjuro Strugar Street 11, Skopje.
Its central location, in the very heart of Skopje, makes this Best Western hotel an ideal base from which to explore all the major sights on foot. The House of Parliament and birthplace of Mother Teresa are within easy walking distance of the hotel.
Skopje's Best Western Hotel Turist is an international class hotel with a local ambience. The hotel's restaurant serves local and international cuisine.
Near Bitola, in the southern part of North Macedonia, are the ruins of the Greek settlement of Heraclea Lyncestis.
Known as The Balkan Jerusalem, Ohrid's ancient past makes it a cultural, spiritual and tourist centre today.
Ohrid is a world cultural and natural heritage listed city, under the protection of UNESCO since 1980.
There are a number of interesting art galleries in and around Ohrid.
National Park Galicica
Situated on Mount Galicica, between the Lakes of Ohrid and Prespa, the park is renowned for its exceptional natural beauty and extremely opulent and endemic flora and fauna.
Ohrid Summer Festival
Mid-July to mid-August is the time to enjoy Ohrid at it's artistic best.
Where to Stay in Ohrid:
Selection of Ohrid accommodation, some of it situated around the lake.
Macedonia Travel Guides - Macedonia Maps.
Weather in Europe:
Local weather forecasts for destinations around Europe.
Travel Notes Online Guide to Travel
Africa - Asia - Caribbean - Europe - Middle East - North America - Oceania - South America.

The Travel Notes Online Guide to Travel helps visitors plan their trip with country and city travel guides, local tourist information, reviewed web sites, and regular travel articles.
Travel and Tourism Guides on Travel Notes
If Travel Notes has helped you, please take a moment to like us on Facebook and share with your friends on social media.


Travel & Tourism With Industry Professionals.

Malta.