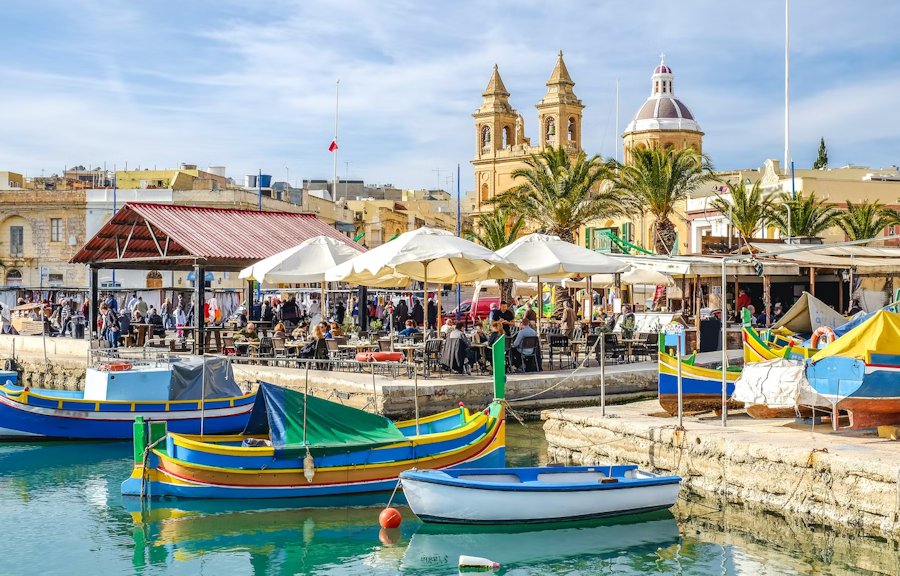 Marsaxlokk, Malta by Calin Stan on Unsplash.
Travel Notes: Europe - Malta and Gozo Travel Notes.


Short URL: https://tnot.es/MT
Malta and Gozo Travel and Tourism on Travel Notes

Find Malta and Gozo Travel and Tourist Information with links to official travel and tourism websites and state resources for visitors to Malta and Gozo.
About Malta
Malta offers an unique blend of history, culture, natural beauty, and a welcoming atmosphere, making it a fascinating destination for travellers from around the world.
Consisting of a small group of islands in the Mediterranean, south of Sicily, Malta is popular with tourists for historical sites like Mdina, St. John's Co-Cathedral, and the Upper Barrakka Gardens with views over Valletta Grand Harbour.
Map of Malta and Gozo
Malta, officially known as the Republic of Malta, is a small island country located in the Mediterranean Sea.
It consists of an archipelago of three main islands: Malta, Gozo, and Comino, as well as several smaller uninhabited islands.
The capital city of Malta is Valletta.
Gozo lies to the north of Malta Island.
History
Malta has a rich history that dates back thousands of years.
The islands have been inhabited since prehistoric times and have been ruled by various civilisations, including the Phoenicians, Romans, Arabs, Normans, Knights of St. John, French, and British.
Malta gained independence from the United Kingdom in 1964 and became a republic in 1974.
Climate
Malta has a Mediterranean climate characterised by hot, dry summers and mild winters.
Summers (June to September) are typically hot and dry, with temperatures often reaching 30°C or higher.
Winters (December to February) are mild, with average temperatures around 15°C.
The country receives a moderate amount of rainfall, mainly between October and March.
Culture and Heritage
Malta has a vibrant culture influenced by its historical and geographic connections.
The country is known for its unique blend of Mediterranean, North African, and European traditions. Maltese cuisine, music, and art reflect this cultural fusion.
The islands are also home to numerous UNESCO World Heritage Sites, including the ancient city of Valletta, the Megalithic Temples, and the Hypogeum of Hal Saflieni.
Economy
Malta has a diverse economy with strong sectors in tourism, financial services, manufacturing, and information technology.
The country has attracted foreign investment and has positioned itself as a hub for international businesses, particularly in the gaming and digital industries.
Malta is also a member of the European Union and uses the euro as its currency.
Festivals and Events
Malta hosts a variety of festivals and events throughout the year, including the Carnival in February, the Malta International Fireworks Festival in April, and the Malta Arts Festival in July.
The island is also known for its religious celebrations, such as the feast of St. Paul's Shipwreck in Valletta and the feast of Santa Marija in Gozo.
Geography
Malta is located in the central Mediterranean, about 80 kilometers south of Sicily, Italy.
Despite its small size, Malta has a diverse landscape with rocky coastlines, harbours, and rolling hills.
Language
The official languages of Malta are Maltese and English.
Maltese, a Semitic language with a mixture of Arabic and European influences, is the national language.
English is widely spoken and is used in official and educational settings.
Tourism
Malta is a popular tourist destination due to its beautiful beaches, crystal-clear waters, historical sites, and year-round mild climate.
Visitors can explore ancient ruins, visit museums and art galleries, enjoy water sports, and experience traditional Maltese festivals.
The island of Gozo, known for its picturesque landscapes and historical sites, is a popular destination for nature lovers and cultural enthusiasts.
Because of its location, there are many ancient monuments and remains on Malta that speak volumes about its colourful history.
The Phoenicians colonised the island in about 1,000 BC.
A few hundred years later they were occupied by the Greeks, who called the colony Melita.
The islands passed into the Rome's hands, and then became a possession of the Arabs.
The Maltese Arabs were defeated by a Norman army in 1090, and Malta later became a feudal fief of the Kingdom of Sicily.
The Knights of St John of Jerusalem fortified Valletta after an unsuccessful siege by the Ottoman Turks in 1565, making it one of the foremost Mediterranean strongholds.
In 1798 Napoleon occupied the islands during his Egyptian campaign, but the French were forced to withdraw the following year, by Horatio Nelson.
Malta became a Crown Colony of the British Empire in 1814.
The Maltese were awarded the George Cross by George VI, in 1942, in recognition of their bravery against Italian and German onslaughts.
The islanders became independent on September 21, 1964.
Malta is a beautiful island country located in the Mediterranean Sea, known for its rich history, stunning landscapes, and vibrant culture.
Whether you're interested in exploring ancient historical sites, relaxing on picturesque beaches, or indulging in delicious cuisine, Malta offers a diverse range of experiences for visitors to enjoy.
Malta is subdivided into 5 regions: Central Region (San Gwann), Gozo Region (Victoria), Northern Region (St Paul's Bay), South Eastern Region (Valletta) and Southern Region (Qormi).
Malta Highlights
Blue Grotto
Head to the southern coast of Malta and take a boat tour to the Blue Grotto; a must-see attraction for nature lovers and photographers.
Marvel at the breathtaking natural sea caves and the vibrant blue hues of the water.
Comino
Another island worth visiting is Comino, situated between Malta and Gozo.
Explore the crystal-clear waters of the Blue Lagoon, go snorkelling or scuba diving, and enjoy the tranquility of this small island.
Cuisine
Don't miss the opportunity to try Maltese cuisine.
Sample local dishes like rabbit stew (fenkata), pastizzi (flaky pastries filled with ricotta or mushy peas), and ftira (traditional Maltese bread).
Pair your meal with a glass of local wine or the popular local soft drink, Kinnie.
Gozo
Take a short ferry ride from Malta to Gozo, its sister island.
Gozo offers a more rural and laid-back experience, with beautiful beaches, charming villages, and the iconic Azure Window (although it collapsed in 2017, the area is still worth a visit).
Marsaxlokk
Visit the charming fishing village of Marsaxlokk, famous for its colourful traditional fishing boats called luzzus.
Explore the local market, indulge in fresh seafood, and soak in the relaxed atmosphere.
Megalithic Temples
Malta is home to several prehistoric temples, including the UNESCO-listed temples of Ħaġar Qim and Mnajdra.
These ancient structures date back to around 3,600 BC and are among the oldest free-standing structures in the world.
Mdina
Make sure to visit Mdina, also known as the 'Silent City'.
This medieval walled town is incredibly charming, with its narrow streets, stunning architecture, and panoramic views.
Don't miss the Mdina Cathedral and the Mdina Dungeons.
Valletta
Start your exploration in Malta's capital city, Valletta, which is an UNESCO World Heritage Site.

Map of Valetta.
Visit the magnificent St. John's Co-Cathedral, admire the Grandmaster's Palace, and explore the narrow streets of this fortified city.
Malta Holidays
Explore the Maltese Islands and enjoy the best of Malta.
With over 7,000 years wrapped in three hundred square kilometres, the Maltese Islands boast of a history that is crammed with remnants from past rulers.
Air Malta - Air Malta is a point-to-point airline transporting leisure-based customers to the Maltese Islands; connecting Malta and Gozo to Europe's main airport hubs.
The City of Birgu is Malta's oldest maritime capital.
Malta Tourism
Whether you're a history buff, a night owl, an adrenaline junkie, or simply a rambler wishing to be bowled over by natural splendour, the list of things to do in Malta is endless.
Visit Malta and enjoy 3,000 hours of sunshine per year.
Where to Stay in Malta
The Phoenicia Malta
The Phoenicia Malta: The Mall, Floriana, Malta.
Located on the edge of the city's 16th Century bastions, just outside the vibrant capital of Valletta, the hotel - with its rich colonial atmosphere - has long been regarded as a national treasure.
The Phoenicia is both a landmark and a luxury retreat. The elegant hotel - offering guests an unparalleled experience in comfort, service and luxury - is loved by islanders and cherished by visitors.
Malta's famed sister island, Gozo, is only a short ferry ride away from the mainland but the crossing time seems even shorter thanks to the magnificent views on the approach.
The Gozo Tourism Association was set up during a general meeting held for tourism operators in Gozo on the 11th February, 1999.
Gozo Holidays
Gozo farmhouses and holiday homes with pool are available for rent from a small real estate company specialising in the short lets of Gozo holiday accommodation.
Rental of villas with pool and farmhouses range from two to eight bedrooms, many with an ensuite bathroom.
Most of the villas and farmhouses are equipped with air-condition, WiFi, satellite TV, washing machine and maid service once a week.
The villas with pool are located in different parts of Gozo depending on the customer's requirements.
For those who prefer to stay in a village, where it's not too quiet, villas with pool are available in Nadur and Xaghra.
For peace and quiet there are several villas on the west side of Gozo, namely Gharb and St Lawrence.
Malta Travel Guides - Malta and Gozo.
Weather in Europe:
Local weather forecasts for destinations around Europe.
Travel Notes Online Guide to Travel
Africa - Asia - Caribbean - Europe - Middle East - North America - Oceania - South America.

The Travel Notes Online Guide to Travel helps visitors plan their trip with country and city travel guides, local tourist information, reviewed web sites, and regular travel articles.
Travel and Tourism Guides on Travel Notes
Travel Professionals Based in Malta.
If Travel Notes has helped you, please take a moment to like us on Facebook and share with your friends on social media.


Travel & Tourism With Industry Professionals.

Moldova.