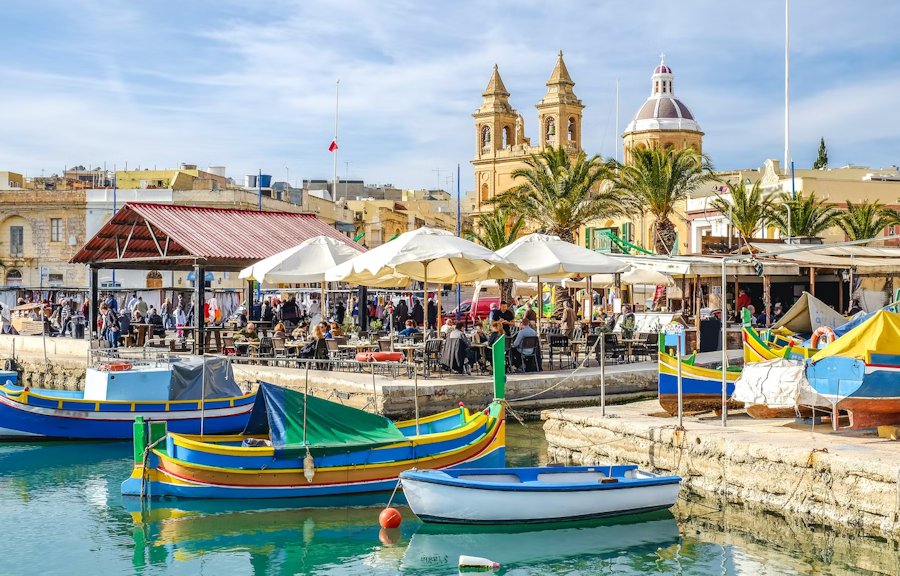 Marsaxlokk, Malta by Calin Stan on Unsplash.
Travel Notes: Europe - Malta and Gozo Travel Notes.


Short URL: https://tnot.es/MT
Malta and Gozo Travel and Tourism on Travel Notes

Find Malta and Gozo Travel and Tourist Information with links to official travel and tourism websites and state resources for visitors to Malta and Gozo.
About Malta
Malta consists of a small group of islands in the Mediterranean, south of Sicily.
Map of Malta and Gozo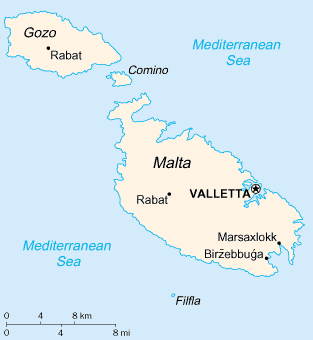 Malta is the largest island, with Valletta the capital.
Gozo lies to the north of Malta Island, with Kemunna Island, and the smaller Kemmunett Island, between them.
Malta Travel Guides - Malta and Gozo.
Weather in Europe:
Local weather forecasts for destinations around Europe.
Because of its location, there are many ancient monuments and remains on Malta that speak volumes about its colourful history.
The Phoenicians colonised the island in about 1,000 BC.
A few hundred years later they were occupied by the Greeks, who called the colony Melita.
The islands passed into the Rome's hands, and then became a possession of the Arabs.
The Maltese Arabs were defeated by a Norman army in 1090, and Malta later became a feudal fief of the Kingdom of Sicily.
The Knights of St John of Jerusalem fortified Valletta after an unsuccessful siege by the Ottoman Turks in 1565, making it one of the foremost Mediterranean strongholds.
In 1798 Napoleon occupied the islands during his Egyptian campaign, but the French were forced to withdraw the following year, by Horatio Nelson.
Malta became a Crown Colony of the British Empire in 1814.
The Maltese were awarded the George Cross by George VI, in 1942, in recognition of their bravery against Italian and German onslaughts.
The islanders became independent on September 21, 1964.
Malta is subdivided into 5 regions: Central Region (San Gwann), Gozo Region (Victoria), Northern Region (St Paul's Bay), South Eastern Region (Valletta) and Southern Region (Qormi).
Malta Holidays
Explore the Maltese Islands and enjoy the best of Malta.
With over 7,000 years wrapped in three hundred square kilometres, the Maltese Islands boast of a history that is crammed with remnants from past rulers.
Air Malta - Air Malta is a point-to-point airline transporting leisure-based customers to the Maltese Islands; connecting Malta and Gozo to Europe's main airport hubs.
The City of Birgu is Malta's oldest maritime capital.
Malta Tourism
Whether you're a history buff, a night owl, an adrenaline junkie, or simply a rambler wishing to be bowled over by natural splendour, the list of things to do in Malta is endless.
Visit Malta and enjoy 3,000 hours of sunshine per year.
Where to Stay in Malta
The Phoenicia Malta
The Phoenicia Malta: The Mall, Floriana, Malta.
Located on the edge of the city's 16th Century bastions, just outside the vibrant capital of Valletta, the hotel - with its rich colonial atmosphere - has long been regarded as a national treasure.
The Phoenicia is both a landmark and a luxury retreat. The elegant hotel - offering guests an unparalleled experience in comfort, service and luxury - is loved by islanders and cherished by visitors.
Malta's famed sister island, Gozo, is only a short ferry ride away from the mainland but the crossing time seems even shorter thanks to the magnificent views on the approach.
The Gozo Tourism Association was set up during a general meeting held for tourism operators in Gozo on the 11th February, 1999.
Gozo Holidays
Gozo farmhouses and holiday homes with pool are available for rent from a small real estate company specialising in the short lets of Gozo holiday accommodation.
Rental of villas with pool and farmhouses range from two to eight bedrooms, many with an ensuite bathroom.
Most of the villas and farmhouses are equipped with air-condition, WiFi, satellite TV, washing machine and maid service once a week.
The villas with pool are located in different parts of Gozo depending on the customer's requirements.
For those who prefer to stay in a village, where it's not too quiet, villas with pool are available in Nadur and Xaghra.
For peace and quiet there are several villas on the west side of Gozo, namely Gharb and St Lawrence.
Travel Notes Online Guide to Travel
The Travel Notes Online Guide to Travel helps visitors plan their trip with country and city travel guides, local tourist information, reviewed web sites, and regular travel articles.

Join Michel on Meta-Travel.

Airlines and Airports.

Add a Business Listing - Add a Destination - Add a Place to Stay - Add URL.



Affiliates - Europe Tourism - Europe Travel Websites.
If you find Travel Notes useful, please take a moment to like us on Facebook and share with your friends on social media.