Short URL: https://tnot.es/MT
Malta and Gozo Travel and Tourism on Travel Notes

Find Malta and Gozo Travel and Tourist Information with links to official travel and tourism websites and state resources for visitors to Malta and Gozo.
About Malta
Malta consists of a small group of islands in the Mediterranean, south of Sicily.
Malta is the largest island, with Valetta the capital.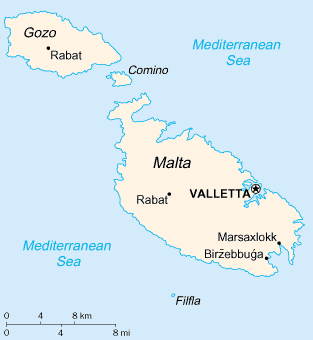 Gozo lies to the north of Malta Island, with Kemunna Island, and the smaller Kemmunett Island, between them.
Weather in Europe:
Local weather forecasts for destinations around Europe.
Because of its location, there are many ancient monuments and remains on Malta that speak volumes about its colourful history.
The Phoenicians colonised the island in about 1,000 BC.
A few hundred years later they were occupied by the Greeks, who called the colony Melita.
The islands passed into the Rome's hands, and then became a possession of the Arabs.
The Maltese Arabs were defeated by a Norman army in 1090, and Malta later became a feudal fief of the Kingdom of Sicily.
The Knights of St John of Jerusalem fortified Valletta after an unsuccessful siege by the Ottoman Turks in 1565, making it one of the foremost Mediterranean strongholds.
In 1798 Napoleon occupied the islands during his Egyptian campaign, but the French were forced to withdraw the following year, by Horatio Nelson.
Malta became a Crown Colony of the British Empire in 1814.
The Maltese were awarded the George Cross by George VI, in 1942, in recognition of their bravery against Italian and German onslaughts.
The islanders became independent on September 21, 1964.
Air Malta:
Can you fly direct with Air Malta? Here's the flight schedule.
City of Birgu:
Malta's oldest Maritime Capital.
Island of Gozo:
Gozo is just twenty minutes by ferry from Malta.
Visit Malta:
The official tourism site for Malta, Gozo and Comino.
Accommodation in Malta
Hotel Phoenicia Malta Valletta:
The Phoenicia is an elegant hotel offering guests an unparalleled experience in comfort, service and luxury. The rich colonial atmosphere of the hotel is immediately recognisable on entering the Palm Court Lounge.
Malta Holidays:
A guide to the best things to see and do in Malta's archipelago. From destination guides to tips on the best beaches, the site is full of info to help you enjoy your holiday in Malta.

Add a Business Listing - Add a Destination Guide - Add a Place to Stay.



If you find Travel Notes useful, please take a moment to like us on Facebook and share with your friends on social media.
Europe Index - Europe Tourism - Europe Travel Websites.