Photo by Milan Zmátlo on Unsplash.
Travel Notes: Europe - Latvia Travel Notes.


Short URL: https://tnot.es/LV
Latvia Travel and Tourism on Travel Notes

Find Latvia Travel and Tourist Information with links to official travel and tourism websites and state resources for visitors to Latvia.
About Latvia
Formerly known as the Latvian Soviet Socialist Republic, until 1991, there's plenty to see in Latvia, from castles and cathedrals to coastlines and forests.
The capital of Latvia is Riga.
Map of Latvia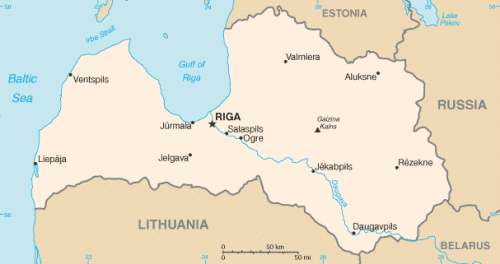 Countries neighbouring Latvia:
Lithuania, Belarus, Russia and Estonia.
Latvia Travel Guides - Latvia Maps.
Weather in Europe:
Local weather forecasts for destinations around Europe.
The Cesis Region is crossed by the Riga - Pskov highway that goes on to St. Petersburg, and a road from Riga to Tartu.
Cesis Tourist Information
Cesis is a charming little Latvian town with a romantic medieval feel, located on the banks of the picturesque Gauja River
One of Latvia's three nationally treasured cities, the location of Cesis within the Gauja National Park - and its excellent rail, bus and road connections to the Latvian capital of Riga - make it an ideal centre for tourism development.
The Latvian town of Cesis is located in the northern part of Vidzeme Central upland, on high hillocks with terraces; overlooking the blue woods of the Gauja river valley.
Cesis Castle
Cēsis Castle was built around 1214 and originally served as the residence of the Knights of the Livonian Brothers of the Sword.
Where to Stay in Cesis
Hotel Cesis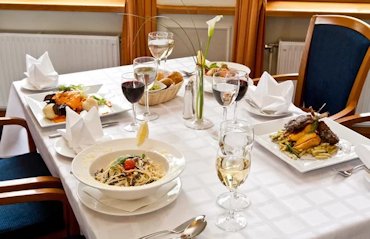 Hotel Cesis: Vienibas square 1, Cesis.
Built in 1939 Cesis Hotel is located in the very heart of the ancient city and fits perfectly into its historical landscape.
The area around the hotel houses a number of restaurants and bars but guests shouldn't have to venture outside of the venue since its very own Alexis restaurant offers a splendid view of the Maija Park and some distinguished cuisine.
Guests at the Hotel Cesis enjoyed its elegant atmosphere and found it ideal for both business dinners and a romantic rendezvous.
The Jurmala health resort - with its romantic wooden houses in art nouveau (Jugendstil), its spacious beaches, forests, and calmly flowing Lielupe river - is located at the southern shore of the Bay of Riga, 22km from the Latvian capital.
Getting to Ventspils
Buses leave Riga for Ventspils every couple of hours, or you can catch one of the twice-daily trains.
The train is quicker, three and a half to four hours, but the Ventspils train station is out of the centre. The bus station is more convenient, although the bus journey to the capital takes from three to six hours.
Visit Ventspils
Located at the mouth of the Venta River, the Baltic Sea port is of Ventspils ice-free.
Visit the renovated old town and castle or relax on the nearby beaches.
Recent changes in Eastern Europe have opened a new highway through the Baltic countries; the Via Baltica. To drive along the Via Baltica is to discover places that for decades have been closed to western tourists.
Getting Around Latvia
You can enter Latvia directly through numerous ports, airports or via road from one of the neighbouring countries. Riga, the capital of Latvia, has the largest seaport with passenger facilities, railway terminal and international airport in the Baltics.
Latvia Sightseeing
There's plenty to see in Latvia, from castles and cathedrals to coastlines and forests.
Places to visit include Bauska, Burtnieki, Cesis, Daugavpils, Jelgava, Jurmala, Kolka, Kuldiga, Liepaja, Mezaparks, Riga, and Sigulda.
Bauska
Bauska County is a municipality in the central part of Zemgale; bordering Iecava County, Vecumnieki County, Rundāle County, Jelgava County, Ozolnieki County and the Republic of Lithuania.
Bauska Town, the administrative centre of the county, is about an hour's drive from Riga (67km). Bauska can also be reached by public bus from Riga International Bus Terminal.
Visitors to Bauska have plenty of things to see and do.
Top on the list should be a visit to Bauska Castle and Rundāle Palace Museum.
Mazmežotnes Manor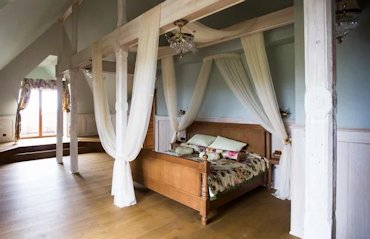 Mazmežotnes Manor: Rundāles pag., Rundāles nov., Mazmežotne.
Mazmežotnes muiža, housed in an historic manor house, is located in tranquil natural surroundings in a Lielupe River valley. Each of the palace-style rooms contain oak furniture and a TV.
Guests at the Mazmežotnes muiža can stay in the Lord's house, the Great Servant house or the Guest house 'Siernīca'.
Dobele
Dobele is situated about 70 km south-west of Riga, on the banks of the river Berze; where the hilly part of Kurzeme meets the more flat region of Zemgale.
North Latvia
Leaving Riga and driving north-east will take you to the nature park of Gaujiena, and its palace and estate dating from the 19th century.
Southeast Latvia
Riga is the perfect base to begin a tour of the south-eastern region of Latgale, home to some of Latvia's most spectacular scenery as well as charming towns and villages.
West Latvia
The picturesque town of Tukums, nestling on the banks of the Slocene river between the hilly Kurzeme region and the plains of Zemgale, is an ideal starting point for a tour of the north-west of Kurzeme.
'Baltic Country Holidays' promotes tourism in the Latvian countryside.
Lauku Celotajs (Countryside Traveller) is a rural tourism association, established in 1993, with some 360 members around rural Latvia.
From big city sophistication to heartfelt country hospitality, Visitors to Latvia can discover ancient castles, wander through stunning valleys or laze on miles of beaches.
1. The largest and most exciting metropolis in the Baltics, Riga will inspire you.
2. Wander miles of stunning hiking trails and explore fascinating medieval castles in the Gauja National Park.
3. Just 20 minutes' drive from Riga, Jurmala is a seaside resort like no other.
4. Drift back to a gentler age in Kuldiga, an ideal destination for a romantic weekend.
5. Nicknamed the Baltic Versailles, Rundale Palace (Rundāles pils) will transport you to an age of splendour.
6. Latvia is a land of ancient traditions, and the best place to experience them is the Turaida Museum Reserve near Sigulda.
7. Cesis is a town with an intriguing mixture of hipness and history.
8. Known as the 'city where the wind is born', Liepaja is a port with uncommon attractions.
9. Latgale is an off-the-beaten-track gem that deeply rewards visitors.
10. The port of Ventspils is a town with the sea in its veins, as well as being a delightful destination for the whole family.
Travel Notes Online Guide to Travel
The Travel Notes Online Guide to Travel helps visitors plan their trip with country and city travel guides, local tourist information, reviewed web sites, and regular travel articles.

Join Michel on Meta-Travel.

Airlines and Airports.

Add a Business Listing - Add a Destination - Add a Place to Stay - Add URL.



Affiliates - Europe Tourism - Europe Travel Websites.
If you find Travel Notes useful, please take a moment to like us on Facebook and share with your friends on social media.