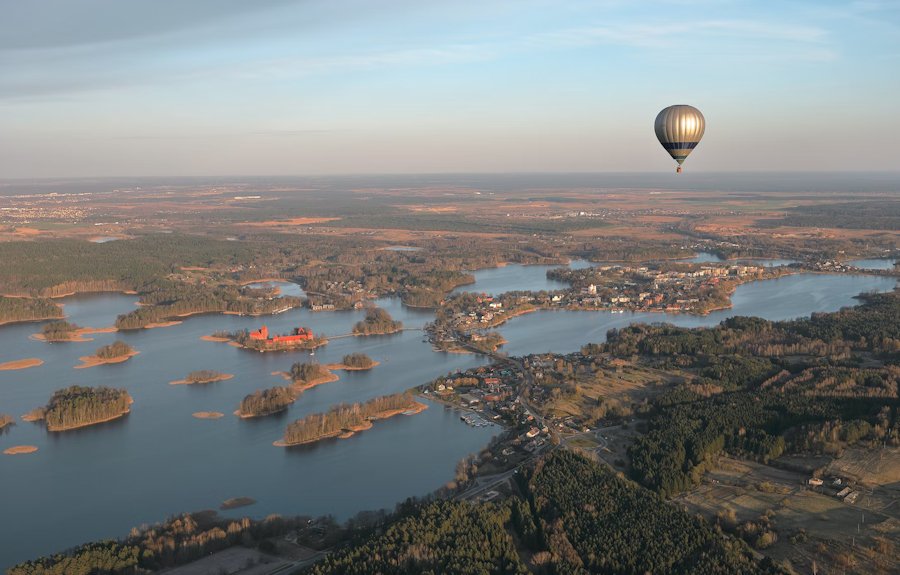 Trakai, Lithuania by Maksim Shutov on Unsplash.
Travel Notes: Europe - Lithuania Travel Notes.
Short URL: https://tnot.es/LT
Lithuania Travel and Tourism on Travel Notes

Find Lithuania Travel and Tourist Information with links to official travel and tourism websites and state resources for visitors to Lithuania.
About Lithuania
Lithuania is the southern-most of the Baltic States, and the largest, with a range of attractions which will appeal to even the most world-weary traveller.
Countries neighbouring Lithuania: Latvia, Belarus, Poland and Russia (Kaliningrad).
Map of Lithuania
Lithuania is bordered by Latvia to the north, Belarus to the east and south, Poland to the south, Russia (Kaliningrad Oblast) to the south-west, and the Baltic Sea to the west.
The capital of Lithuania is Vilnius.
Lithuania, officially known as the Republic of Lithuania, is a country located in the Baltic region of Europe.
Lithuania is a vibrant and welcoming country that offers a blend of historical charm, natural beauty, and a forward-looking perspective.
Capital and Major Cities
Vilnius is the capital and largest city of Lithuania.
It is known for its well-preserved medieval Old Town, which is an UNESCO World Heritage Site.
Other major cities in Lithuania include Kaunas, the second-largest city and an important cultural and academic centre; Klaipėda, the country's only seaport; and Šiauliai, known for the Hill of Crosses pilgrimage site.
Culture
Lithuania has a rich cultural heritage shaped by its historical influences.
Traditional Lithuanian folk music and dances play an important role in the cultural identity of the country.
The famous Lithuanian composer and painter Mikalojus Konstantinas Čiurlionis is highly regarded in the art world.
The country also celebrates various festivals and events, including Užgavėnės (Shrove Tuesday), Kaziuko Mugė (St. Casimir's Fair), and the Song and Dance Celebration, which is one of the largest amateur choral events in the world.
Economy
Since gaining independence, Lithuania has undergone significant economic development and is considered one of the Baltic Tiger economies.
It has a mixed-market economy with a strong focus on manufacturing, services, and high-tech industries.
Lithuania is known for its advanced technology sector, particularly in fields like biotechnology, laser optics, and information technology.
The country has also made strides in renewable energy, with a notable emphasis on wind power.
European Union and NATO
Lithuania joined the European Union and NATO in 2004.
These memberships have contributed to Lithuania's integration into European political, economic, and security structures.
History
Lithuania has a rich and complex history.
It was once the largest and most powerful state in Europe during the 14th century when it was known as the Grand Duchy of Lithuania.
In 1569, Lithuania formed a political union with Poland called the Polish-Lithuanian Commonwealth, which lasted until the late 18th century.
Lithuania regained its independence in 1918 after World War I, but it was subsequently occupied by the Soviet Union and later by Nazi Germany during World War II.
It remained part of the Soviet Union, as the Lithuanian Soviet Socialist Republic, until 1991.
Language
The official language of Lithuania is Lithuanian, which is one of the oldest living Indo-European languages.
It has its own unique script and is considered one of the most conservative languages in the world, closely related to ancient Sanskrit.
Nature and Landscape
Lithuania has a diverse landscape that includes rolling hills, forests, lakes, and a picturesque coastline along the Baltic Sea.
The country is known for its beautiful national parks and nature reserves, such as Aukštaitija National Park, Curonian Spit National Park (shared with Russia), and Žemaitija National Park.
The Curonian Spit, an UNESCO World Heritage Site, is a sand dune peninsula known for its exceptional natural beauty.
Tourism
Lithuania has become an increasingly popular tourist destination due to its rich history, natural beauty, and cultural heritage.
Visitors are drawn to the medieval architecture of Vilnius, the seaside resorts of Palanga and Nida, the historical sites of Trakai Castle and the Hill of Crosses, and the serene landscapes of its national parks.
For centuries Lithuania acted as a buffer zone between Germany to the west and Mongols and Tartars to the east.
Lithuania has a vibrant culinary scene, with delicious traditional dishes to try, such as cepelinai (potato dumplings) and šaltibarščiai (cold beet soup).
Whether you're interested in history, nature, or cultural experiences, Lithuania has something for everyone to enjoy.
Lithuania Highlights
Aukštaitija National Park
For nature lovers, Aukštaitija National Park is a must-visit.
Located in north-eastern Lithuania, this park is known for its pristine lakes, dense forests, and traditional wooden villages.
Explore the hiking trails, go canoeing or fishing, and immerse yourself in the tranquil surroundings.
Curonian Spit
Head west to the Curonian Spit, an UNESCO World Heritage site shared by Lithuania and Russia.
This narrow strip of land stretches along the Baltic Sea and offers stunning sand dunes, pristine beaches, and picturesque fishing villages.
Nida and Juodkrantė are popular towns to visit in this area.
Hill of Crosses
Located near the city of Šiauliai, the Hill of Crosses is an unique pilgrimage site.
Thousands of crosses, large and small, have been placed here by visitors over the years, creating a powerful and spiritual atmosphere; not to everyone's liking.
Kaunas
Lithuania's second-largest city, Kaunas, is known for its vibrant art scene and historical sites.
Explore the charming Old Town, visit the impressive Kaunas Castle, and check out the contemporary art galleries in the city's bohemian neighbourhoods.
Palanga
If you're looking for a seaside retreat, head to Palanga, a popular beach resort town on the Baltic coast.
Enjoy long sandy beaches, the beautiful Botanical Park with its famous Amber Museum, and a lively promenade filled with cafes, restaurants, and entertainment.
Rumsiskes Open-Air Museum
Situated near Kaunas, the Rumsiskes Open-Air Museum is an expansive ethnographic museum that showcases the traditional rural architecture and way of life in Lithuania.
Take a stroll through the reconstructed villages, visit the old wooden churches, and learn about the country's cultural heritage.
Trakai Castle
Just outside Vilnius, you'll find the magnificent Trakai Island Castle.
This 14th-century fortress is situated on an island in Lake Galvė and is one of Lithuania's most iconic landmarks.
Explore the castle's exhibitions and enjoy the beautiful surrounding scenery.
Vilnius
Filled with picturesque streets, Baroque architecture, and charming squares, the historic old town of Vilnius is an UNESCO World Heritage site.
Don't miss the Vilnius Cathedral, Gediminas' Tower, and the bohemian neighborhood of Užupis.
Lithuania Tourism
Known for its rich history, stunning landscapes, and vibrant culture, Lithuania offers a variety of attractions and experiences for visitors.
Lithuania Experiences
Despite being compact in size, Lithuania is a melting pot of various contrasting architectural styles that reflect how the country's character and values have changed over time.
True Lithuania
When in Lithuania, be sure to visit the cities of Vilnius and Kaunas; the Hill of Crosses for its unique atmosphere; the Curonian Spit for nature; and the Trakai castle.
The capital of Lithuania is located on the Neris River, in the south-east of the country.
Map of Vilnius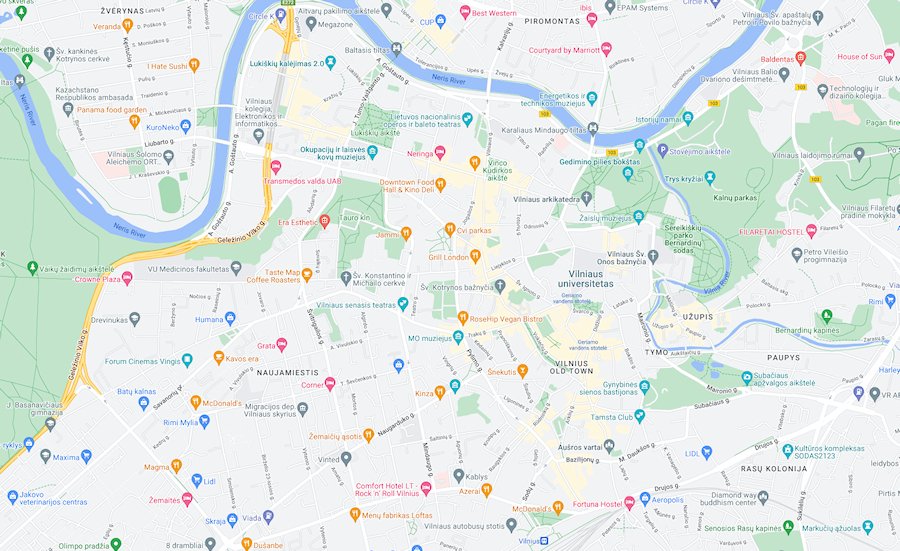 Gedimin chose Vilnius as the capital of the principality of Lithuania in 1323.
Lithuania was united with Poland in 1569, and incorporated into the Russian Empire in 1795.
Vilnius had a large Jewish population until Nazi Germany occupied the town during World War II.
Vilnius is easy to explore on foot, with numerous little courtyards and tiny cobble-stoned back streets to explore - or you can take the weight off your feet at one of the many great outdoor cafes.
The old city contains the ruins of a 14th-century castle and numerous churches dating from the 16th and 17th centuries.
Many festivals are held in Vilnius, throughout the summer months, and the old Soviet-style opera house offers quality performances (at unbelievable cheap prices) any time of the year.
The Lithuanian capital's first period of growth took place immediately south of today's Cathedral Square, eventually becoming the jumble of Baroque, Gothic, Neoclassical and Renaissance architecture now known as Old Town.
Getting to Vilnius
Vilnius Airport is built on the plateau in the south of Vilnius, 7km or 15 minutes driving time from the centre of the capital city.
There are buses every 15 minutes: Bus No 1 runs between the airport and the railway station and bus No 2 travels through the city centre to the outskirts at Šeškine.
There are also a number of minibuses that travel out to Santariškes (No 15), Fabijoniškes (No 20), Šeškine (No 23) and Pašilaiciai (No 47).
Car Hire in Lithuania
Autorenta Vilnius was established in 1998, offering passenger car rental services in the Republic of Lithuania and all other Baltic States.
Artis Centrum Hotels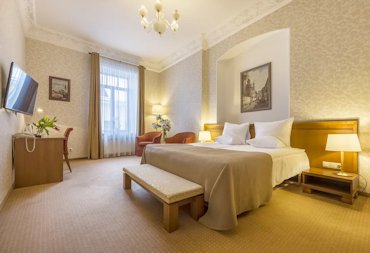 Artis Centrum Hotels: Totorių g. 23, Vilnius, Lithuania.
Located in the very heart of Vilnius' old town the hotel is situated in a renovated 19th century building close to the Presidential Palace.
Guests at the Artis Centrum Hotels have a choice of rooms from standard or business class, to luxury suites. The restaurant Adelia is on site.
Grata by Centrum Hotels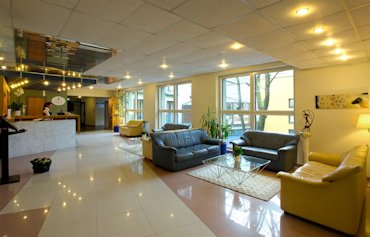 Grata by Centrum Hotels: Vytenio g. 9, Vilnius, Lithuania.
In the tradition of true hospitality, the family who run this hotel would like you to 'feel at home' in their cosy, classic-style apartments.
The three-star Grata by Centrum Hotels, established in 1996, was one of the first private hotels to be opened in independent Lithuania.
Grotthuss Boutique Hotel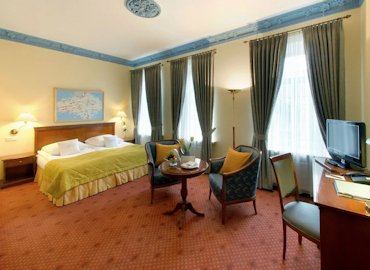 Grotthuss Boutique Hotel: Ligoninės g. 7, Vilnius, Lithuania.
Located on a cobble-stoned street in the heart of the old town of Vilnius, within walking distance of all the major points of interest.
Breakfast at the Grotthuss Hotel is served daily in the hotel's Winter Garden, La Pergola.
Ratonda Central Hotels
Ratonda Centrum Hotels: Gedimino av 52/Rotundo str 1, Vilnius, Lithuania.
This cosy, four-star, family-managed hotel is located in the very heart of Vilnius, on the quiet Rotundo street, next to the Seimas (Parliament) building, ministries and Lukiškės Square.
Renovated in 2017, the Ratonda Centrum Hotels offers guests a choice of 43 rooms and culinary delights in the Liberta restaurant.
The Lithuanians speak a Baltic language related to Latvian.
Lithuanian Parliament:
History of the Seimas and other information relating to the Lithuanian Parliament.
Lithuania Travel Guides - Lithuania Maps.
Weather in Europe:
Local weather forecasts for destinations around Europe.
Travel Notes Online Guide to Travel
Africa - Asia - Caribbean - Europe - Middle East - North America - Oceania - South America.

The Travel Notes Online Guide to Travel helps visitors plan their trip with country and city travel guides, local tourist information, reviewed web sites, and regular travel articles.
Travel and Tourism Guides on Travel Notes
If Travel Notes has helped you, please take a moment to like us on Facebook and share with your friends on social media.


Travel & Tourism With Industry Professionals.

Luxembourg.