Niasviz, Belarus by Egor Kunovsky on Unsplash.
Travel Notes: Europe - Belarus Travel Notes.
Short URL: https://tnot.es/BY
Belarus Travel and Tourism on Travel Notes

Find Belarus Travel and Tourist Information with links to official travel and tourism websites and state resources for visitors to Belarus.
About Belarus
Belarus is also known as Byelorussia, or White Russia.
Map of Belarus
Countries neighbouring Belarus:
Poland, Lithuania, Latvia, Russia and Ukraine.
Belarus Travel Guides - Belarus Maps.
Weather in Europe:
Local weather forecasts for destinations around Europe.
Belarus was a convenient battleground for Polish and Russian armies between the 16th and 18th centuries.
The Russians retreated in 1812 when Napoleon's armies invaded, and the area never had a real chance to develop.
A Belarusian democratic republic was proclaimed after the collapse of the Russian Empire, but the Bolsheviks soon put a stop to that idea.
The country was again almost devastated during World War II, when the Germans were expelled.
Belarus also received the highest amount of nuclear fallout, of all the Soviet republics, from the Chernobyl disaster; across the border, in Ukraine.
In February 2022, Belarus was used by Russia as an invasive way into neighbouring Ukraine. Belarus would subsequently suffer sanctions, alongside Vladimir Putin's Russia.
The capital of the Republic of Belarus was founded in 1067, as Mensk, and has been under Lithuanian, Polish and Russian control during its history; and was even occupied by the Germans.
Minsk in Your Pocket:
Travel information for visitors to Belarus, from the esteemed In Your Pocket guide series.
Private Tour Guide in Minsk:
Andrei Burdenkov, a certified private tour guide registered in Minsk, offers Belarus guided tours to English-speaking visitors. His website also has Belarus travel tips and other useful information about Belarus.
Belarus Facts:
Ministry of Foreign Affairs of the Republic of Belarus.
Fifty Things to Do in Belarus:
Travel like a local with these great tips of what to do in Belarus.
Belarus Visas:
Visa requirements for visitors to Belarus.
Brest
Once a part of the Grand Duchy of Lithuania, Brest is situated in the western Belorussian Polessye.
Gomel
The Gomel region is in south-eastern Belarus; bordering Ukraine and Russia
Grodno
Founded in the 11th century, Grodno overlooks the Neman River and is one of the oldest cities in Belarus.
Mogilev
The Mogilev region is in eastern Belarus; bordering Russia.
Vitebsk
Centred around Vrtebsk, the Vitebsk region is situated in north-eastern Belarus; bordering with Lithuania, Latvia and Russia.
Where to Stay in Minsk
Hotel Minsk
Hotel Minsk: Nezavisimosti Avenue 11, Minsk.
After its opening in December, 2002 Hotel Minsk became the first four-star hotel in the Republic of Belarus. Located on the central Nezavisimosti Avenue, Hotel Minsk offers a picturesque view of the city, Independence Square and the Red Church.
Guests staying in one of the 252 rooms at Hotel Minsk have a choice of three restaurants. There's also a Lobby Bar and Night Club as well as a Fitness Club and Beauty Salon.
Hotel Yubileiny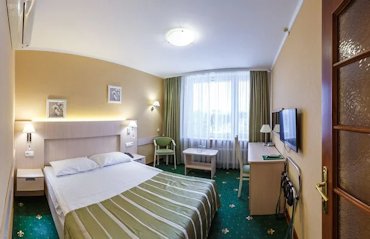 Hotel Yubileiny: Pobediteley Avenue 19, Minsk.
The Yubileiny is one of the busiest hotels in downtown Minsk.The cheaper rooms are of the Soviet variety while the more expensive 'business class' rooms actually have renovated bathrooms and are much brighter.
Designed by an Italian architect, the restaurant at the Hotel Yubileiny serves traditional Belorussian and international cuisine.
Travel Notes Online Guide to Travel
The Travel Notes Online Guide to Travel helps visitors plan their trip with country and city travel guides, local tourist information, reviewed web sites, and regular travel articles.

Join Michel on Meta-Travel.

Airlines and Airports.

Add a Business Listing - Add a Destination - Add a Place to Stay - Add URL.



Affiliates - Europe Tourism - Europe Travel Websites.
If you find Travel Notes useful, please take a moment to like us on Facebook and share with your friends on social media.