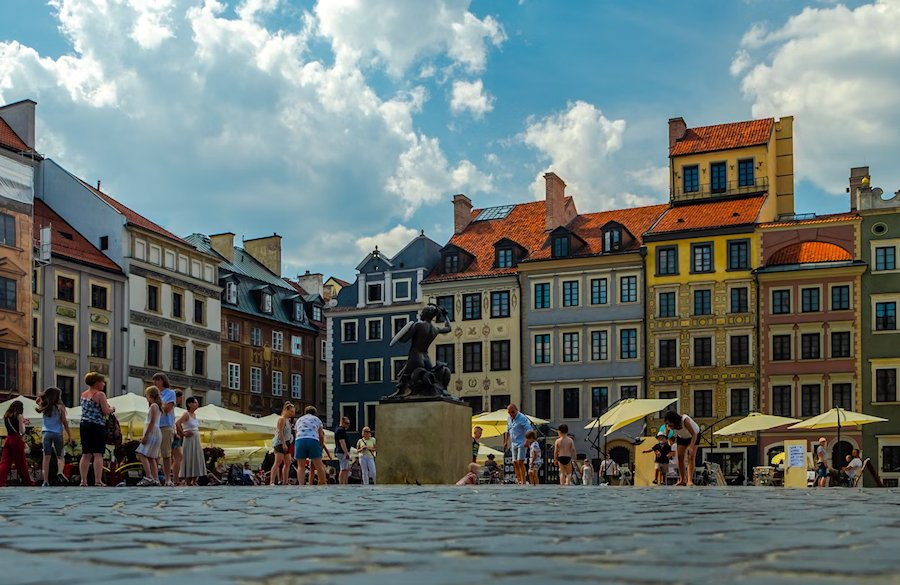 Warsaw, Poland by Elijah G on Unsplash.
Travel Notes: Europe - Poland Travel Notes - Updated 16 July, 2023.
Short URL: https://tnot.es/PL
Poland Travel and Tourism on Travel Notes

Find Poland Travel and Tourist Information with links to official travel and tourism websites and state resources for visitors to Poland.
About Poland
Visitors to Poland can enjoy historical architecture in Krakow and Warsaw, explore the Biebrza and Tatra national parks, or relax on Baltic Coast beaches.
Countries neighbouring Poland: Germany, Czech Republic, Slovakia, Ukraine, Belarus, Lithuania and the Russian exclave of Kaliningrad.
Driving Distances in Europe
Map of Poland
Poland was one of the major European powers under the Jagiellon dynasty of the 15th and 16th centuries.
Poland's long period of decline saw the country being divided between Russia, Austria, and Prussia.
Poland was again established as a sovereign state after World War I, then partitioned for a fourth time in 1939 by Germany and the Soviet Union.
Forget the grey picture painted by many, Warsaw has a colourful past. Check out the modern Palace of Culture and Science and see how the old town has been rebuilt, after the destruction of World War II, and lovingly restored to its former glory.
The capital of Poland is in the middle of the country and at the centre of the Polish road and rail system.
Warsaw expanded around the castle of the dukes of Masovia in the early 14th century, and became the capital of the Polish Kingdom in 1595; after the burning of Krakow.
Warsaw was almost totally destroyed during World War II, but has been rebuilt and extended.
The Old City has been meticulously restored and centres on a medieval market square with open-air cafes, surrounded by Renaissance and Baroque style houses.
The Barbican, a relic of the medieval fortifications, is to the south of the square, and further south is Lazienki Park.
Lazienki Park has a monument to the Polish composer Frederic Chopin, and the 18th century summer palace of Stanislas II Augustus.
There are many historic churches in Warsaw, and numerous museums and galleries. Two notable monuments are dedicated, to the heroes of the Warsaw ghetto and of the Polish underground during World War II.
The Duck Seller From Warsaw:
After that meal, I felt a twinge of guilt as my travelling companion settled in my stomach. Every time I land in Warsaw, I always think of Jan the duck seller.
Warsaw In Your Pocket:
There's no denying it, Warsaw has had a troubled history. Positioned at the crossroads of Central Europe, the city has been shuffled between empires and dynasties like a pawn on a chessboard. It's been a roller coaster ride ever since King Sigismund III Vasa moved his court here from Krakow in 1569.
Where to Stay in Warsaw
Polonia Palace Hotel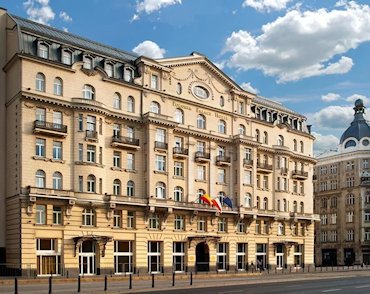 Polonia Palace Hotel: 45 Jerozolimskie Av., Warsaw.
Experience a delightful mix of tradition and modernity, beauty and comfort, excellence and genuine warmth in this elegant Warsaw hotel.
Combining modern conveniences and conference facilities with a cosy restaurant and a cool bar, Polonia Palace Hotel has been the hotel-of-choice for ambassadors and diplomats throughout the decades.
Travel in Poland has so much to offer: alpine mountains, wide beaches, clean lakes, deep forests, world-class historic monuments, and friendly people.
Experience Polish hospitality, sample traditional Polish cuisine, and learn more about the different Polish culture and traditions in Poland.
Exciting Poland
Almatur-Opole, a member of the Polish Chamber of Tourism, promotes incoming travel to Poland by organising group tours, conferences, business meetings and incentives to any of the beautiful cities in Poland under its Exciting Poland trademark.
LOT Polish Airlines
Established in 1929, LOT Polish Airlines is the flag carrier of Poland with flights to some eighty destinations in Europe, Asia, North America, and the Middle East.
Through its hub at Warsaw Chopin Airport, LOT has codeshare agreements with a number of other airlines and is a member of the Star Alliance network.
Polish Embassy in Washington DC
The Polish Embassy in Washington is located at 2640 16th Street NW., Washington DC.
Polish Tourism Organisation
From the towering Tatra Mountains to the wild Baltic Sea, Poland is filled with vibrant cities known for their splendid heritage, mouthwatering cuisine and stunning architecture.
Where to Stay in Poland
Czestochowa, Gdansk, Katowice, Zakopane.
Krakow is in the south of Poland. A road and rail network connects it with Warsaw and other Polish cities, as well as with with Prague.
Krakow is believed to be one of the oldest cities in Poland. It was founded as a fortress around AD 700, and in the 12th century it became the capital of the kingdom of Poland.
Of the many historic buildings in Krakow, the most notable is the Gothic cathedral - dedicated to St Stanislas, the patron saint of Poland; who was slain before the cathedral altar in 1079 by order of Boleslav II, the Polish king.
The cathedral was also used for coronation ceremonies of the kings of Poland, and is a burial place of famous men in Polish history.
Krakow Sightseeing With a Guide
Tourists, pilgrims and school groups can find out more about Krakow on walking and sightseeing tours with multi-lingual tour guides.
The marvels of Krakow include the Royal Castle of Wawel, Rynek Glowny (the largest medieval square in Europe), several ancient synagogues in the old Jewish quarter of Kazimierz, some 150 churches, and 2.5 million works of art, including Leonardo da Vinci's famous portrait of Cecilia Gallerani as the crown jewel.
It was here, in Poznan, that the first Polish state was created; a thousand years ago.
If Krakow is considered the 'new Prague' by travellers, then Wroclaw is the new Krakow; even less discovered but well worth the effort to visit.
Polish traditions and customs are deeply rooted in the country's rich history, cultural heritage, and religious beliefs.
Many traditional Polish customs revolve around religious holidays and events, such as Easter and All Saint's Day.
The diversity and richness of these customs contribute to the country's unique identity and sense of community.
All Saints' Day
On November 1st, Poles commemorate All Saints' Day by visiting cemeteries and lighting candles on the graves of their loved ones.
The atmosphere is serene and respectful, with many graves adorned with flowers and wreaths.
Andrzejki
Celebrated on the night of November 29th, Andrzejki (St. Andrew's Day) is associated with fortune-telling and divination games.
Young unmarried women often participate in rituals to predict their future romantic prospects.
Drowning of Marzanna
An ancient pagan ritual representing the end of winter.
A straw doll is made to symbolize winter, and then drowned in a body of water.
Easter Monday
Known as Śmigus-Dyngus or Wet Monday, this is a lively Easter tradition where people playfully splash water on each other.
It is believed to bring good luck and symbolizes the purification of souls and the arrival of spring.
Juwenalia
Juwenalia is a student festival held in May; featuring parades, concerts, and other cultural events.
Kraków Nativity Scenes
In Kraków, the tradition of creating intricate and elaborate nativity scenes, known as szopki, dates back to the 19th century.
These colourful and decorative scenes depict various biblical and historical figures and are displayed during the Christmas season.
Name Days
Celebrating name days is a widespread tradition in Poland.
Each day of the year is associated with one or more names, and people named after those names celebrate their respective name days.
It is customary to offer congratulations and small gifts to the person celebrating their name day.
Oplatek
Oplatek is a thin, unleavened Christmas wafer that is shared among family members during Wigilia.
Each person breaks off a piece of wafer from their neighbor and exchanges wishes and blessings for the upcoming year.
Ostatki
Ostatki is a pre-Lenten festival, celebrated on the Tuesday before Ash Wednesday.
It is a time to party and eat rich foods before the fasting period of Lent begins.
Polish Cuisine
Polish cuisine is hearty and diverse, with many traditional dishes enjoyed on various occasions.
Pierogi (dumplings), bigos (hunter's stew), kielbasa (sausage), żurek (sour rye soup), and makowiec (poppy seed roll) are just a few examples of Polish culinary delights.
Polish Folk Dancing and Music
Poland has a vibrant tradition of folk dancing and music, with each region having its distinct styles and costumes.
Folk dances like the polka, mazurka, and oberek are popular and often performed during festive events and cultural celebrations.
Polish National Holidays
The two main national holidays in Poland are the anniversary of the restoration of independence in 1918, celebrated on 11th November, and the anniversary of the passing of Poland's first Constitution, on 3rd May 1791.
Polish Wedding Traditions
Polish weddings are known for their rich customs and festivities.
Some popular traditions include the unveiling of the bride, the presentation of bread and salt as symbols of hospitality, the money dance (where guests pin money to the bride's dress in exchange for a dance), and the throwing of the bridal bouquet.
Wianki
Also known as the Feast of St. John, Wianki is a midsummer festival that takes place on the shortest night of the year.
Wigilia
Wigilia, meaning 'the vigil', is the traditional Polish Christmas Eve celebration.
Families gather to share a festive meal that typically consists of 12 meatless dishes, representing the 12 apostles.
A key element of Wigilia is the breaking of the Christmas wafer (opłatek) and exchanging wishes with family members.
Poland Travel Guides - Poland Maps.
Weather in Europe:
Local weather forecasts for destinations around Europe.
Travel Notes Online Guide to Travel
Africa - Asia - Caribbean - Europe - Middle East - North America - Oceania - South America.

The Travel Notes Online Guide to Travel helps visitors plan their trip with country and city travel guides, local tourist information, reviewed web sites, and regular travel articles.

Portugal.
Travel and Tourism Guides on Travel Notes
If Travel Notes has helped you, please take a moment to like us on Facebook and share with your friends on social media.


Travel & Tourism With Industry Professionals.