Short URL: https://tnot.es/SK
Slovakia Travel and Tourism on Travel Notes

Find Slovakia Travel and Tourist Information with links to official travel and tourism websites and state resources for visitors to Slovakia.
About Slovakia
Slovakia, formerly a part of Czechoslovakia, became an independent republic on January 1st, 1993.
Countries neighbouring Slovakia are: Czech Republic, Poland, Ukraine, Hungary and Austria.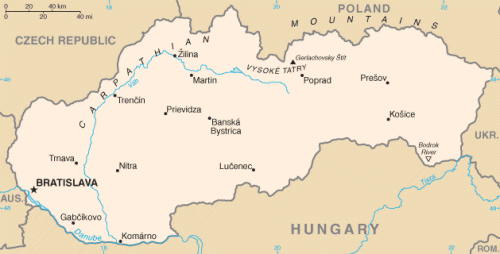 The Carpathian Mountains stretch into the west of Slovakia. As much of Slovakia's population lives in rural areas, the countryside should also be visited if you have the time to get out of Bratislava.
Weather in Europe:
Local weather forecasts for destinations around Europe.
Flying to Slovakia
There are few direct international flights into Slovakia from the West, although you can change planes in Prague (Czech Republic) and then fly on to Bratislava.
Alternative routes are to fly into Vienna (Austria) and then take a short bus ride to Bratislava; or fly into Krakow (Poland) - if your destination is the Tatras mountains, or Northern Slovakia.
Driving in Slovakia
Like Hungary, you need to drive with your headlights on at all times of the day, or risk getting a fine.
Central Slovakia
Central Slovakia, with its rugged landscape and breathtaking scenery, is probably the most beautiful part of Slovakia.
It also has some of the most interesting towns in the country, such as Kremnica and Banska Bystrica.
Eastern Slovakia
There is surprisingly a lot to do and see in Eastern Slovakia, which has many wonderful towns, such as Bardejov and Levoca.
There are a few surprises too - for example the Andy Warhol Museum in the village of Medzilaborce, the open air museum in the Dukla Pass, and the spectacular Slovensky Raj.
Western Slovakia
There's more to Western Slovakia than just the capital, Bratislava.
Trencin and Nitra are beautiful towns, and Bojnice is an excellent day out.
There are also a lot of castles to explore in the area, and then there's the wine growing region near Modra.
Also known as Kaschau in German and Kassa in Hungarian, Košice is in the eastern part of the Slovakia; on the Hornad River, near the southern border with Hungary.
Slovakia's second city has plenty to offer the traveller, with many fine restaurants, bars and lots of tourist attractions.
The Gothic cathedral of St Elizabeth dates from the 14th-15th century.
City of Kosice:
Slovakia's second largest city lies in the valley of the river Hornad in the Košice basin, encircled by the spurs of the Cierna Hora mountains to the north and the Volovske vrchy hills to the west.
Košice:
Founded in 1241, Košice has been held at times by the Austrians, Hungarians, Turks, and Russians.
Kosice Info:
Brief travel information for visitors to Kosice.
Kosice International Airport:
Located about 6km south of the Košice city centre, Kosice International Airport is the second largest airport in Slovakia. Bus no. 23 runs between the airport and downtown.
Accommodation in Kosice
Teledom Hotel: Kosice.
Timonova 27

Official Website:
Hotel Teledom Kosice.

The Teledom Hotel and Conference Centre is a three-star hotel with 58 beds.

All rooms are contemporarily furnished with separate bathroom and toilet.

Hotel guests can park in an underground garage monitored by security cameras.

The restaurant offers Slovak and international cuisine and the Mestska Pivnica offers a wide range of quality wines, especially from the Tokaj region.
Tourism in Slovakia:
Tourism in Slovakia has grown since the end of Communist rule. In the early 1990s more than half a million tourists a year were visiting Slovakia for its well restored historical cities and numerous mountain ski resorts.
Only 110km from Bratislava (on a good motorway), Trencin is a must visit if you've booked yourself on a cheap flight to Slovakia for a long weekend.
The castle and the historical centre of Trencin are reasons enough to make the short trip away from Bratislava.
Slovakian Culture
The Slovak people are extremely proud of their culture and of their traditions, which are kept alive today through food, music, poems, dance and song.
Slovakian Food:
Vlado presents his mouth-watering Slovakian dishes.
Slovakian History:
Presented in six parts, the 20th century account is the largest.
Slovak Republic:
Non-commercial project by Slovak enthusiasts seeking to provide an objective guide for people traveling to Slovakiawith information on Slovak culture, economy, politics and other important areas of life in Slovakia.
Slovak Tradition:
There is a rich folk tradition in Slovakia, historically influenced by foreign rulers and the minorities from Slovakia's neighbouring countries.

Add a Business Listing - Add a Destination Guide - Add a Place to Stay.



If you find Travel Notes useful, please take a moment to like us on Facebook and share with your friends on social media.
Europe Index - Europe Tourism - Europe Travel Websites.