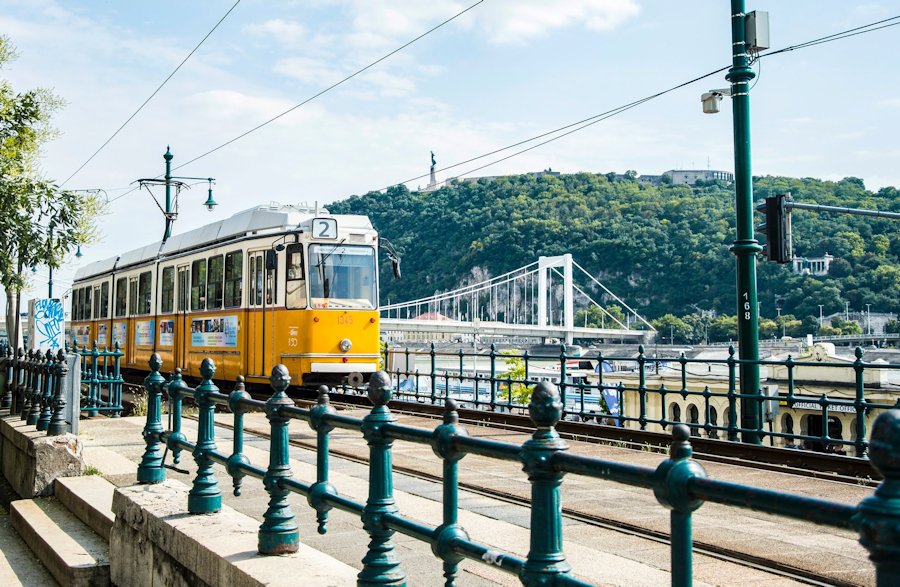 Yellow Tram of Budapest by Arvydas Venckus on Unsplash.
Travel Notes: Europe - Hungary Travel Notes.

Short URL: https://tnot.es/HU
Hungary Travel and Tourism on Travel Notes

Find Hungary Travel and Tourist Information with links to official travel and tourism websites and state resources for visitors to Hungary.
About Hungary
Hungary, Magyarorszeg in Hungarian, no longer has access to the sea; although many people regard Lake Balaton (Plattensee - shallow sea - in German) as the Hungarian Sea. The lake is the largest in Central Europe.
Map of Hungary
Countries neighbouring Hungary:
Austria, Slovakia, Ukraine, Romania, Serbia, Croatia and Slovenia.
Hungary Travel Guides - Hungary Maps.
Weather in Europe:
Local weather forecasts for destinations around Europe.
After scouring the alleyways of downtown Pest and Buda's Castle Hill on your first visit, you may return to discover the neighbourhoods between the two keruts (ring-boulevards): the high and narrow streets of Terezvaros, the squares and backstreet cafes of Erszebetvaros, the seedy but intriguing Jozsefvaros.
Budapest is a city to discover in steps and stages - every time you go there, you will find a whole new area of town you'd previously overlooked, that turns out to again have a mood of its own. The city is beautiful in mid-winter, its quiet charm preserved in icy melancholy; in summer, residents and tourists alike flock to the lovely Varosliget (City Park) and Margit Island.
There's more to find even further out: don't forget to put on your hiking boots one day and take a city bus west into Buda Hills - you can walk for hours in the forests there, and find magnificent views out over the Danube and the city.
For one more out-of-the-way tip, if you're heading for a leisurely stroll on Margit Island anyway, check into the Buda riverside and look up the small but impressive tomb of Gul Baba, where Muslims and Baha'i pilgrims meet - and find it by walking up the pretty, strangely Balkanesque Gul Baba utca - sheer fairy tale stuff.
Budapest Jewish Heritage Tours
Budapest has the largest Jewish community in Central Europe, with an active religious, artistic and historical heritage. Budapest's Jewish Quarter is home to several historic sites, including the Synagogue Triangle of Dohany Street, Rumbach and Kazinczy Synagogues.
Visit Budapest
The Budapest Brand Nonprofit Zrt. (Budapest Info) is Budapest's official organisation for tourism, culture and marketing activities.
Where to Stay in Budapest
Hilton Budapest
Hilton Budapest: Hess Andras Ter 1-3, Budapest.
Hilton Budapest is located in the heart of the historic Castle District of Buda (an UNESCO World Heritage site) close to the gothic Coronation Church, the Matthias Church and Fisherman's Bastion. Combining a contemporary structure with 13th-century remains and some beautiful reflections in the tinted-glass windows.
Guests at the Budapest Hilton can enjoy fine dining with views over Budapest and the River Danube.
Hotel Gellert
Located at the foot of Gellert Hill, the Art Nouveau style Hotel Gellert has been an important landmark beside the Danube in Budapest for over one hundred years.
Although the Danubius Hotel Gellert closed its doors for renovations on 1st December, 2021 the wonderful thermal baths (Gellert Furdo) remain open.
InterContinental Hotel Budapest
InterContinental Hotel Budapest: Apaczai Csere Janos Utca 12-14, Budapest.
Voted as 'best view' hotel in Budapest, the luxury InterContinental Budapest has one of the best locations in town; between Vaci utca, Budapest's main pedestrian street, and the River Danube. The InterContinental was the hotel of choice for Sir Bobby Charlton, David Beckham and the Manchester United team when they played a Champions League qualifier in the capital.
Guests at the InterContinental Budapest can enjoy an indoor pool, sauna, and fitness centre. Onsite drinks and dining are available at the Corso Restaurant and Corso Bar.
Hungary Tourism - Visit Hungary
The Hungarian Tourism Agency has gone through a number of branding changes in recent years; from Tour Inform to Visit Hungary, the latest Instagramable hashtag seems to be #WowHungary.
Debrecen
Debrecen is Hungary's second largest city and capital of Hungary's Northern Great Plain region.
Lake Balaton
The lake really does change colours. The southern side of the lake, from Balatonaliga to Fonyod, is a continuation of bathing spots, camping facilities, 'Zimmer frei' signs, and German-registered cars.
Siofok, on the southern shore, is often referred to as the capital of Lake Balaton.
Pecs
Pécs is an ancient city in southern Hungary, close to the Croatian border.
The University of Pécs has opened a registration platform for those who had to interrupt their studies in Ukraine due to the ongoing war.
Sopron
Sopron is a wonderful tourist town near the border with Austria.
The first stop for many entering Hungary from Burgenland, Sopron is 60km from Vienna and 220km to Budapest.
The Danube Bend
A visit to where the Danube changes course is very popular with tourists. The tours to Visegrad and Szentendre are highly promoted in Budapest.
The artists centre of Szentendre is only a short drive from Budapest.
Travel Notes Online Guide to Travel
The Travel Notes Online Guide to Travel helps visitors plan their trip with country and city travel guides, local tourist information, reviewed web sites, and regular travel articles.

Join Michel on Meta-Travel.

Airlines and Airports.

Add a Business Listing - Add a Destination - Add a Place to Stay - Add URL.



Affiliates - Europe Tourism - Europe Travel Websites.
If you find Travel Notes useful, please take a moment to like us on Facebook and share with your friends on social media.