Seljalandsfoss Waterfall, Iceland by Robert Lukeman on Unsplash.
Travel Notes: Europe - Iceland Travel Notes.

Short URL: https://tnot.es/IS
Iceland Travel and Tourism on Travel Notes

Find Iceland Travel and Tourist Information with links to official travel and tourism websites and state resources for visitors to Iceland.
About Iceland
Iceland was originally settled by Norwegian chieftain Ingolfur Arnarson, in AD 874; according to the Landnamabok ('Book of Settlement').
Map of Iceland
Iceland lies just below the Arctic Circle in the North Atlantic Ocean, about 300 km south-east of Greenland, and 800 km north-west of Scotland.
Iceland Travel Guides - Iceland Maps.
Weather in Europe:
Local weather forecasts for destinations around Europe.
Iceland is best visited in Summer, or you won't see much of the country during the very long hours of darkness.
The capital of Iceland is on the south-eastern shore of Faxafloi (Faxa Bay), in the south- west of the country.
Vikings established the first permanent settlement here in 874, and it was made the capital of Iceland in 1918.
The modern city has its hot water piped in from nearby geothermal springs.
What's On In Reykjavik
For events in the capital of Iceland and around the country find out What's on in Iceland.
By Air
Airport Transfers
Flybus airport transfers, with Reykjavik Excursions, transfer passengers between Keflavik Airport and Reykjavik town terminal. The Flybus schedule is linked to flight arrivals and departures from Keflavik Airport.
Kevlavik Airport: (KEF)
Iceland's main airport is on the peninsula at Keflavik, near Reykjavik.
Icelandic low-cost carrier, WOW air (WW) was founded in November 2011; promoting itself as the airline with the biggest smile and lowest prices.
By Sea
Seatours operates daily sea excursions from Snaefellsnes Peninsula.
Smyril Line runs the only passenger ferry to Iceland and the Faroe Islands. M/S Norröna has weekly departures from Denmark.
Inspired by Iceland:
Iceland is the perfect destination for people looking for the unexpected. Something out of the ordinary. The official website of the Icelandic Tourist Board in North America.
Iceland on the Web:
Family owned and run Icelandic travel agency offering a wide range of tours, excursions and authentic travel experiences in Iceland for travellers who wish to make the most of their visit to Iceland.
South Iceland:
Many of Iceland's most popular tourist attractions can be found in the South. This site is an ice palace of information that never melts.
Iceland on Your Own
The most economical way to go hiking in Iceland is to use the Icelandic Highland Bus network.
Selfoss
Located in the heart of South Iceland. Selfoss is near some of the country's most beautiful tourist attractions.
The brand new town centre is an innovative architectural experiment, offering over ten restaurants and a range of artisan shops.
A pioneering tribute to Icelandic history, with a very modern twist.
Hotel Selfoss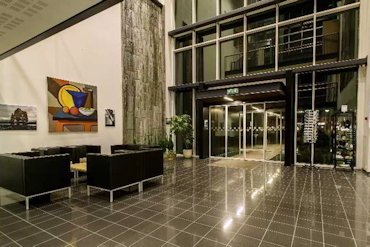 Hotel Selfoss: Eyravegur 2, Selfoss.
On the banks of the mighty Olfus river, the hotel's impressive foyer introduces a modern but distinctly Icelandic style that continues throughout the hotel. A waterfall flows down one wall and the cascade, together with the nearby river, is the theme of this stylish hotel.
The modern Hotel Selfoss contrasts vividly with the natural beauty of the landscape of South Iceland around it. The restaurant's large windows offer panoramic views across the wide Olfus river, the town of Selfoss and the surrounding hills.
The official language of Iceland is Icelandic, which has remained closer to the Old Norse of Iceland's original Viking settlers than to the other Scandinavian languages.
Most Icelanders also speak at least one foreign language.
Nordic Adventure Travel helps you to enjoy Iceland's unspoiled nature. Explore the nine different regions of Iceland.

Travel Professionals Based in Iceland.
Become a Member to Add Your Iceland Listing.
Travel Notes Online Guide to Travel
The Travel Notes Online Guide to Travel helps visitors plan their trip with country and city travel guides, local tourist information, reviewed web sites, and regular travel articles.

Join Michel on Meta-Travel.

Airlines and Airports.

Add a Business Listing - Add a Destination - Add a Place to Stay - Add URL.



Affiliates - Europe Tourism - Europe Travel Websites.
If you find Travel Notes useful, please take a moment to like us on Facebook and share with your friends on social media.