Seljalandsfoss Waterfall, Iceland by Robert Lukeman on Unsplash.
Travel Notes: Europe - Iceland Travel Notes.

Short URL: https://tnot.es/IS
Iceland Travel and Tourism on Travel Notes

Find Iceland Travel and Tourist Information with links to official travel and tourism websites and state resources for visitors to Iceland.
About Iceland
Iceland is a beautiful country with unique natural wonders and interesting cultural attractions. Whether you're exploring Reykjavik, hiking glaciers, or relaxing in hot springs, Iceland has something for everyone.
It offers visitors a one-of-a-kind experience in an otherworldly setting.
Map of Iceland
Iceland lies just below the Arctic Circle in the North Atlantic Ocean, about 300 km south-east of Greenland, and 800 km north-west of Scotland.
Iceland was originally settled by Norwegian chieftain Ingolfur Arnarson, in AD 874; according to the Landnamabok ('Book of Settlement').
Iceland is best visited in Summer, or you won't see much of the country during the very long hours of darkness.
Iceland, officially known as the Republic of Iceland, is a Nordic island country located in the North Atlantic Ocean. It is situated between Greenland and Norway, with its closest neighbour being Greenland.
Capital and Major Cities
Reykjavik is the capital and largest city of Iceland.
It is located on the south-western coast of the island and serves as the cultural, economic, and political centre of the country.
Other notable cities in Iceland include Akureyri, Hafnarfjörður, Keflavík, and Ísafjörður.
Economy
Iceland has a mixed economy with a combination of free-market principles and an extensive welfare system.
The economy is primarily driven by tourism, fishing, renewable energy, and creative industries.
Iceland is known for its geothermal energy resources, and a significant portion of its electricity and heating is generated from renewable sources.
Environmental Focus
Iceland places a strong emphasis on environmental conservation.
It is known for its commitment to renewable energy and has set ambitious goals to become carbon-neutral.
Iceland's pristine landscapes, including national parks and protected areas, are also carefully preserved.
Geography
Iceland has a total land area of about 103,000 square kilometres, making it the 18th largest island in the world.
Often referred to as the 'Land of Fire and Ice' due to its contrasting natural features, Iceland's stunning landscape includes volcanoes, geysers, hot springs, lava fields, glaciers, and waterfalls.
Icelandic Cuisine
Traditional Icelandic cuisine is often based on fish, lamb, and dairy products.
Popular dishes include hákarl (fermented shark), hangikjöt (smoked lamb), and skyr (a type of yogurt).
Modern Icelandic cuisine has also embraced international influences, and Reykjavik has a thriving culinary scene with a wide range of restaurants offering diverse cuisines.
Icelandic Culture
Icelandic culture is influenced by Norse traditions, as well as modern Scandinavian and European elements.
The country has a rich literary heritage, with ancient Icelandic sagas being an important part of its cultural identity.
Icelanders are known for their love of literature and have a high literacy rate.
The country also has a vibrant music scene, producing internationally acclaimed artists such as Björk and Sigur Rós.
Icelandic Language
The Icelandic language is closely related to Old Norse and has changed relatively little over the centuries.
It has a complex grammar and retains many ancient words and expressions.
Most Icelanders also speak English, especially in tourist areas.
Population
The population of Iceland was 387,758 on 1st January 2023.
The majority of the population is of Icelandic descent, and the official language is Icelandic.
Tourism
Iceland has become increasingly popular as a tourist destination in recent years.
Visitors are attracted to its natural wonders, including the iconic Blue Lagoon, the Golden Circle route, and the Northern Lights (Aurora Borealis).
The country offers various outdoor activities such as hiking, glacier exploration, whale watching, and exploring ice caves.
Visiting Iceland can be an unforgettable experience.
There are many aspects to consider and attractions to explore during a visit to Iceland.
Blue Lagoon
Relax and rejuvenate in the famous Blue Lagoon, a geothermal spa located in a lava field.
Soak in the warm mineral-rich waters while surrounded by stunning natural landscapes.
It's advisable to book your visit in advance due to its popularity.
Glacier Lagoon and Diamond Beach
Journey to Jökulsárlón Glacier Lagoon in Vatnajökull National Park.
Marvel at the floating icebergs in the lagoon and, if you're lucky, catch a glimpse of seals swimming among them.
Nearby, you'll find the Diamond Beach, where icebergs from the lagoon wash ashore, creating a stunning contrast against the black sand.
Golden Circle
Take a tour of the Golden Circle, a popular route that covers three major attractions.
Visit Thingvellir National Park, where you can walk between the tectonic plates and learn about Iceland's geological history.
Witness the powerful Gullfoss waterfall and marvel at the erupting geysers in the geothermal area of Geysir.
Northern Lights
If you visit during the winter months (September to April), try to witness the mesmerizing Northern Lights.
Head to remote locations with minimal light pollution for the best chances of spotting this natural phenomenon.
Keep in mind that sightings depend on favourable weather conditions and solar activity.
Out and About in Iceland
Remember to check the weather conditions, road conditions, and daylight hours before embarking on any journey in Iceland.
Iceland's unique landscapes and natural wonders will leave you in awe and create memories that will last a lifetime.
It's advisable to rent a car or join guided tours to make the most of your visit and ensure your safety.
Iceland Adventures
Outdoor Adventures
Iceland is a paradise for outdoor enthusiasts.
Consider activities such as hiking in the highlands, exploring ice caves, glacier hiking or ice climbing, horseback riding, or taking a boat tour to spot whales and puffins.
The possibilities for outdoor adventures in Iceland are endless. Just wrap up warm.
Reykjavik
Start your journey in the capital city of Reykjavik.
Explore the vibrant downtown area, visit the iconic Hallgrímskirkja Church, and stroll along the charming streets filled with colourful houses and unique architecture.
Don't miss the opportunity to try Icelandic cuisine in the city's many excellent restaurants and cafes.
Snæfellsnes Peninsula
Explore the Snæfellsnes Peninsula, often referred to as 'Iceland in Miniature' due to its diverse landscapes.
Experience the beauty of Kirkjufell mountain and visit the charming coastal villages along the way.
The Snæfellsjökull National Park offers opportunities for hiking, bird watching, and admiring the mystical Snæfellsjökull volcano.
South Coast
Explore Iceland's picturesque South Coast, known for its black sand beaches, majestic waterfalls, and dramatic cliffs.
Visit Seljalandsfoss and Skógafoss waterfalls, walk behind the cascading water at Seljalandsfoss for a unique perspective.
Discover the otherworldly landscapes of Reynisfjara beach, with its towering basalt columns and powerful Atlantic waves.
The capital of Iceland is on the south-eastern shore of Faxafloi (Faxa Bay), in the south- west of the country.
Map of Reykjavik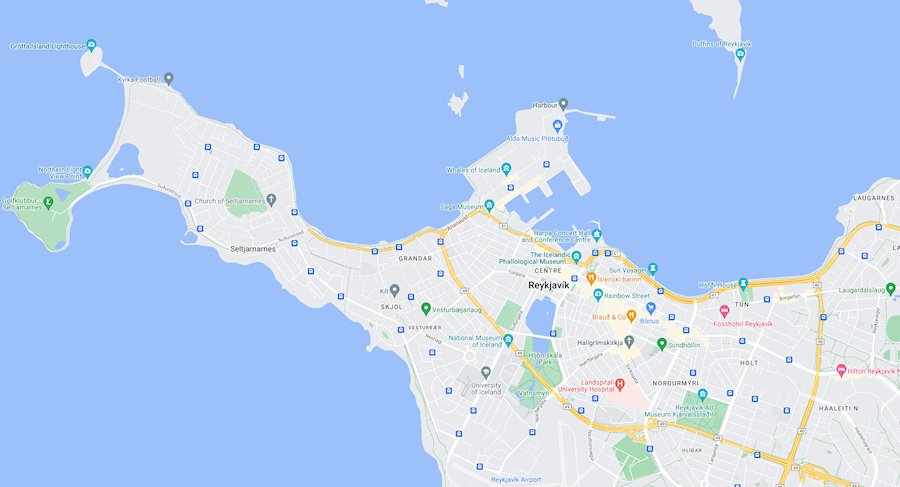 Vikings established the first permanent settlement here in 874, and it was made the capital of Iceland in 1918.
The modern city has its hot water piped in from nearby geothermal springs.
What's On In Reykjavik
For events in the capital of Iceland and around the country find out What's on in Iceland.
By Air
Airport Transfers
Flybus airport transfers, with Reykjavik Excursions, transfer passengers between Keflavik Airport and Reykjavik town terminal. The Flybus schedule is linked to flight arrivals and departures from Keflavik Airport.
Kevlavik Airport: (KEF)
Iceland's main airport is on the peninsula at Keflavik, near Reykjavik.
Icelandic low-cost carrier, WOW air (WW) was founded in November 2011; promoting itself as the airline with the biggest smile and lowest prices.
By Sea
Seatours operates daily sea excursions from Snaefellsnes Peninsula.
Smyril Line runs the only passenger ferry to Iceland and the Faroe Islands. M/S Norröna has weekly departures from Denmark.
Inspired by Iceland:
Iceland is the perfect destination for people looking for the unexpected. Something out of the ordinary. The official website of the Icelandic Tourist Board in North America.
Iceland on the Web:
Family owned and run Icelandic travel agency offering a wide range of tours, excursions and authentic travel experiences in Iceland for travellers who wish to make the most of their visit to Iceland.
South Iceland:
Many of Iceland's most popular tourist attractions can be found in the South. This site is an ice palace of information that never melts.
Iceland on Your Own
The most economical way to go hiking in Iceland is to use the Icelandic Highland Bus network.
Selfoss
Located in the heart of South Iceland. Selfoss is near some of the country's most beautiful tourist attractions.
The brand new town centre is an innovative architectural experiment, offering over ten restaurants and a range of artisan shops.
A pioneering tribute to Icelandic history, with a very modern twist.
Hotel Selfoss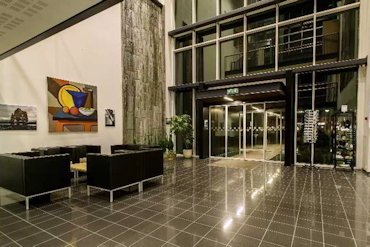 Hotel Selfoss: Eyravegur 2, Selfoss.
On the banks of the mighty Olfus river, the hotel's impressive foyer introduces a modern but distinctly Icelandic style that continues throughout the hotel. A waterfall flows down one wall and the cascade, together with the nearby river, is the theme of this stylish hotel.
The modern Hotel Selfoss contrasts vividly with the natural beauty of the landscape of South Iceland around it. The restaurant's large windows offer panoramic views across the wide Olfus river, the town of Selfoss and the surrounding hills.
The official language of Iceland is Icelandic, which has remained closer to the Old Norse of Iceland's original Viking settlers than to the other Scandinavian languages.
Most Icelanders also speak at least one foreign language.
Nordic Adventure Travel
Nordic Adventure Travel helps you to enjoy Iceland's unspoiled nature. Explore the nine different regions of Iceland.
Iceland Travel Guides - Iceland Maps.
Weather in Europe:
Local weather forecasts for destinations around Europe.
Travel Notes Online Guide to Travel
Africa - Asia - Caribbean - Europe - Middle East - North America - Oceania - South America.

The Travel Notes Online Guide to Travel helps visitors plan their trip with country and city travel guides, local tourist information, reviewed web sites, and regular travel articles.
Travel and Tourism Guides on Travel Notes
Travel Professionals Based in Iceland.
If Travel Notes has helped you, please take a moment to like us on Facebook and share with your friends on social media.


Travel & Tourism With Industry Professionals.

Ireland.