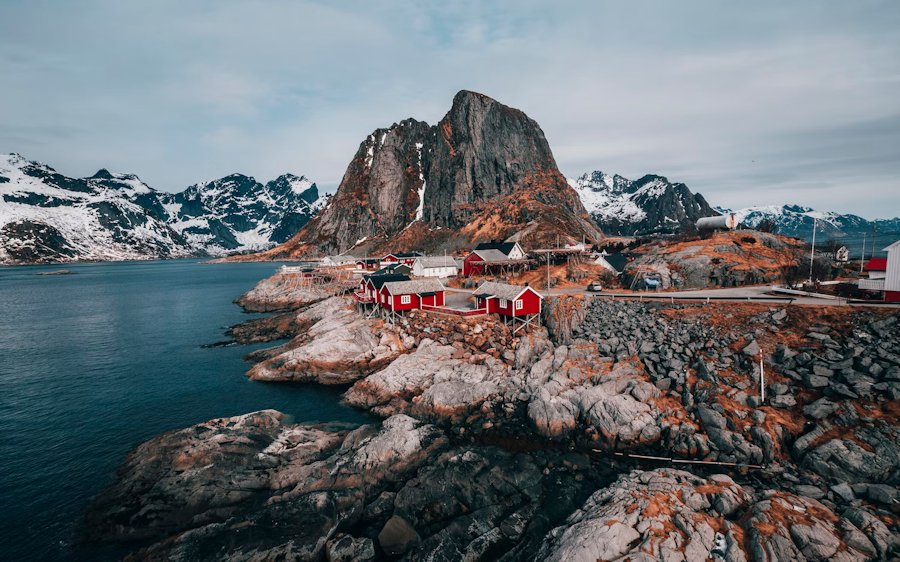 Lofoten Islands, Svolvær, Norway by John O'Nolan on Unsplash.
Travel Notes: Europe - Norway Travel Notes.
Short URL: https://tnot.es/NO
Norway Travel and Tourism on Travel Notes

Find Norway Travel and Tourist Information with links to official travel and tourism websites and state resources for visitors to Norway.
About Norway
Although the Oslo region is one of the country's top destinations, Norway is popular with visitors seeking fjords, mountains, northern lights, and midnight sun.
Countries neighbouring Norway: Sweden and Finland and, to some extent, Denmark.
Driving Distances in Europe
Driving From Bergen - Driving From Hammerfest - Driving From Oslo - Driving From Stavanger - Driving From Trondheim.
Map of Norway
Norway is officially called the Kingdom of the Norway; Kongeriket Norge in Norwegian.
Think of Norway, and one pictures fjords, the Arctic Circle, and whales.

Fjord Travel Norway - Click on Photo to Visit The Fjords.
The coastline of Norway is almost 22,000 km long; with all its fjords, inlets and offshore islands.
The longest fjord in Norway is Sognafjorden, which extends inland 204 km. The mouth is north of Bergen.
Whale Watching Off The Coast of Norway
Andenes and Hvalsafari AS (Whalesafari Andenes) is the first, largest and most experienced provider of whale watching in Norway; strategically located between the famous tourist destinations of Lofoten and North Cape.
Norway Travel Tips
If you're looking for low prices in Norway, you have to get out of the cities and try the countryside. Cities can be found everywhere, the Norwegian fjords cannot.
In south-west Norway, 482km from Oslo, Bergen is the Gateway to the Fjords of Norway.
The city was founded as Bjorgvin in around 1070, by Olaf III. The city developed quickly, and was the capital of Norway during the 12th and 13th centuries.
As a UNESCO World Heritage City and a European City of Culture, the Bergen region has the ideal combination of nature, culture and exciting urban life all year around.
Situated in a scenic valley below seven mountains, Bergen is a vivid city with numerous historic buildings.
The city's oldest building is the 12th-century St Mary's Church, and there are some interesting steep-roofed, wooden houses on the quayside that date from the early 1700s.
Bergen has suffered from a few fires during its history, and was badly damaged when it was occupied by the Germans during World War II.
The composer Edvard Grieg and dramatist Ludvig Holberg were both from Bergen.
Where to Stay in Bergen
Explore the exotic mysteries of the fjords of Western Norway.
Enjoy Norway's natural world of fjords and mountains, waterfalls and glaciers, rivers, streams and the sea.
Fjord Norway
At Fjord Norway, adventure is around every corner. Hiking or skiing with a fjord view, exciting guided glacier hikes, or relaxing fjord cruises and sightseeing trips where you get to see the best of Norwegian nature.
Fjord Travel Norway was founded in year 2000 and is today a brand within Go Fjords AS, a Norwegian company based in Bergen. Their aim is to show and share the beauty of Norway with people around the globe, based on local know-how and personal service.
Sailing to Norway
Fjord Line sailis from Hirtshals (Denmark) to Langesund, Kristiansand, Stavanger and Bergen; and Strömstad (Sweden) to Sandefjord.
Norwegian Coastal Voyage
Along the Norwegian coast, Hurtigruten ships have been part of the lifeline of the local communities for over a century; sailing in the wake of Captain Richard.
Cruise along Norway's western coast from Bergen up to Kirkenes and back.
Outer Sognefjord and Dalsfjord
Most of the holiday accommodation is right by the sea with very good sea-fishing and organised fishing trips available. The local residents consider late-winter and autumn the best times of year for sea-fishing.
Jostedalsbreen and Breheimen National Parks
Glaciers emerge where there is an abundance of snow and cold summers. The Jostedalsbreen has evolved in a mountain region along a coast that is exposed to one low-pressure weather system after the other.
The Jostedalsbreen and Breheimen National Parks include nine of the thirty largest glaciers in Norway.
The Jostedalen valley is the nexus between Jostedalsbreen, with its large areas of wilderness, and Breheimen, with its lush mountain farm valleys and dry highland regions.
Jostedalsbreen Glacier
Jostedalen lies to the north of Sognefjord, with Jostedalsbreen glacier its nearest neighbour.
The national park surrounds Jostedalsbreen - the largest glacier on the continent of Europe and an attractive area for walkers and hikers. Without specialist knowledge and proper equipment, however, walking or skiing on the glacier is highly dangerous.
Founded in the 8th century, Stavanger has a well-preserved 12th-century stone church.
Everybody knows about the Norwegian fjords and mountains but in the south-west, especially around Stavanger, is the longest stretch of sandy beaches in northern Europe; with the mountains and fjords a few miles inland.
Very popular with surfers and kite boarders from all over Scandinavia, on good summer days all these beaches are packed - mainly with locals, as no-one else knows about them.
Where to Stay in Stavanger
The capital of Norway is on the Aker River, at the head of Oslo Fjord; in the south- east corner of the country.
Oslo was founded by Harold III of Norway, around 1050, and became the site of the royal residence circa 1300.
Oslo was destroyed by fire in 1624 and then rebuilt under Christian IV of Denmark and Norway and renamed Kristiania in his honour.
The capital reassumed its historical name of Oslo in 1925, and hosted the Winter Olympic Games in 1952.
Oslo appears modern in its design and architecture, and has many museums, parks, and public statues. Frogner Park contains around 150 Norwegian sculptures by Gustav Vigeland.
The Norwegian Nobel Institute, in Oslo, helps to select the winner of the Nobel Peace Prize.
Oslo Tips
Bogstadveien is one of the most popular streets/areas in Oslo, with a great selection of good shopping, cafes, and bars and easy to get around on foot.
Most of Lapland is north of the Arctic Circle, and extends across the northern parts of Norway, Sweden, Finland, and the Kola Peninsula of Russia.
The highest point is Mount Kebnekaise (2,111 m), in Swedish Lapland.
Most inhabitants of Lapland are Sami (Lapps or Laplanders), who speak a Finno-Ugric language also known as Sami.
The Sami live mostly in Norway, where they are called Finns and herd reindeer for food and clothing.
Visit the former Winter Olympic city of Norway and find plenty of interest, even in summer.
Lillehammer, in the heart of Norway, is the ideal holiday destination for anyone in search of amazing adventures in the great outdoors.
The town has some of the country's most spectacular scenery right on its doorstep, and Rondane, Jotunheimen and Langsua national parks are all within easy reach.
Lillehammer Attractions
There are a number of golf courses in the Lillehammer region, ranging from 18-hole championship golf courses to challenging 9-hole forest or mountain golf courses. There's also a 9-hole pitch and putt facility.
Centrally located in Lillehammer, Maihaugen Outdoor Museum is the largest open-air museum in Norway; with 185 buildings, mostly from Lillehammer town and the Gudbrandsdalen valley.
Launched in 1856, the S.S. Skibladner is the world's oldest paddle steamer in scheduled service. Summer sailings around Lake Mjosa: Lillehammer, Moelv, Gjovik, Hamar and Eidsvoll.
Sjusjoen
Only 20km from the centre of Lillehammer, Sjusjoen's forest and mountain terrain has become one of Northern Europe's best skiing destinations.
The northernmost town of Europe is on the island of Kvaloya, northern Norway.
From mid-May to July 29 the sun doesn't drop below the horizon, but you won't see daylight at all from November 18 to January 23.
Founded as Nidaros on the central western coast in AD 997, the city served as the capital of Norway until 1380.
The tomb of King Olaf II, patron saint of Norway, is under the 11th-century Nidaros Cathedral.
Rail Travel in Norway
Vy (formerly NSB) is the national Norwegian railway company, and offers train services within Norway and between Oslo and Gothenburg.
Sailing to Norway
Color Line is Norway's largest cruise ferry line, operating ferries between Norway, Denmark, Germany and Sweden with a total of eight cruise ferries and one express boat.
Norway Travel Guides - Norway Maps.
Weather in Europe:
Local weather forecasts for destinations around Europe.
Travel Notes Online Guide to Travel
Africa - Asia - Caribbean - Europe - Middle East - North America - Oceania - South America.

The Travel Notes Online Guide to Travel helps visitors plan their trip with country and city travel guides, local tourist information, reviewed web sites, and regular travel articles.
Travel and Tourism Guides on Travel Notes
If Travel Notes has helped you, please take a moment to like us on Facebook and share with your friends on social media.


Travel & Tourism With Industry Professionals.

Poland.