Helsinki Cathedral, Finland by Tapio Haaja on Unsplash.
Travel Notes: Europe - Finland Travel Notes.

Short URL: https://tnot.es/FI
Finland Travel and Tourism on Travel Notes

Find Finland Travel and Tourist Information with links to official travel and tourism websites and state resources for visitors to Finland.
About Finland
Finland has beautiful cities, towns, and regions to explore, from Helsinki and Turku to Lapland and the Finnish Lakeland.
Determine which places interest you and the activities you prefer to experience.
Countries neighbouring Finland: Sweden, Norway and Russia, with Estonia across the Bay of Finland to the south.
Driving Distance in Europe
Driving From Helsinki - Driving From Vaasa.
Map of Finland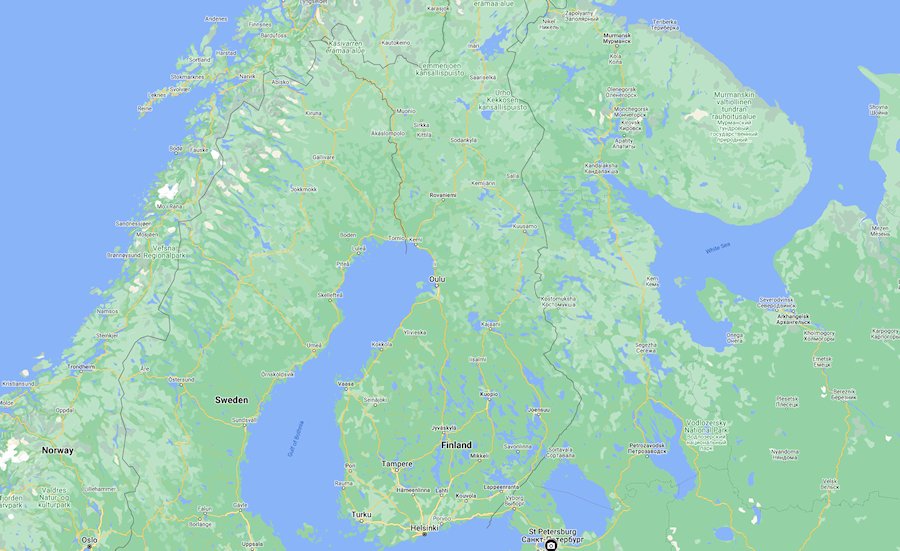 Finland is bordered by Sweden to the west, Norway to the north, Russia to the east, and Estonia to the south; across the Gulf of Finland.
Finland's capital and largest city is Helsinki.
Located in Northern Europe, Finland, called Suomi in Finnish, is a country with around 60,000 lakes; the largest of which are the Saimaa, Inari, and Paijanne.
About 6,500 islands in the Baltic Sea also belong to Finland.
Ancient History
The country has a long and rich history, with archaeological evidence dating back to 9,000 BC.
Finnish Cuisine
Finnish cuisine is based on seasonal and locally sourced ingredients, with a strong emphasis on seafood, berries, mushrooms, and game.
Finnish specialties include smoked salmon, reindeer meat, Karelian pies, and lingonberry jam.
Finnish Culture
Finnish culture is influenced by its Nordic neighbours, with a focus on simplicity, efficiency, and a strong sense of community.
Also known for its saunas, Finland has an estimated 3.3 million saunas for a population of 5.5 million people.
Finland is home to numerous cultural and historical attractions, including the UNESCO-listed fortress of Suomenlinna, the Northern Lights, and the Santa Claus Village in Lapland.
The country is also known for its distinctive design aesthetic, with famous designers such as Alvar Aalto and Marimekko.
Land of a Thousand Lakes
With a population of around 5.5 million people, Finland is known for its stunning natural landscapes, picturesque forests, and thousands of lakes.
Language
The official languages of Finland are Finnish, a Finno-Ugric language, and Swedish.
The Swedish speakers are mainly on the Aland Islands and west-south-west districts.
Standard of Living
Finland ranks consistently among the top countries in the world for its high standard of living, quality of life, education, and social welfare.
The country has a highly developed economy, driven by industries such as technology, forestry, and manufacturing.
Finland is a beautiful country in Scandinavia known for its stunning natural landscapes, vibrant cities, and unique cultural experiences; a fascinating destination that offers something for everyone.
If you're planning a visit to Finland, there are many things to see and do.
Whether you're interested in nature, culture, or cuisine, you're sure to have an unforgettable experience in this beautiful country.
Åland Islands
This archipelago of islands situated between Finland and Sweden is an autonomous region of Finland. It offers a unique blend of Swedish and Finnish cultures, and is known for its beautiful scenery and relaxed island lifestyle.
Capital City
Helsinki is a great place to start your journey, with its mix of modern and traditional architecture, world-class museums, vibrant markets, and an impressive culinary scene.
Finnish Lakeland
This region in eastern Finland is characterized by thousands of lakes, forests, and picturesque towns.
It's an ideal destination for nature lovers, offering opportunities for hiking, fishing, and boating.
Finnish Saunas
Saunas are an integral part of Finnish culture, and are a must-try experience for visitors.
There are many public saunas throughout the country, as well as private ones in hotels and holiday cottages.
Kajani
Kajaani, the regional centre of Kainuu, lies between the two significant tourist resorts of Vuokatti and Lake Oulujarvi.
Many visitors to Kajaani arrive by plane or train and then continue on to other tourist resorts in Kainuu region; in the middle of Finland.
Open Monday to Friday from 9am to 4.30pm, Kajaan Info is located at Pohjolankatu 13 to serve customers with local tourist information.
Lapland
This region in northern Finland is known for its stunning natural beauty, including the Northern Lights, the midnight sun, and vast wilderness areas.
You can also visit Santa Claus Village in Rovaniemi, the official hometown of Santa Claus.
Flights to Finland
Air travel and transport information from Finnair, the number one carrier to and from Finland.
Rail Travel in Finland
VR Rail passenger services provide timetables and ticket prices for those wishing to see Finland by train.
The Ring Rail Line links long-distance rail travel with air travel, and provides a smooth connection to Helsinki-Vantaa Airport from all parts of Finland.
The journey is made easier with simple train connections at Tikkurila and Pasila.
This is Finland
Produced by the Ministry for Foreign Affairs of Finland and published by the Finland Promotion Board, This is Finland was originally established in 1995 as Virtual Finland.
Enjoy the Land of the Midnight Sun, or long dark nights; depending on the time of year that you decide to Visit Finland.
And Finally.
Newsroom Finland provides daily news, arts and sport from the Finland Ministry for Foreign Affairs.
The capital of Finland since 1812 is also known as Helsingfors, in Swedish.
Map of Helsinki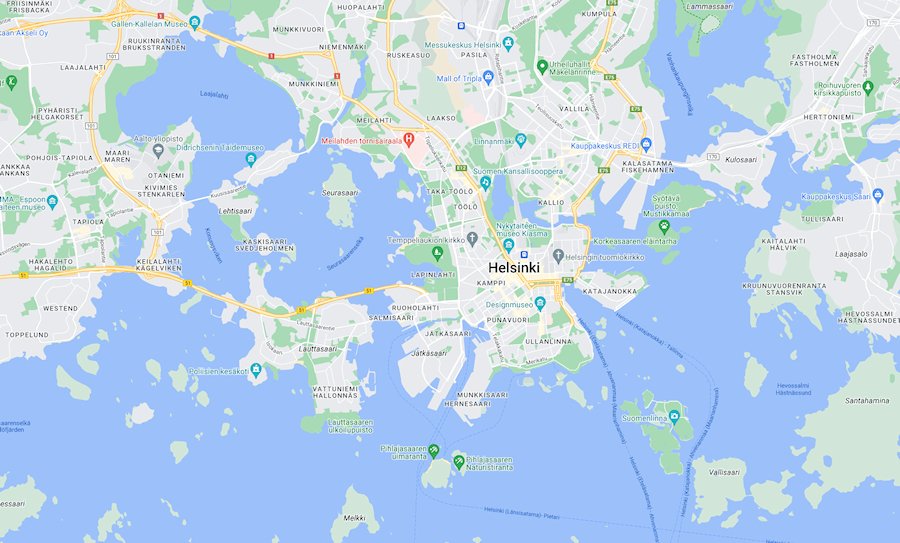 Helsinki was founded in 1550 by Gustav I Vasa, king of Sweden, on a site some distance inland from its present location, to which it was moved in 1640.
Helsinki was made the administrative capital of the Grand Duchy of Finland in 1812; then a part of the Russian Empire. The city became the capital of the Finnish Republic in 1917.
Helsinki has spacious streets and many gardens and parks. It is a pleasant city on a small peninsula extending into the Gulf of Finland, and was the site of the Summer Olympics in 1952.
The entrance to Helsinki harbour has been protected by the fortifications of Suomenlinna; on seven of the islands off the peninsula.
The port is icebound from January to May, except for one channel kept clear by an ice-breaker.
100 kilometres north of Finland's capital, Helsinki, the city of Lahti is the gateway to the Finnish lake district.
A town at the southern end of Vesijarvi Lake, in southern Finland. Lahti is famous for its winter sports facilities and annual ski events.
The nearby lake port of Vesijarvi, is the place to go for summer boat connections on Lake Paijanne.
Most of Lapland is north of the Arctic Circle, and extends across the northern parts of Norway, Sweden, Finland, and the Kola Peninsula of Russia.
The highest point is Mount Kebnekaise (2,111 m), in Swedish Lapland.
The climate is arctic and vegetation is sparse, except in the densely forested southern portion.
Steamers operate on some of the lakes, and a few ports are ice-free throughout the year.
Most inhabitants of Lapland are Sami (Lapps or Laplanders), who speak a Finno-Ugric language also known as Sami.
The Sami live mostly in Norway, where they are called Finns and herd reindeer for food and clothing.
Rovaniemi, up in the arctic circle, is the capital of Lapland.
Finland Excursions
Oulu was founded by the Swedes in 1375, as a fortress against the Russians.
Well known for its excellent network of cycle ways, Oulu is located on the northern part of the Baltic Sea (the Bay of Bothnia in the Oulunjoki river delta).
Combining northern hospitality, nature and culture with modern technology, Visitors to Oulu will find a welcoming gateway to urban culture and the unique nature of the North.
Tampere is the third largest city in Finland and the largest inland city in Scandinavia.
Also known as Tammerfors in Swedish, Tampere was founded in 1779. The city is in south-west Finland, on the rapids that connect Lakes Nasi and Pyha.
Besides the rich industrial heritage, there is a lot to see in Tampere: dozens of other museums, galleries and exhibitions, original Finnish architecture, breathtaking lake scenery, magnificent glacial ridges, beautiful parks and lush forests close to the city centre.
The Tampere Tourist Information can be found in the railway station, at Rautatienkatu 25.
Turku is a port at the mouth of the Aurajoki River; in south-west Finland.
Turku was founded in 1157 by Eric IX; king of Sweden from 1150 to1160.
European art, science, religious and political movements have found their way to Finland through Turku since the 13th century.
The City of Turku has always had a special role among Finnish cities. It was the capital of Finland until 1812, when the seat of government was moved to Helsinki.
The Kings Road
Nothing to do with London, this is the road that Swedish Kings and Russian Czars travelled on - between St. Petersburg and Stockholm.
Visitors to Turku can obtain local tourist information at Aurakatu 2, in the centre of Turku.
The Aland Islands (situated in the Baltic Sea between Sweden and Finland) form an autonomous, demilitarised, Swedish-speaking province of Finland.
About Aland
Of the 6,500 islands only 65 are inhabited, with over 90% of the population living on the Main Island (Fasta Aland).
Aland's official website is administered by the Government of Aland.
Mariehamn
Mariehamn is a carefree summer town with two large marinas and many hotels and restaurants, most within walking distance. It is also the seat of the highest administration of autonomous Aland.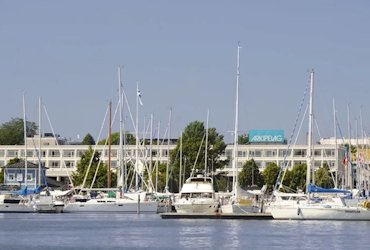 Hotel Arkipelag: Strandgatan 35, Mariehamm.
Aland's leading hotel is situated right in the heart of Mariehamn with a beautiful sea view from the rooms, the conference area and the restaurant.
Guests at the Hotel Arkipelag can enjoy the coolest terrace in town, with a barbecue and bar open from June to August.
Getting to Aland
You can fly to the Aland islands from Helsinki or Stockholm and there are several boat connections from both Sweden and Finland.
Eckero Linjen ferries passengers from Grisslehamn (2 hrs by bus from Stockholm) to Eckero (45 minutes by bus from Mariehamn) in only two hours; all year round.
Silja Line sails Turku-Aland-Stockholm, Helsinki-Aland-Stockholm, Helsinki-Tallinn-Rostock and Helsinki-St. Petersburg.
Viking Line sail to the Aland Islands from Turku on the Finnish mainland; or from Kapellskar and Stockholm, in Sweden.
Visiting Aland
Whether it's a mini-vacation for two or a conference for 200, the people at Aland's Turist and Konferens will help plan your Alandic visit the way you want it.
The museums in Aland have many interesting stories to tell. The exhibitions have everything from hunting, fishing and the dramatic postal route across the sea, to archipelago culture, fire trucks and art history.
Visit Aland to explore an archipelago of 6,700 islands where magnificent nature, maritime history and a countless number of adventures on both land and sea await.
Finland Travel Guides - Finland Maps.
Weather in Europe:
Local weather forecasts for destinations around Europe.
Travel Notes Online Guide to Travel
Africa - Asia - Caribbean - Europe - Middle East - North America - Oceania - South America.

The Travel Notes Online Guide to Travel helps visitors plan their trip with country and city travel guides, local tourist information, reviewed web sites, and regular travel articles.
Travel and Tourism Guides on Travel Notes
If Travel Notes has helped you, please take a moment to like us on Facebook and share with your friends on social media.


Travel & Tourism With Industry Professionals.

France.