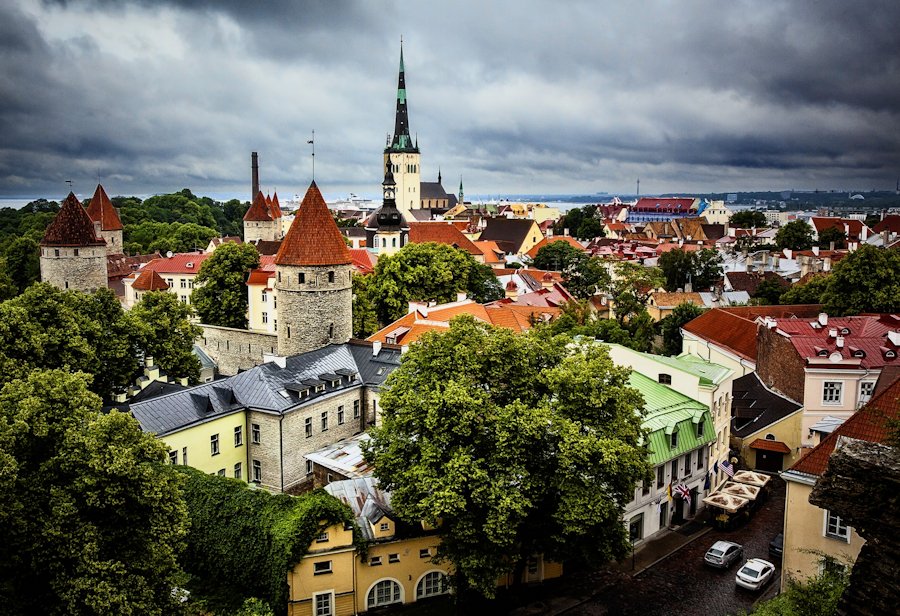 Tallinn City, Harju County, Estonia by Leo Roomets on Unsplash.
Travel Notes: Europe - Estonia Travel Notes.

Short URL: https://tnot.es/EE
Estonia Travel and Tourism on Travel Notes

Find Estonia Travel and Tourist Information with links to official travel and tourism websites and state resources for visitors to Estonia.
About Estonia
Estonia has a lot to offer visitors to the country, including medieval cities, pristine nature, Nordic fusion cuisine, and a technology-driven culture.
Countries neighbouring Estonia: Latvia and Russia - and Finland, by ferry.
Map of Estonia
Touring The Baltic States
Combing a tour of Estonia, Latvia and Lithuania is a great way to discover The Baltic States.
Once hidden behind the Iron curtain, all three countries are now in The European Union.
Estonia is a small country in Northern Europe, located on the eastern coast of the Baltic Sea.
Although small, with a population of around 1.3 million people, Estonia is a dynamic country with a rich history, natural beauty, and a highly developed economy and technology sector.
There are more than 1,500 islands belonging to Estonia, the largest being Saaremaa and Hiiumaa.
Its capital city is Tallinn.
Brief Estonian History
Estonia has a rich history that dates back to the prehistoric era.
Throughout the centuries, the country has been ruled by various powers, including Denmark, Germany, Sweden, and Russia.
Formerly the Estonian Soviet Socialist Republic, Estonia gained its independence from Russia in 1918, but was occupied by the Soviet Union during World War II.
It regained its independence in 1991, following the collapse of the Soviet Union.
Economy
Estonia has a highly developed economy and is one of the most digitally advanced countries in the world.
It is home to several successful technology startups, and its e-government system is one of the most advanced in the world, allowing citizens to vote, pay taxes, and access public services online.
Heritage
Estonia is known for its rich cultural heritage, with a thriving arts scene, numerous museums and galleries, and a long tradition of choral singing.
Language
Estonia has a unique language, Estonian, which is part of the Finno-Ugric language family and is unrelated to most other European languages.
Natural Beauty
Estonia is known for its natural beauty, with forests covering over half of its land area and thousands of islands dotting its coast.
Estonia attracts tourists to Northern Europe for its rich cultural heritage, stunning natural landscapes, and fascinating local history.
Things to See and Do in Estonia
Estonian Cuisine
Estonian cuisine is a unique blend of traditional Nordic and Baltic flavors.
Some must-try dishes include black bread, smoked fish, sauerkraut, and blood sausage.
Be sure to sample some locally brewed beer or schnapps as well.
Explore the Estonian Open Air Museum
Located just outside of Tallinn, the Estonian Open Air Museum is a fascinating collection of traditional farmhouses, windmills, and other historic buildings that have been relocated from all over the country.
Visitors can learn about Estonian rural life and culture through exhibitions, workshops, and demonstrations.
Lahemaa National Park
Located in northern Estonia, Lahemaa National Park is a beautiful and diverse natural area that is home to forests, wetlands, lakes, and coastline.
Hiking, birdwatching, and exploring the park's many historic sites are all popular activities.
Relax in an Estonian Spa
Estonia is known for its many spa resorts, which offer a range of treatments and facilities designed to help visitors unwind and rejuvenate.
Some popular spa destinations include Pärnu, Haapsalu, and Kuressaare.
Saaremaa
Saaremaa is the largest island in Estonia and is known for its rugged coastline, picturesque villages, and historic windmills.
Be sure to visit the Kuressaare Castle, which is one of the best-preserved medieval fortresses in the Baltic states.
Visit Tallinn
Tallinn, the capital city of Estonia, is known for its well-preserved medieval Old Town.
Walk along the cobblestone streets, visit the historic Town Hall Square, and explore the city's many museums, galleries, and churches.
Visitors to Estonia
Visitors to Estonia should explore the country's small islands of Hiiumaa, Ruhnu and Prangli.
In summer they are like quiet little paradises where you can enjoy a peaceful holiday in pure nature, away from city stress.
The capital of Estonia is located on the Bay of Tallinn; an inlet of the Gulf of Finland.
Map of Tallin
Tallinn is divided into three zones that quite clearly show its historical development: the upper town, with its 13th-14th century citadel, built on a steep hill; the lower walled town, built between 14th-16th century; and the newer district.
In 1219 Waldemar II of Denmark established a fortress on the site.
The town gained commercial importance by the turn of the century, and in 1346 was sold by Denmark to the Teutonic Knights.
Sweden acquired Tallinn 215 years later, and it was annexed by Russia in 1710.
Baltic Cities
Tallinn is the best preserved of the old Baltic cities.
The Russians used the city as a naval base for the Baltic fleet, but lost it for a while to the Germans, during World War II.
Talinn Old Town
Tallinn Old Town has an historical tradition with café culture. Cafe Maiasmokk, the oldest café in Tallinn, dates back to 1864.
When Sightseeing in Talinn, a good place to start might be the Tallinn Tourist Information Centre, on Niguliste 2.
Also be sure to pick up a free copy of Talinn in Your Pocket; the best free city travel guide that money just can't buy.
The Upper Town (Toompea)
Toompea Castle, Tall Herman (Pikk Hermann), Alexander Nevsky Cathedral, Cathedral School, Cathedral of Saint Mary the Virgin, Estonian Nobility House, Town Mansions of the Nobility, Von Stenbock Residence, Viewing Platforms, Long Leg (Pikk Jalg), Danish King's Garden, Kiek-in-de-Kok and Short Leg (Luhike Jalg).
The Lower Town
Town Hall, Town Hall Square, Town Hall Pharmacy, Guild Buildings, Church of the Holy Spirit, St. Nicholas's Church, Town Wall and Its Towers, St. Olaf's Church, Dominican Monastery, Great Coast Gate and Fat Margaret.
The Fringes of the Old Town
Vabaduse Valjak, Viru Valjak and the Rotermann Quarter.
The Eastern Outskirts of Tallinn
Kadriorg and Pirita.
The National Park of Estonia (Lahemaa) and the Open-Air Museum of Rocca-al-Mare.
Estonia Excursions
By Air
The Latvian carrier, airBaltic, operates direct flights from Tallinn to Amsterdam, Berlin, Brussels, Copenhagen, London, Malaga, Munich, Nice, Oslo, Paris, Riga, Salzburg, Stockholm, Vienna, Vilnius.
There's also a wide range of connecting flights available through Riga.
Getting To The Airport
The downtown bus-stop to Lennart Meri Tallinn Airport is located on the street corner next to the Estonian Art University, 100 metres from major department store (Kaubamaja) and 300 metres from Viru Hotel.
By Sea
Ferries connect Estonia with Finland.
Tallink
Tallink and Silja Line offer mini-cruise and passenger transport services in the northern Baltic Sea region.
TS Laevad
TS Laevad runs ferries between the mainland and the larger islands; Rohuküla to Heltermaa (Hiiumaa) and Virtsu to Kuivastu (Muhu and Saaremaa).
Viking Line
Viking Line sails from Tallin to Helsinki. They also have sailings to Sweden and Aaland Islands in the summer.
Estonia is a wonderful historical country and White Nights in the summer are only one reason to visit the region; as if that's not reason enough.
A pleasant coach trip takes you along the northern Estonian coast to the border town of Narva, which has for centuries been the historical gateway between East and West.
Trade routes passed through Narva, a link between the Baltics, Russia, the Mediterranean and even as far as the Orient and until World War II, visitors enjoyed the wonderful Old City.
The architecture, combining local traditions of building and elements typical of the Baroque style, was almost completely destroyed during the war.
The eastern frontier location of Narva is the most distinctive feature that brings together the past and present of the town.
If you Visit Narva, on the Baltic coast, you'll be joining the Saint-Petersburg aristocracy who used Narva-Jõesuu as a relaxing spa resort in the 19th century; dubbing it the Northern Riviera.
Where to Stay in Narva
Narva-Joesuu is famous for its long sandy beaches and extensive pine forests.
Meresuu Spa Hotel
Meresuu Spa Hotel: Aia 48a, Narva-Joesuu.
Opened in 2008, the Meresuu Spa Hotel is a stunning 4-star spa resort set in the beautiful scenery of Northern Estonia.
The Meresuu Spa Hotel has an Aqua centre with seven pools and tubs and a Wellness Centre offering a variety of medicinal treatments.
Hotels in Narva - Narva-Joesuu.
Known as the summer capital of Estonia, the City of Parnu is located on the shores of the Gulf of Parnu in South-West Estonia, 128km from Tallinn (the capital of Estonia) and 180km from Riga (the capital of Latvia).
Located on the Via Baltica highway (E67), Parnu is just a few hours drive from the international airports in Tallinn and Riga.
Comfortable buses depart regularly from Tallinn and Riga, and Tallinn port receives ship passengers from Helsinki.
Parnu has a small marina for visitors sailing their own yacht, and the local airfield is available for light aircraft.
Visitors to Parnu will find plenty of reasons to relax and enjoy themselves in the only Estonian town connected to a river and the sea.
Where to Stay in Parnu
Estonia Resort Hotel & Spa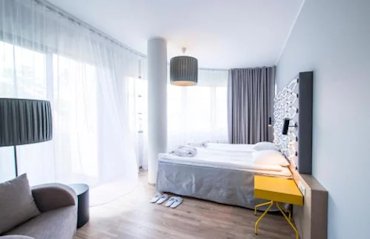 Estonia Resort Hotel & Spa: Tammsaare 4a, Pärnu.
Opened in July 2015, the Estonia Resort Hotel & Spa is only a 5-minute walk from the sea and 15 minutes from the centre of Parnu. Spa Estonia offers a large spa area with outdoor terrace and a hot tub, different saunas, indoor pools and a pool bar, as well as an Active Spa area which provides a wide range of training styles.
Guests at the Estonia Resort Hotel & Spa can benefit from some thirty different wellness treatments and massages.
Soomaa
Soomaa (Land of Bogs), in south-western Estonia, is a large complex (370 km2) of four extensive bogs, located in the catchment of one of the longest rivers in the country; the Parnu River.
South Estonia
Deep blue lakes hidden between rolling hills and valleys is what makes South Estonia a popular nature getaway destination.
Tartu
Tartu is the oldest town in the Baltics and the second largest town in Estonia.
Known as the cultural capital of Estonia, Tartu is home to Estonia's oldest university, many museums, and a thriving art scene.
Visit Tartu - European Capital of Culture 2024.
Viljandi
Viljandi is situated in South Estonia, 164 km from Tallinn, on Sakala upland in a picturesque place near Lake Viljandi.
The symbol of Viljandi is the ruins of the Order Castle dating from the Middle Ages.
Getting to Viljandi
By Train
Three trains a day to Tallinn take about three hours.
By Bus
The buses to and from Tallinn are generally quicker and there are more of them. (Also: To Tartu - 1hr 30mins; To Parnu - 7 a day).
The Estonians are ethnically and linguistically close to the Finns, speaking a non-Indo-European Finno-Ugric language.
Estonia News
Based in Riga, The Baltic Times covers current events, business, finance and culture in Estonia, Latvia and Lithuania.
Estonia Travel Guides - Estonia Maps.
Weather in Europe:
Local weather forecasts for destinations around Europe.
Travel Notes Online Guide to Travel
Africa - Asia - Caribbean - Europe - Middle East - North America - Oceania - South America.

The Travel Notes Online Guide to Travel helps visitors plan their trip with country and city travel guides, local tourist information, reviewed web sites, and regular travel articles.
Travel and Tourism Guides on Travel Notes
If Travel Notes has helped you, please take a moment to like us on Facebook and share with your friends on social media.


Travel & Tourism With Industry Professionals.

Faroe Islands.