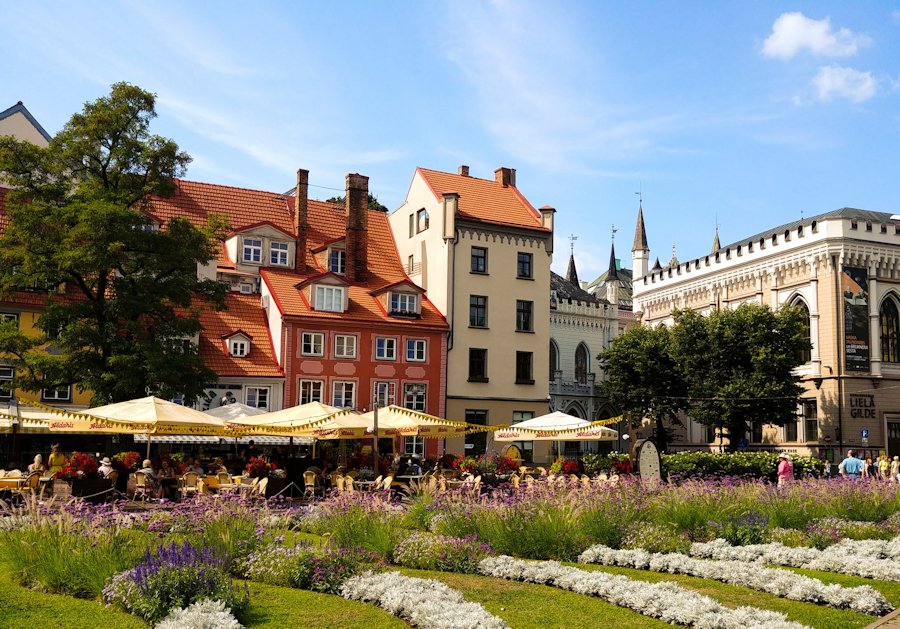 Riga, Latvia by Kseniia Samoylenko on Unsplash.
Travel Notes: Europe: Latvia: RigaTravel Notes - Updated 04 August, 2023.

Short URL: https://tnot.es/RIX
Riga Travel and Tourism on Travel Notes

Find Riga Travel and Tourist Information with links to official travel and tourism websites and state resources for visitors to Riga.
About Riga
Riga, the capital of Latvia, is situated on the Daugava River, near its mouth on the Gulf of Riga.
Things to see and do in Riga include exploring the Old Town, taking a river boat tour, hiking in Gauja National Park, and discovering the city's art architecture.
Map of Riga
Riga is a modern city with an historical heart that offers a variety of natural, tasty, cultural and spectacular charms.
Probably founded in the 12th century, Riga developed into a commercial and craft centre.
Riga passed to Poland in 1581 and was taken by Sweden 40 years later.
In 1721 it was ceded to Russia after Sweden was defeated in the Great Northern War, and it was briefly occupied by the Germans in World War I.
Picturesque Riga is the most cosmopolitan of the Baltic capitals, a pleasure to visit with its art nouveau buildings, historic churches and museums, while further afield medieval castles, long sandy beaches and unspoiled countryside await exploration.
The Old Town of Riga is the city's most popular area with tourists. In 1997, Riga's historic centre was included in the UNESCO World Heritage List.
A moat surrounds the old part of Riga, with its several medieval buildings, including a 13th-century cathedral and guild halls from the 14th century.
Flying to Riga
Riga International Airport (RIX) is to the west of the city.
For airport transportation, the public transport stop is 300 metres from the Arrivals Terminal, immediately beyond the car park. Follow the Public Transport signs.
Bus 22 leaves from Abrenes Street for Riga International Airport and takes about 30 minutes. Taxis are quicker but also charge more.
Riga Tourism
When visiting Riga be sure to pick up a free copy of Riga in Your Pocket; the best free city travel guide that money just can't buy.
Riga Experiences
Where to Stay in Riga
Grand Palace Hotel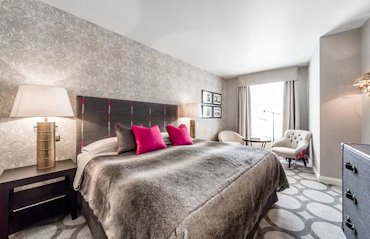 Grand Palace Hotel: Pils Iela 12, Riga.
The Grand Palace Hotel is located in the cobble-stoned 15th century old city, surrounded by ancient monuments, central to most major businesses and near Riga's vibrant shopping and business community. High class and column comfort come together in the sophisticated Grand Palace Hotel; built in 1877 as a State Bank.
The atmosphere is warm and inviting thanks to the precious and brightly coloured upholsteries, especially in the hall and in the bar, where guests can spend an enjoyable time among period pictures and large vases of hydrangeas illuminated by crystal chandeliers with brightly coloured drops.
The Grand Palace boutique hotel, with its eclectic-styled facade stands out for the simplicity and elegance of its interior design.
Grand Hotel Kempinski Riga
Grand Hotel Kempinski Riga: Aspazizas Boulevard 22, Riga.
This four-star hotel is located in the most beautiful part of Riga, opposite the National Opera House and the Freedom Monument. During World War II, the well-known hotel Roma was severely damaged. A beautiful, new six-storey granite building was constructed in its place and named Riga.
Guests at the Grand Hotel Kempinski Riga can experience a breathtaking panoramic view of the impressive local landmarks from the stylish rooftop restaurant & bar, Stage 22.
Dining Out in Riga
Seasons Restaurant and Pils Bar
Riga's hotspot for fine dining, meeting, chilling-out and partying can be found in the Grand Palace Hotel.
The meeting place of hotel guests, diplomats, and business people in Riga undoubtedly is the Pils Bar and Seasons Restaurant, just off the lobby of the hotel.
Beautifully furnished and decorated with interesting artwork and hunting trophies, the comfortable Old Town Bar and Restaurant with unobtrusive friendly service creates a very special atmosphere
Museums in Riga
Art lovers in Riga must plan a visit to at least two museums.
The buildings of both museums, the Latvian National Museum of Art and the Riga Bourse Art Museum, are architectural masterpieces.
Riga Travel Guides - Riga Maps.
Travel Notes Online Guide to Travel
Africa - Asia - Caribbean - Europe - Middle East - North America - Oceania - South America.

The Travel Notes Online Guide to Travel helps visitors plan their trip with country and city travel guides, local tourist information, reviewed web sites, and regular travel articles.

Liechtenstein.
Travel and Tourism Guides on Travel Notes
If Travel Notes has helped you, please take a moment to like us on Facebook and share with your friends on social media.


Travel & Tourism With Industry Professionals.