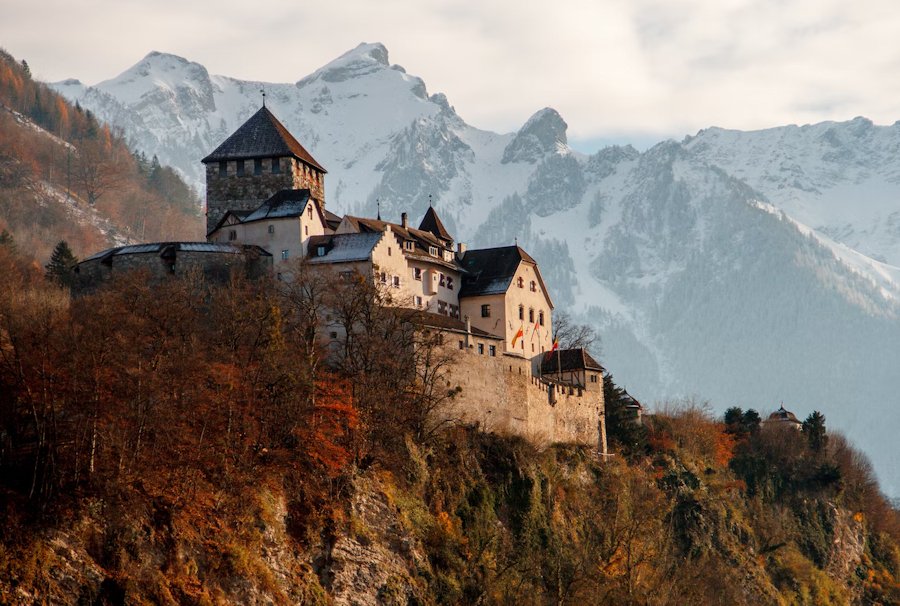 Vaduz Castle, Liechtenstein by Henrique Ferreira on Unsplash.
Travel Notes: Europe - Liechtenstein Travel Notes.


Short URL: https://tnot.es/LI
Liechtenstein Travel and Tourism on Travel Notes

Find Liechtenstein Travel and Tourist Information with links to official travel and tourism websites and state resources for visitors to Liechtenstein.
About Liechtenstein
Despite its size, Liechtenstein offers tourists a variety of activities and attractions, including beautiful mountain scenery, hiking trails, and historical landmarks.
Tourists can explore the capital city of Vaduz, visit museums and galleries, or stroll through the principality's charming villages and towns.
Map of Liechtenstein
Liechtenstein is an independent principality sandwiched between Austria and Switzerland; although it's Swiss border guards who greet you if you drive to Liechtenstein from Feldkirch, in Austria. Coming from Switzerland, there are no border controls over the Rhine.
Switzerland represents Liechtenstein diplomatically and everything is priced in Swiss francs, or Euros.
A small, land-locked country in Central Europe, Liechtenstein acquired its present name in 1719.
Liechtenstein is one of the smallest countries in the world, both in terms of land area and population.
Liechtenstein may be small in size, but it is a prosperous and picturesque country known for its political stability, strong economy, and beautiful Alpine scenery.
Brief History
During the 18th and 19th centuries Liechtenstein was economically and politically allied with the Habsburg monarchy of Austria, as an independent principality of the Holy Roman Empire.
When Austria abolished the Habsburg monarchy after World War I, Liechtenstein formed its present connection with Switzerland.
Women in Liechtenstein were first granted the right to vote in national elections after a referendum in 1984.
Capital and Cities
Vaduz is the capital and largest city of Liechtenstein.
Despite being a small country, Liechtenstein is divided into 11 municipalities, including Schaan, Triesen, Balzers, and Eschen.
Culture and Tourism
Despite its small size, Liechtenstein has a rich cultural heritage.
The capital city, Vaduz, is known for its medieval castle, Vaduz Castle, which is the official residence of the Prince of Liechtenstein.
The country also boasts several museums and art galleries, including the Liechtenstein Museum of Fine Arts and the Postal Museum.
The beautiful Alpine landscape offers opportunities for hiking, skiing, and outdoor activities, attracting visitors throughout the year.
Economy
Liechtenstein has a prosperous and highly industrialised economy.
It is known for its strong financial sector, with many private banks and financial institutions operating in the country.
Additionally, Liechtenstein has a diverse manufacturing sector, specializing in precision instruments, electronics, and pharmaceuticals.
The country is also a popular destination for offshore companies due to its favourable tax laws.
Geography
Liechtenstein is situated between Switzerland to the west and Austria to the east.
It covers an area of just over 160 square kilometres, making it the sixth-smallest country in the world.
The landscape is dominated by the eastern Alps, with the Rhine River forming the country's western border.
Government and Politics
Liechtenstein is a constitutional monarchy with a parliamentary democracy.
The Prince of Liechtenstein, currently Prince Hans-Adam II, is the head of state, while the government is headed by a prime minister.
The country has a highly stable political system and is known for its low taxes and business-friendly environment.
Population
Liechtenstein has a population of around 39,000 people, making it one of the least populated countries globally.
The official language of Liechtenstein is German, and the majority of the population is of German-speaking descent.
Liechtenstein doesn't have a train station but LieMobil buses run between Feldkirch in Austria and Sargans in Switzerland.
Despite its postcard size, Liechtenstein offers a charming blend of natural beauty, rich history, and cultural attractions.
Remember that Liechtenstein is a microstate with limited space, so it's possible to explore most of the country within a few days.
Liechtenstein Highlights
Balzers
Visit the picturesque village of Balzers, located in the southern part of Liechtenstein.
Explore the narrow streets, admire the traditional architecture, and visit the historic Gutenberg Castle, which dates back to the 12th century.
Hike in the Mountains
Liechtenstein is known for its stunning alpine landscapes.
Lace up your hiking boots and explore the extensive network of hiking trails that offer breathtaking views of the mountains, valleys, and quaint villages.
The Liechtenstein Trail is a 75km walking path passing through all eleven of the country's municipalities.
The Historical Eschnerberg Trail, between Bendern and Schellenberg, lets visitors discover the ancient origins of Liechtenstein and leads up to the pre-historic settlements of Lutzengütle and Malanser.
This scenic hiking route takes you through picturesque landscapes, vineyards, and historical sites.
It's a great way to experience Liechtenstein's natural beauty and cultural heritage.
Kunstmuseum Liechtenstein
Art enthusiasts should not miss the Kunstmuseum Liechtenstein.
This modern art museum features a diverse collection of contemporary and modern artworks from both national and international artists.
Liechtenstein National Museum
Learn about the history and culture of Liechtenstein at the Liechtenstein National Museum (LandesMuseum).
The museum displays artifacts, artworks, and exhibitions that highlight the country's heritage and traditions.
Malbun
If you're a fan of winter sports or simply want to enjoy the beauty of the snow-capped mountains, head to Malbun.
This alpine resort offers skiing, snowboarding, and other winter activities during the colder months.
Triesenberg
Explore the charming village of Triesenberg, situated on a sunny terrace high above the Rhine Valley.
Enjoy panoramic views, discover traditional wooden houses, and immerse yourself in the local culture.
Vaduz
Most visits to Liechtenstein start and end in the capital city of Vaduz.
Explore the charming Old Town, stroll along the main street, and visit the iconic Vaduz Castle, the official residence of the Prince of Liechtenstein.
Wine Tasting
Liechtenstein has a small but thriving wine industry.
Take the opportunity to taste some locally produced wines at one of the vineyards in the region.
Many offer guided tours and tastings for visitors.
The capital of Liechtenstein is the home of the princes of Liechtenstein.
Their castle (Schloss Vaduz), located in the mountains above the city, dates back to the early 16th century..
Map of Vaduz
Most people just take a look up at the castle while sticking a stamp on their postcard; another country covered.
The Liechtenstein Museum, houses the royal family's art collection, and there's a postal museum for stamp collectors.
Pay a visit to the Vaduz Cathedral, also known as the Cathedral of St. Florin. This neo-Gothic church is one of the iconic landmarks in Vaduz and features beautiful stained glass windows and intricate architecture.
Vaduz Experiences
Where to Stay in Vaduz
Park Hotel Sonnenhof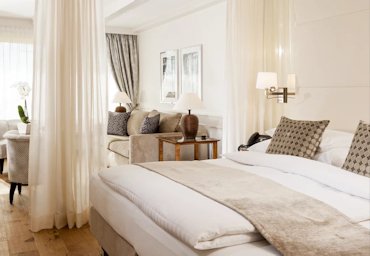 Park Hotel Sonnenhof: Mareestrasse 29, Vaduz, Liechtenstein.
This comfortable Relais & Chateux hotel has 29 special rooms and suites to choose from. The private terraces offer views of the Rhine Valley, vineyards and snow-capped Swiss Alps.
This Park Hotel Sonnenhof is set in luxuriant parkland overlooking the picturesque town of Vaduz and its medieval castle.
The official language of Liechtenstein is German.
Liechtenstein Vaterland:
The latest news from Vaduz; in German.
Liechtenstein - Switzerland Maps.
Weather in Europe:
Local weather forecasts for destinations around Europe.
Travel Notes Online Guide to Travel
Africa - Asia - Caribbean - Europe - Middle East - North America - Oceania - South America.

The Travel Notes Online Guide to Travel helps visitors plan their trip with country and city travel guides, local tourist information, reviewed web sites, and regular travel articles.
Travel and Tourism Guides on Travel Notes
If Travel Notes has helped you, please take a moment to like us on Facebook and share with your friends on social media.


Travel & Tourism With Industry Professionals.

Lithuania.