Short URL: https://tnot.es/LI
Liechtenstein Travel and Tourism on Travel Notes

Find Liechtenstein Travel and Tourist Information with links to official travel and tourism websites and state resources for visitors to Liechtenstein.
About Liechtenstein
Liechtenstein acquired its present name in 1719.
Liechtenstein is an independent principality between Austria and Switzerland, although it's the Swiss border guards who greet you if you come to Liechtenstein from Feldkirch, in Austria.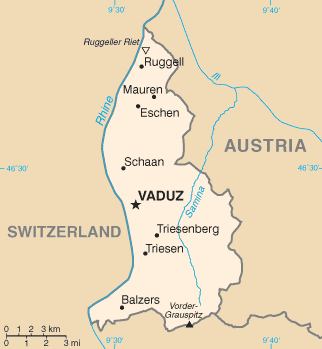 Weather in Europe:
Local weather forecasts for destinations around Europe.
During the 18th and 19th centuries Liechtenstein was economically and politically allied with the Habsburg monarchy of Austria, as an independent principality of the Holy Roman Empire.
When Austria abolished the Habsburg monarchy after World War I, Liechtenstein formed its present connection with Switzerland.
Women in Liechtenstein were first granted the right to vote in national elections after a referendum in 1984.
Switzerland represents Liechtenstein diplomatically and you'll buy your stamps with Swiss francs.
The capital of Liechtenstein is the home of the princes of Liechtenstein. Their castle, located in the mountains above the city, dates back to the early 16th century.
Most people just take a look up at the castle while sticking a stamp on their postcard; another country covered.
The Liechtenstein Museum, houses the royal family's art collection, and there's a postal museum for stamp collectors.
Parkhotel Sonnenhof:
This elegant hotel is set in luxuriant parkland overlooking the picturesque town of Vaduz and its medieval castle. The comfortable guest rooms open onto private terraces which offer stunning vistas of the Rhine Valley, the vineyards and the snow-capped peaks of the Swiss Alps.
Compare Hotel Prices in Liechtenstein
Balzers, Malbun, Schaan, Vaduz.
The official language of Liechtenstein is German.
Liechtenstein Vaterland:
The latest news from Vaduz; in German.

Add a Business Listing - Add a Destination Guide - Add a Place to Stay.



If you find Travel Notes useful, please take a moment to like us on Facebook and share with your friends on social media.
Europe Index - Europe Tourism - Europe Travel Websites.