Saksun, Faroe Islands by Lynn Fae on Unsplash.
Travel Notes: Europe - Faroe Islands Travel Notes.

Short URL: https://tnot.es/FO
Faroe Islands Travel and Tourism on Travel Notes

Find Faroe Islands Travel and Tourist Information with links to official travel and tourism websites and state resources for visitors to Faroe Islands.
About Faroe Islands
Although the Faroe Islands are part of the Kingdom of Denmark they are not in the European Union.
Map of Faroe Islands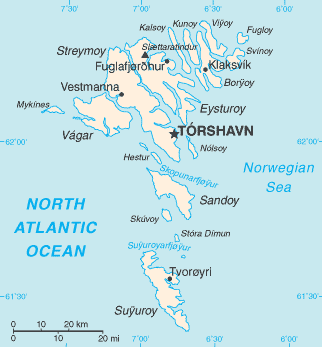 The 18 rocky islands that make up the Faroe Islands lie in the middle of the North Atlantic, some 602 km west of Norway and 310 km north-west of Scotland - halfway between the Shetland Islands and Iceland.
The most important of the 18 islands are Streymoy, Eysturoy, Vagar, Suouroy, Sandoy, and Borooy.
The Faroes are mainly treeless, have deeply indented coastlines and a number of fjords.
Irish hermits from Scotland hid themselves here until the islands were found by marauding Vikings in the 9th century.
The Faroes then became a communication link between Scandinavia and the Viking colonies in Iceland, Greenland and, for a while, in North America.
The weather in The Faroes is very unpredictable, although the windswept islands do benefit from the warm currents of the Gulf Stream.
Weather in Europe:
Local weather forecasts for destinations around Europe.
The capital of the Faroe Islands is on the south-eastern coast of Streymoy Island. Being ice-free, Torshavn makes a perfect principal harbour.
The inhabitants of the Faroe Islands are of Scandinavian descent and still speak a moderated form of the old Norse called Faeroese.
Hotle Hafnia, Torshavn
Hotel Hafnia: 4-10 Aarvegur, Torshavn.
If you want first class accommodation in a central location during your stay in Torshavn, a good choice is this comfortable, family-run hotel situated in the heart of the world's smallest capital, within walking distance of the harbour and the historical part of town.
Well-known for its international cuisine and Faroese specialities, the Hotel Hafnia restaurant is located on the first floor; overlooking the main street.
Getting to the Faroe Islands
Atlantic Airways, the Faroe Islands national carrier, provides international and domestic flights.
Stamp Collecting
Not many people get a postcard from the Faroe Islands, thus the Faroe stamps are of interest to collectors world-wide.
Travel Notes Online Guide to Travel
The Travel Notes Online Guide to Travel helps visitors plan their trip with country and city travel guides, local tourist information, reviewed web sites, and regular travel articles.

Join Michel on Meta-Travel.

Airlines and Airports.

Add a Business Listing - Add a Destination - Add a Place to Stay - Add URL.



Affiliates - Europe Tourism - Europe Travel Websites.
If you find Travel Notes useful, please take a moment to like us on Facebook and share with your friends on social media.