Sisimiut, Grønland by Visit Greenland on Unsplash.
Travel Notes: Europe - Greenland Travel Notes.

Short URL: https://tnot.es/GL
Greenland Travel and Tourism on Travel Notes

Find Greenland Travel and Tourist Information with links to official travel and tourism websites and state resources for visitors to Greenland.
The Arctic Circle
Greenland, a self governing part of Denmark, lies mostly north of the Arctic Circle and much of the interior of the country is permanently covered by an ice sheet.
Map of Greenland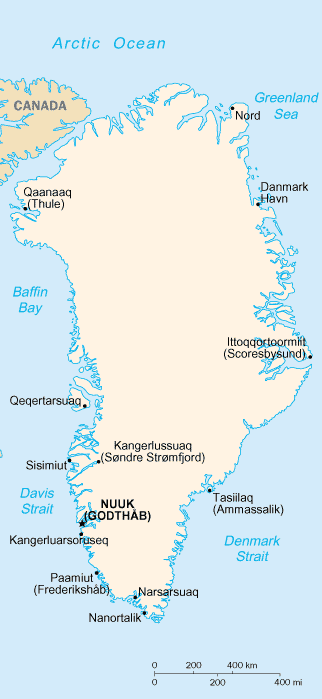 Greenland is the world's largest island, and the only reliable way to get there is by plane from Denmark or Iceland.
Cruise ships do sail through the icebergs, but it depends on the conditions.
Greenland Travel Guides - Greenland Maps.
Weather in Europe:
Local weather forecasts for destinations around Europe.
Visit Greenland
From late August to April watch the Greenland sky come alive with the Northern Lights.
There are many abandoned places in Greenland, and there are obviously, several reasons for the abandonment.
No matter whether you heed the call 'to the wild' or prefer great adventures without the risk of breaking your neck, Greenland has something to offer you.
The capital of Greenland has an ice-free harbour at the entrance of Godthabsfjord, on the south-western coast of the island.
Norse colonists struggled to survive around the area of present-day Nuuk, during the 9th to 15th centuries, and later abandoned the settlement.
The present city was founded by the Danes as Godthab - Good Hope - in 1721.
Where to Stay in Nuuk
The settlement of Thule, in north-west Greenland, was founded by the Danish explorer Knud Rasmussen, in 1910, and was used as a base for five Arctic expeditions between 1912 and 1924.
The Inuit were the original inhabitants of the site, and their distinct way of life was shown to the world as Thule culture.
The Inuit have been relocated, and today it is a large strategic air base.
Travel Notes Online Guide to Travel
The Travel Notes Online Guide to Travel helps visitors plan their trip with country and city travel guides, local tourist information, reviewed web sites, and regular travel articles.

Join Michel on Meta-Travel.

Airlines and Airports.

Add a Business Listing - Add a Destination - Add a Place to Stay - Add URL.



Affiliates - Europe Tourism - Europe Travel Websites.
If you find Travel Notes useful, please take a moment to like us on Facebook and share with your friends on social media.