Sisimiut, Grønland by Visit Greenland on Unsplash.
Travel Notes: Europe - Greenland Travel Notes.

Short URL: https://tnot.es/GL
Greenland Travel and Tourism on Travel Notes

Find Greenland Travel and Tourist Information with links to official travel and tourism websites and state resources for visitors to Greenland.
About Greenland
Visiting Greenland is a truly unique travel experience unlike any other place in the world; a beautiful travel destination with a variety of activities for visitors.
Map of Greenland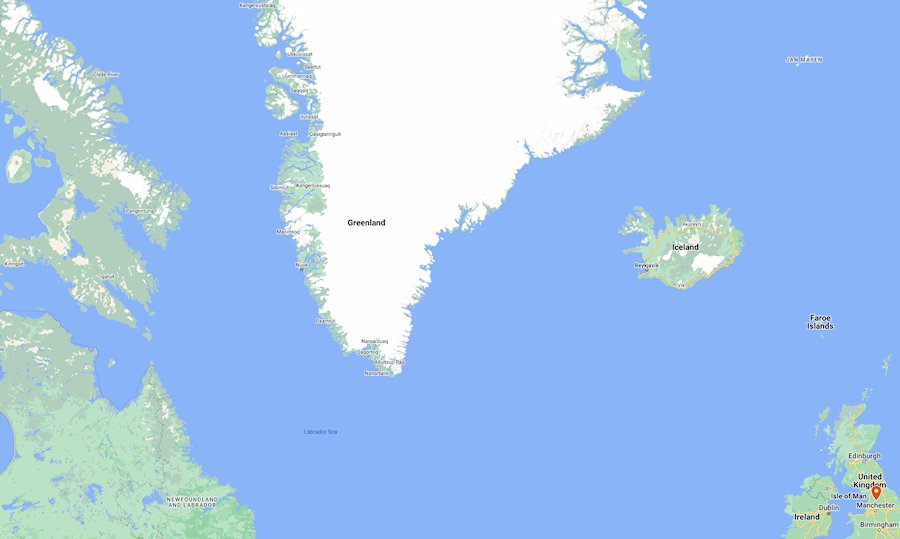 Greenland is the world's largest island and the least densely populated country in the world. The only reliable way to get there is by plane from Denmark or Iceland.
Cruise ships do sail through the icebergs, but it depends on the conditions.
Arctic Circle
Greenland, a self governing part of Denmark, lies mostly north of the Arctic Circle and much of the interior of the country is permanently covered by an ice sheet.
Climate Change
Climate change is a major concern for Greenland, as the melting of the ice sheet is accelerating.
This has the potential to cause significant global sea level rise and could have catastrophic consequences for low-lying areas around the world.
Economy
Greenland has a mixed economy, with fishing, mining, and tourism being the largest industries.
Landscape
Greenland's landscape is dominated by ice, with the Greenland Ice Sheet covering 80% of the island.
The ice sheet is up to three kilometers thick and is said to contain enough ice to raise sea levels by 7.4 meters if it were to melt completely.
The island also has several large glaciers, fjords, and mountains, with the highest peak being Gunnbjorn Fjeld at 3,694 meters.
Politics
Greenland has an unique political status within Denmark, with a high degree of self-government.
The Greenlandic government controls most areas of governance, including natural resource management and foreign affairs.
Population
The majority of the population in Greenland is Inuit, who have a rich cultural history dating back thousands of years.
The traditional Inuit way of life, including hunting and fishing, is still practiced by many of their people.
Wildlife
Greenland is home to several unique species of wildlife, including polar bears, Arctic foxes, and muskoxen.
It is also an important breeding ground for several bird species, including the common eider and the Arctic tern.
Greenland is a beautiful and unique destination for travellers interested in experiencing the natural wonders of the Arctic.
Visit Greenland
Visiting Greenland can be a truly unique and unforgettable experience, with the opportunity to explore one of the world's last remaining wilderness areas.
No matter whether you heed the call 'to the wild' or prefer great adventures without the risk of breaking your neck, Greenland has something to offer you.
How to Get There
The easiest way to get to Greenland is by air, with several airlines offering regular flights to the island.
Most flights depart from Copenhagen, Denmark, and Reykjavik, Iceland.
It's also possible to travel to Greenland by boat, with several cruise lines offering trips to the island.
What to Do in Greenland
There are plenty of things to do in Greenland, from hiking and kayaking to dog sledding and skiing, depending on the time of year you plan to visit.
You can also experience the traditional Inuit way of life by visiting small villages and learning about their culture and traditions.
From late August to April watch the Greenland sky come alive with the Northern Lights.
There are many abandoned places in Greenland, and there are obviously, several reasons for the abandonment.
The ice sheet and glaciers are a major attraction in Greenland, with the opportunity to take boat tours and hike on the ice.
What to Pack
When visiting Greenland, it's important to pack warm, waterproof clothing, as well as sturdy hiking boots.
You should also bring sunscreen and sunglasses, as the sunlight can be intense in Greenland; even in the winter months.
When to Visit Greenland
The best time to visit Greenland depends on what you want to do.
The summer months (June to August) offer the best weather for hiking and outdoor activities, as well as the chance to see the midnight sun.
The winter months (December to February) offer the best chance to see the Northern Lights, and dog sledding and skiing are popular activities.
Where to Stay in Greenland
There are several hotels and guesthouses in Greenland, ranging from budget to luxury.
You can also choose to stay in a traditional Inuit hut or go camping in the wilderness.
The capital of Greenland has an ice-free harbour at the entrance of Godthabsfjord, on the south-western coast of the island.
Map of Nuuk
Norse colonists struggled to survive around the area of present-day Nuuk, during the 9th to 15th centuries, and later abandoned the settlement.
The present city was founded by the Danes as Godthab - Good Hope - in 1721.
Where to Stay in Nuuk
The settlement of Thule, in north-west Greenland, was founded by the Danish explorer Knud Rasmussen, in 1910, and was used as a base for five Arctic expeditions between 1912 and 1924.
The Inuit were the original inhabitants of the site, and their distinct way of life was shown to the world as Thule culture.
The Inuit have been relocated, and today it is a large strategic air base.
Greenland Travel Guides - Greenland Maps.
Weather in Europe:
Local weather forecasts for destinations around Europe.
Travel Notes Online Guide to Travel
Africa - Asia - Caribbean - Europe - Middle East - North America - Oceania - South America.

The Travel Notes Online Guide to Travel helps visitors plan their trip with country and city travel guides, local tourist information, reviewed web sites, and regular travel articles.
Travel and Tourism Guides on Travel Notes
If Travel Notes has helped you, please take a moment to like us on Facebook and share with your friends on social media.


Travel & Tourism With Industry Professionals.

Hungary.