Short URL: https://tnot.es/RO
Romania Travel and Tourism on Travel Notes

Find Romania Travel and Tourist Information with links to official travel and tourism websites and state resources for visitors to Romania.
About Romania
The borders of Romania have shifted over the years, and some eleven percent of Romania is still populated by ethnic Hungarians.
Countries neighbouring Romania are: Hungary, Ukraine, Moldova, Bulgaria and Serbia.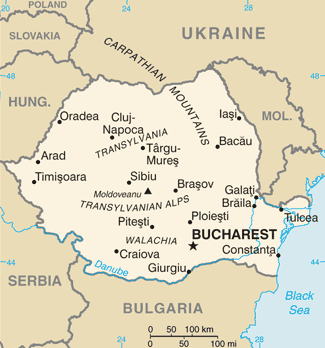 Weather in Europe:
Local weather forecasts for destinations around Europe.
Much of what we know as Romania today, was originally the Roman province of Dacia.
Emperor Trajan conquered the Daci people around AD 106, and set about the building of roads and bridges.
The Goths forced the Romans back across the Danube in the 3rd century AD, and other invaders followed.
Throughout the intermarriages and assimilation that followed, the romanised people still held onto their Latin language and culture.
Towards the end of the 13th century, the roaming Magyars expanded their territory.
The people who were forced from the western provinces over the Carpathians then established the principalities of Walachia and Moldavia; under Hungarian and Polish dominion.
When the Ottomans defeated the Hungarians in 1526, Walachia and Moldavia came under Turkish control for three hundred years.
Russia also fought many wars with the Turks, as they tried to advance down the coast of the Black Sea and into the Balkans.
In 1861 Walachia and Moldavia united, and were recognised by the Turkish sultan as the autonomous principality of Romania.
Romanian independence was finally recognised in 1878.
During World War I, Romania remained neutral until they saw their chance to move into Hungarian Transylvania.
They were defeated the first time in January 1917, but re-entered the war in November 1918 as the Allies were sweeping to victory, to join the Allied forces against the Austrian-Hungarian Empire and Germany.
Romania was subsequently rewarded with the sovereignty over most of Bukovina and all of Transylvania - more than doubling the size of Romania.
The Hungarian names in Transylvania were changed, and the language was banned in schools.
Romanian Government:
Front door to the workings behind the country of Romania.
Romanian Monasteries:
There is no other place in the world than Bucovina in Romania, where a group of Orthodox monasteries with such high quality exterior mural paintings are to be seen. These Painted Monasteries are part of UNESCO's World Heritage for their rarity and beauty. Another group are the Wooden Churches of Maramures; unique examples that combine Gothic style with traditional timber construction.
Romanian National Tourist Office:
Romania's main tourist attractions, travel tips and suggested tour itineraries to help you plan a visit to Romania.
On January 1st, 2007 Romania joined the European Union.
Active Holidays in Romania:
Green Mountain Holidays have a number of different activity trips to choose from in Transylvania: hiking, biking, horse-riding, caving and more.
Brasov
Considered Romania's second town, Brasov is about 160 km from Bucharest and has plenty of interest to travellers in search of the legendary Transylvania.
Transylvania:
The Carpathian Mountains form a great arc in the middle of Romania, and it is in here that you will find the legendary Transylvania.
Visiting Romania:
From the majestic River Danube and the beaches on the Black Sea, to intriguing castles perched precariously on mysterious mountain peaks, travellers to Romania are in for a treat.
You'll arrive at the Gara de Nord; if you come on the night train from Budapest.
Bucharest Travel Guide:
Bucharest city guide with listings for hotels, accommodation, restaurants, rent a car agencies, sightseeing, entertainment and other useful information.
Getting to Sibiu
Sibiu International Airport has regular flights to Bucharest and Munich, although it's only three hours by train from Bucharest. There are also many bus services to places around Romania and neighbouring countries.
Sibiu Tourism:
Few Romanian cities are as pleasant as Sibiu. The upper town contains most of Sibiu's historic sights and the lower town is a charming area of old houses and cobbled squares.
A journey to Romania offers you the possibility of tasting the specific traditional food, which is of course, the Romanian plate: ham, spiced cottage cheese, onion, sausages, bacon and mosaic salami.
As wine goes well with food, you can try the white and red Romanian wines of the famous vineyards of Murfatlar, Cotnari, Jidvei, Dealu Mare, Odobesti and Valea Calugareasca because they are excellent.
And don't forget to ask the waiters to serve you with the famous Romanian 'tzuica'.

By Brasov Travel Guide.

Add a Business Listing - Add a Destination Guide - Add a Place to Stay.



If you find Travel Notes useful, please take a moment to like us on Facebook and share with your friends on social media.
Europe Index - Europe Tourism - Europe Travel Websites.