Short URL: https://tnot.es/ME
Montenegro Travel and Tourism on Travel Notes

Find Montenegro Travel and Tourist Information with links to official travel and tourism websites and state resources for visitors to Montenegro.
About Montenegro
The capital of Montenegro is Podgorica.
Countries neighbouring Montenegro are: Bosnia-Herzegovina, Serbia, Kosovo and Albania.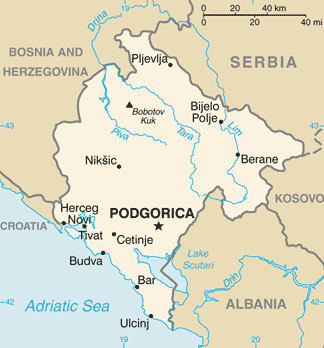 Weather in Europe:
Local weather forecasts for destinations around Europe.
The use of the name Montenegro began in the 15th century, when the Crnojevic dynasty began to rule the Serbian principality of Zeta.
Over subsequent centuries Montenegro was able to maintain its independence from the Ottoman Empire.
From the 16th to 19th centuries, Montenegro became a theocracy ruled by a series of bishop princes; in 1852, it was transformed into a secular principality.
After World War I, Montenegro was absorbed by the Kingdom of Serbs, Croats, and Slovenes, which became the Kingdom of Yugoslavia in 1929. After World War II it became a constituent republic of the Socialist Federal Republic of Yugoslavia.
When the latter dissolved in 1992, Montenegro federated with Serbia, first as the Federal Republic of Yugoslavia and, after 2003, in a looser union of Serbia and Montenegro.
In May 2006, Montenegro invoked its right under the Constitutional Charter of Serbia and Montenegro to hold a referendum on independence from the state union.
The vote for severing ties with Serbia exceeded 55% - the threshold set by the EU - allowing Montenegro to formally declare its independence on 3rd June 2006.
Administrative Divisions
21 municipalities:
(opstine, singular - opstina)
Andrijevica; Bar; Berana; Bijelo Polje; Budva; Cetinje; Danilovgrad; Herceg Novi; Kolasin; Kotor; Mojkovac; Niksic; Plav; Pljevlja; Pluzine; Podgorica; Rozaje; Savnik; Tivat; Ulcinj; Zabljak.
Explore Montenegro:
The first and only UK company specialising in holidays to Montenegro.
Pluto Developments:
Leading developer of quality apartments and villas in Montenegro.
Holidays in Montenegro
Montenegro Holidays:
Enjoy sailing boat excursions through the Bay of Kotor, one of the most beautiful bays in the World, and visit Kotor old town, an UNESCO World Heritage Site.

Add a Business Listing - Add a Destination Guide - Add a Place to Stay.



If you find Travel Notes useful, please take a moment to like us on Facebook and share with your friends on social media.
Europe Index - Europe Tourism - Europe Travel Websites.