One of the smallest countries in Europe, Albania is also very mountainous and little known to outsiders.
Under Enver Hoxha's isolationist policies hardly any foreigners could enter the country, but that's all changed and new facilities are being provided for the tourist.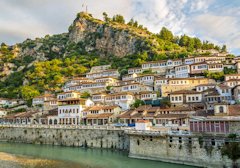 Berat, known as the city of 'one thousand windows', is a treasure of Albanian history, culture and a testament to the country's tradition and religious harmony.
What to do in Albania:
Top sightseeing attractions and tourist activities for visitors to Albania. Find suggestions of things to do for short visits or longer stays. Start here to save time and explore more.
ATHS-Travel:
Albanian Travel and Hospitality Service provides excursions to help you get the most out of your visit to Albania.
Enter Albania:
Getting to Albania, and other information for tourists.
Where to Stay in Albania
Most people visiting Albania will be looking for hotels in Tirana, the capital; or hotels in Durres, on the Adriatic coast.
Popular Hotels in Tirana

Add a Business Listing - Add a Destination Guide - Add a Place to Stay.



If you find Travel Notes useful, please take a moment to like us on Facebook and share with your friends on social media.
Europe Index - Europe Tourism - Europe Travel Websites.