Giza Plateau, Cairo, Egypt by Adrian Dascal on Unsplash.
Travel Notes: Africa - Egypt Travel Notes - Updated 07 August, 2023.
Short URL: https://tnot.es/EG
Egypt Travel and Tourism on Travel Notes

Find Egypt Travel and Tourist Information with links to official travel and tourism websites and state resources for visitors to Egypt.
About Egypt
Egypt, the land of pharaohs, pyramids and bible history, is watered by the Nile, the longest river on earth.
Egypt is a popular tourist destination with many historic and cultural sites worth visiting, such as the Pyramids of Giza, Cairo's Egyptian Museum, and Luxor's Valley of the Kings.
Some tourist destinations are very popular, so it's best to arrive early in the morning to avoid the crowds.
Countries neighbouring Egypt: Libya, Sudan and Israel.
Map of Egypt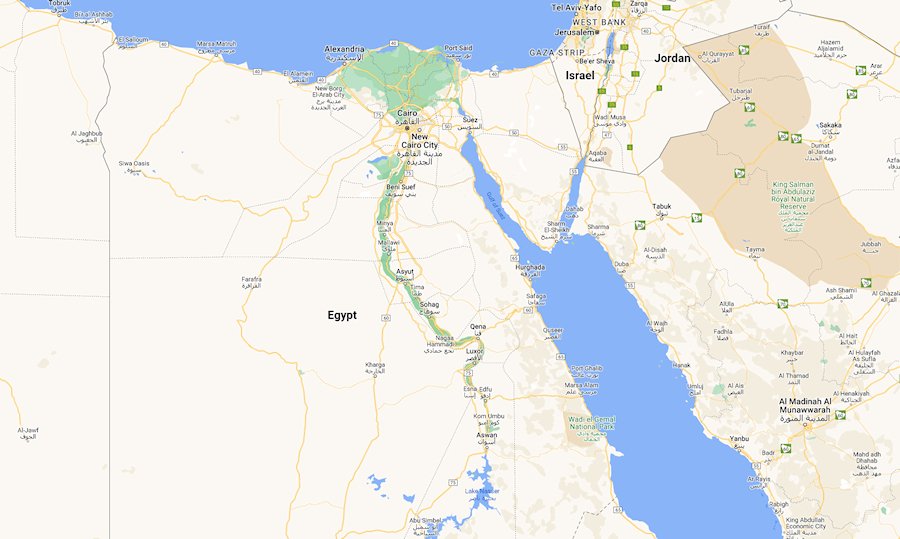 Egypt is bordered by Libya to the west, Sudan to the south, Israel and the Gaza Strip to the east, and the Mediterranean Sea to the north.
The capital of Egypt is Cairo.
Egypt is a country located in the north-eastern corner of Africa, with a small portion of its territory located in Asia.
Ancient Civilization
Egypt is known for its ancient civilization and monuments, such as the pyramids of Giza, the Great Sphinx, and the Valley of the Kings, which attract millions of tourists every year.
The ancient Egyptians were among the earliest civilizations to develop writing, agriculture, and organized religion.
Their culture and religion heavily influenced other civilizations in the Mediterranean region.
Economy
Egypt has a diverse economy that relies on agriculture, tourism, and manufacturing.
The country has a strategic location that has made it an important center of trade and commerce for thousands of years.
It is also a major producer of oil and natural gas.
Traditional Egypt
Egypt has a rich cultural tradition that includes music, dance, and literature.
Traditional Egyptian music includes the use of instruments such as the oud, the qanun, and the ney.
The country is also known for its cuisine, which includes dishes such as koshari, ful medames, and mahshi.
Nubia was an ancient civilisation of northern Sudan that existed along with the Egyptian Kingdom. The Nubian civilisation had it's own distinct culture, and even ruled over Egypt for a short period.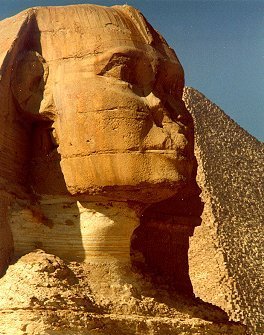 Touring Egypt:
Most visitors to Egypt are greeted by hospitable people, proud to share their land and its history with them.
Egypt has a complex political history, with periods of monarchy, republics, and military rule.
In 2011, a popular uprising led to the overthrow of long-time leader Hosni Mubarak, and since then, the country has undergone a tumultuous transition to democracy.
However, the country still faces challenges related to political instability, economic development, and social inequality.
Modern Egypt is a predominantly Muslim country with a rich cultural heritage.
Arabic is the official language, and the country has a population of around 104 million people.
Cairo is the capital and largest city, and other major cities include Alexandria, Luxor, and Aswan.
Visiting Egypt can be an incredible experience filled with ancient history, culture, and natural beauty.
Trip PLanning
When planning your trip to Egypt, it's important to keep in mind the climate and season.
The best time to visit Egypt is during the winter months (November to February) when the weather is cooler and more pleasant.
It's also important to dress appropriately, as Egypt is a conservative country, particularly when it comes to dress.
In addition, it's a good idea to arrange your travel plans with a reputable tour company or guide, as this can help ensure that you have a safe and enjoyable trip.
Finally, be sure to try some of the delicious local cuisine, including falafel, koshary, and kofta, and immerse yourself in the vibrant culture and history of this amazing country.
Where to Go in Egypt
Aswan
Located in southern Egypt, Aswan is home to beautiful temples and ruins, as well as the stunning Philae Island, which features ancient temples dedicated to the goddess Isis.
Cairo
Cairo is a bustling metropolis with a rich history and culture.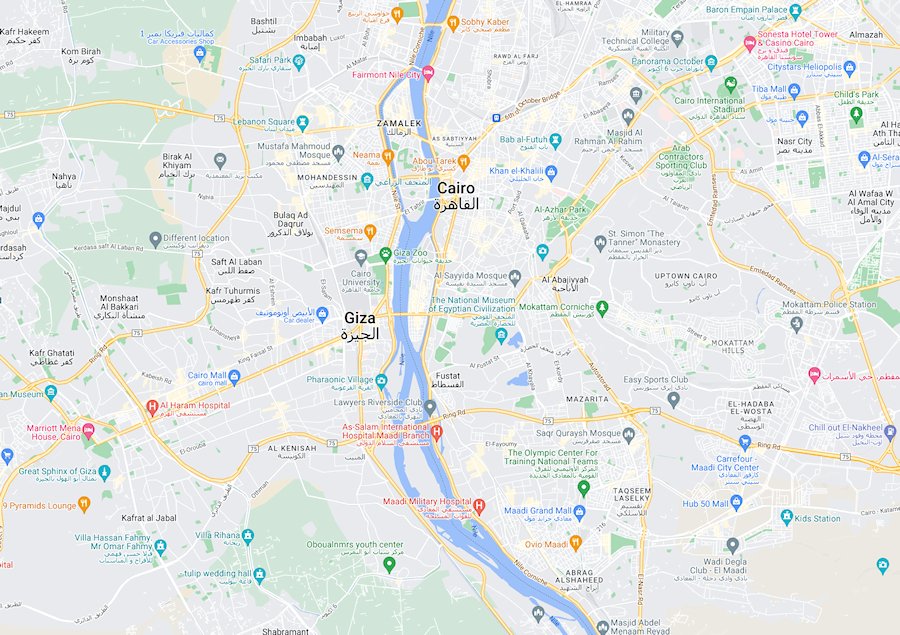 Map of Cairo.
Visitors can explore the famous Egyptian Museum, take a stroll through the Khan el-Khalili market, or enjoy a cruise down the Nile River.
Luxor
Known as the world's greatest open-air museum, Luxor is home to numerous ancient temples and tombs, including the Karnak Temple, Valley of the Kings, and the Luxor Temple.
Pyramids of Giza
These ancient structures are one of the most iconic and well-known landmarks in the world.
The pyramids were built over 4,500 years ago and are a testament to the skill and ingenuity of the ancient Egyptians.
The Sphinx
Located near the Pyramids of Giza, the Sphinx is a statue of a mythical creature with the body of a lion and the head of a human.
It is believed to have been built around 2500 BC.
Egypt's Red Sea region is a popular tourist destination known for its stunning beaches, crystal-clear waters, and vibrant marine life.
Whether you're interested in snorkeling, diving, or simply relaxing on the beach, the Red Sea offers a range of activities and attractions for visitors to enjoy.
Dolphin House
Situated in the Red Sea near Marsa Alam, Dolphin House is a renowned spot for encountering dolphins in their natural habitat.
Visitors can join guided snorkeling trips or diving excursions to observe and swim with these friendly creatures; a truly memorable experience for nature lovers and wildlife enthusiasts.
El Gouna
Often referred to as Egypt's Venice, El Gouna is a picturesque resort town known for its beautiful canals and lagoons.
El Gouna offers a more upscale and luxurious atmosphere, with high-end resorts, golf courses, and a vibrant marina.
El Gouna is an excellent destination for relaxation, water sports, and enjoying a sophisticated beachside experience.
Giftun Island
Located near Hurghada, Giftun Island is a protected marine reserve and a popular day trip destination.
The island offers pristine beaches, crystal-clear waters, and fantastic snorkeling opportunities.
You can take a boat trip from Hurghada and spend the day relaxing, swimming, and exploring the colorful coral reefs.
Hurghada
Located on the western shore of the Red Sea, Hurghada is a bustling resort town famous for its beautiful beaches and vibrant coral reefs.
It's an ideal destination for snorkeling, diving, and other water sports.
Hurghada also offers a vibrant nightlife scene with numerous restaurants, bars, and clubs.
Marsa Alam
If you prefer a quieter and more secluded atmosphere, Marsa Alam is an excellent choice.
This tranquil coastal town boasts pristine beaches and a relaxed ambiance.
It's an excellent spot for snorkeling and diving, and you can also take boat trips to explore nearby sites like the Elphinstone Reef and Dolphin House.
Sharm El Sheikh
Situated on the southern tip of the Sinai Peninsula, Sharm El Sheikh is another popular resort town known for its picturesque beaches and world-class diving sites.
The Ras Mohammed National Park, located nearby, is a must-visit for diving enthusiasts, as it is home to an abundance of marine life and stunning coral formations.
Where to Stay in Sharm El Sheikh.
Travel Tips
Remember to check the travel advisories and guidelines before planning your visit to Egypt's Red Sea region.
It's always a good idea to consult with local authorities or trusted travel agencies for the latest information on safety, health protocols, and any specific requirements for visitors.
Egypt Excursions
With more than 90% of all attractions lined up along the river Nile, Egypt is one big invitation to come and visit.
Egyptian Photo Gallery:
Egyptian photographs at Magun's Compass.
Egypt State Tourist Information:
Although cultural and archaeological tourism are considered the traditional kind of tourism in Egypt, Egypt offers some 3,000 km of fascinating beaches on the Mediterranean and Red Sea coasts.
Egypt Today:
The magazine of Egypt serves up this week's news and milestones, with side helpings of food and travel.
Where to Stay in Egypt
Egypt Travel Guides - Ancient Egypt.
Weather in Africa:
Local weather forecasts for destinations around Africa.
Travel Notes Online Guide to Travel
Africa - Asia - Caribbean - Europe - Middle East - North America - Oceania - South America.

The Travel Notes Online Guide to Travel helps visitors plan their trip with country and city travel guides, local tourist information, reviewed web sites, and regular travel articles.

Equatorial Guinea.
Travel and Tourism Guides on Travel Notes
If Travel Notes has helped you, please take a moment to like us on Facebook and share with your friends on social media.


Travel & Tourism With Industry Professionals.