Sudan by Yusuf Yassir on Unsplash.
Travel Notes: Africa - Sudan Travel Notes.
Short URL: https://tnot.es/SD
Sudan Travel and Tourism on Travel Notes

Find Sudan Travel and Tourist Information with links to official travel and tourism websites and state resources for visitors to Sudan.
About Sudan
The River Nile is the major feature of Sudan. Its headwaters, the White Nile and Blue Nile, flow through the country and meet at Khartoum; the capital of Sudan.
Map of Sudan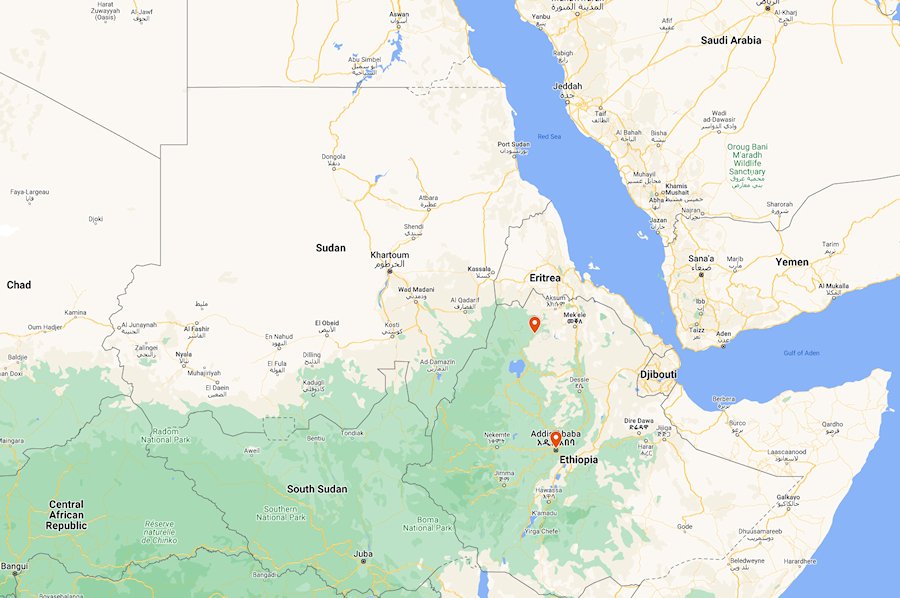 Countries neighbouring Sudan: Chad, Libya, Egypt, Eritrea, Ethiopia, Kenya, Uganda, Democratic Republic of the Congo and Central African Republic.
Sudan Travel Guides - Sudan Maps.
Weather in Africa:
Local weather forecasts for destinations around Africa.
In January, 2011 people in the south voted for independence from Sudan.
With Juba as its capital city South Sudan formerly declared its independence on 9th July, 2011; although the region of Abyei still remained disputed.
A separate referendum may be held in the region to decide whether the people of Abyei will join the North or South.
Is it Safe to Visit South Sudan?
Sudan by Rail
While there is a good rail network in Sudan, the rolling stock is fairly old.
Most of the major cities and towns in Sudan are linked by rail.
Trains Run From
Wadi Halfa (on the Nile, near the Egyptian border) to Khartoum.
This line branches at Atbara, for trains to Port Sudan (on the Red Sea).
From Khartoum, the train runs south to Sennar, where the line branches (east) to Kassala and Port Sudan, and (west) to Kosti, Nyala and Wau.
To get to Wau, leave the Nyala-Kosti line at Babanusah. This section was often sabotaged by the SPLM (Sudanese People's Liberation Movement).
Sudan Schedules
Wadi Halfa to Khartoum:
Trains are meant to connect with the steamers at Wadi Halfa, although you might find yourself waiting a day or two.
Trains are supposed to depart Wadi Halfa in the late afternoon, on Thursday and Sunday.
North from Khartoum, trains are supposed to leave early mornings on Sunday and Wednesday, the last we heard.
Trains are crowded (there are even people on the roof) and take around 50 hours; if they don't break down.
More interesting than travelling to Khartoum by train, is to follow the course of the Nile.
Trucks leave Wadi Halfa for Kerma (15-30 hrs), then it's another lorry (or shared taxi) to Dongola (2.5 hours).
Cross over the Nile and continue on to Karima (7-10 hours), or take the steamer (if the river is high, from August to December) - two sailings a week, if all goes well, and the journey takes 3 days.
From Karima, you can get on the train for the 36-hour ride to the capital (Wednesday and Sunday). There are also buses: via Shendi, Atbara and Abu Hamed - twice a week, which take about 24 hours.
Khartoum to Kosti:
Train schedules are erratic in Sudan but rumour has it that a train leaves Khartoum, for Nyala (via Sennar and Babanusa), on Mondays.
Again, you might want to do the trip in stages - by road. Trucks leave from the souk in Omdurman.
Khartoum to Kosti takes about 4.5 hours and another 4-5 days to Nyala.
From Kosti, there are buses to El Obeid and (by bus or truck) onto Kadugli (5 hrs); an interesting, little town in the Nubian Mountains.
Buses and lorries run from Kadugli to Babanusa (via El Fula).
Khartoum to Port Sudan:
The rail route to Port Sudan, via Sennar and Kassala, is miserably slow.
Trucks and buses leave from the Shabi souk (in south Khartoum) early in the morning to Wad Medani, Gedaref, Kassala and Port Sudan.
The journey to Kassala - where the Port Sudan buses stop for the night - takes around seven to nine hours.
Sudan by Boat
Sudan has over 4,000km of navigable waterways; nearly half of them are useable all year.
Sudan by Road
Most of the roads are little more than dirt tracks, made impassable after heavy rains.
A paved road exists between the capital, Khartoum, and Port Sudan; on the Red Sea.
Sudan by Air
Sudan Airways has services throughout the country and operates scheduled international flights. Several foreign airlines also fly into Sudan.
The official language of Sudan is Arabic, although English is widely spoken.
Before the displacement caused by the civil war, the northern two-thirds of Sudan was an area of Islamic culture, while traditional cattle-raising customs remained strong in the south.
Adventures of Sudan
Wild animals. Green river valleys. Endless desert. Red Sea diving. Mountain trekking. Genuine camel caravans. Beautiful people. Nomads. Colorful markets without tourists. 150 ethnic groups. It's all the Sudan.
Khartoum, founded in the early 1820s as an Egyptian military post, is Arabic for elephant's trunk; a referral to the Nile proper that starts just north of the capital.
Bridges cross the Blue Nile to Khartoum North and the White Nile to Omdurman.
During a revolt against Anglo-Egyptian rule, 1884-1885, the city was besieged for ten months and the entire Anglo-Egyptian garrison was massacred.
Khartoum was recaptured by the British in 1898 and it became the capital of the Anglo-Egyptian Sudan from 1899 to 1956.
Ancient Nubia
The ancient civilisation of northern Sudan existed along with the Egyptian kingdom; between Aswan and Khartoum.
Nubian civilisation had it's own distinct culture.
Sudan Ministry of Foreign Affairs
Established in January 1956, when Sudan attained independence, the Ministry of Foreign Affairs is entrusted with the conduct of the country's foreign policy and the management of its relations with other countries.
Embassy of Sudan in Washington DC:
2210 Massachusetts Ave NW,
Washington, DC.
Darfur, on Sudan's western border with Chad, is one of the world's poorest and most inaccessible regions.
The region has been the site of recurrent violence since 2003, when the pro-government Janjaweed Arab militia were accused of using systematic rape, as well as killing and destroying the villages of black Africans, in the conflict in Sudan's western Darfur region.
In 2023, analysts traced many of the roots of the latest conflict in Sudan back to the appalling violence and human rights abuses in Darfur from 20 years previously.
Travel Notes Online Guide to Travel
Africa - Asia - Caribbean - Europe - Middle East - North America - Oceania - South America.

The Travel Notes Online Guide to Travel helps visitors plan their trip with country and city travel guides, local tourist information, reviewed web sites, and regular travel articles.


Swaziland (Eswatini).

Add a Business Listing - Add a Destination - Add a Place to Stay - Add URL.



Affiliates - Africa Tourism - Africa Travel Websites.
Travel and Tourism with Industry Professionals
If Travel Notes has helped you, please take a moment to like us on Facebook and share with your friends on social media.


Increase Bookings & Reach More Customers.