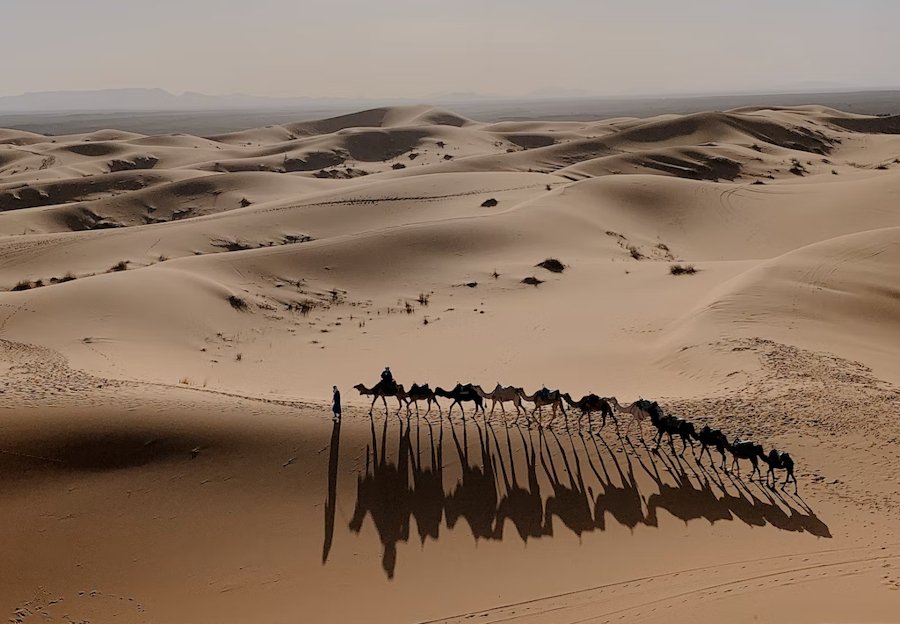 Camels in the Sahara by Connor Scheidler on Unsplash.
Travel Notes: Africa - Chad Travel Notes.
Short URL: https://tnot.es/TD
Chad Travel and Tourism on Travel Notes

Find Chad Travel and Tourist Information with links to official travel and tourism websites and state resources for visitors to Chad.
About Chad
Chad finds itself locked in the middle of Africa - north central Africa really; another one of those sorry former French colonies, without access to the sea.
Map of Chad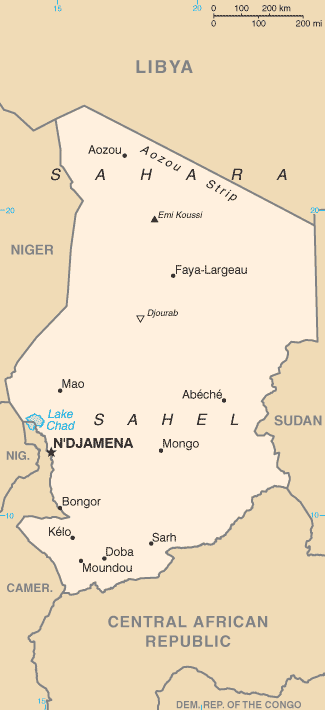 Countries neighbouring Chad:
Niger, Libya, Sudan, Central African Republic, Cameroon and Nigeria.
Africa Travel Guides - Africa Maps.
Weather in Africa:
Local weather forecasts for destinations around Africa.
After independence, Chad has had nothing but trouble; as Libyan backed Muslim rebels operated in the north, and drought took its toll on the soil.
Lake Chad is also shrinking in size, and the hippos might one day loose their home. In the last ice age the lake was more than ten times its present size.N'Djamena
The capital of Chad is situated on the Chari River, opposite Nigeria.
Before 1973 N'Djamena still had the original French name of Fort-Lamy; even though Chad gained full independence from France on August 11th, 1960.
N'Djamena's Great Mosque was built in the late 1970s and is a dominant feature of the city. N'Djamena also has a cathedral built by the French, and some ancient Sao ruins.
Chad by Air
Air Tchad (HK) is the national airline and operates flights to Abeche and Sarh, while Air Afrique (RK) and Air France both operate flights from Paris to N'Djamena.
Chad by Road
There's no railway in Chad and travel by road is made almost impossible in the rainy season.
The best time to travel by road is between November and May.
The Tibesti volcanic complex is located half way between Lake Chad and the Gulf of Syrte - in Southern Libya and Northern Chad.
This region makes up a 350 mile triangle in length.
With one of the most painful histories in Africa, Chad is a nation with its foundations built on the precipice of conflict.
With Boko Haram terror activities in the south and signs of conflict spilling over from Libya in the north, the British Foreign and Commonwealth Office advise against travel to Chad.
Travel Notes Online Guide to Travel
The Travel Notes Online Guide to Travel helps visitors plan their trip with country and city travel guides, local tourist information, reviewed web sites, and regular travel articles.

Join Michel on Meta-Travel.

Airlines and Airports.

Add a Business Listing - Add a Destination - Add a Place to Stay - Add URL.



Affiliates - Africa Tourism - Africa Travel Websites.
If you find Travel Notes useful, please take a moment to like us on Facebook and share with your friends on social media.