Short URL: https://tnot.es/NE
Niger Travel and Tourism on Travel Notes

Find Niger Travel and Tourist Information with links to official travel and tourism websites and state resources for visitors to Niger.
About Niger
The landlocked Republic of Niger was a former French colony, achieving full independence on August 3rd, 1960.
Countries neighbouring Niger are: Mali, Algeria, Libya, Chad, Nigeria, Benin and Burkina Faso.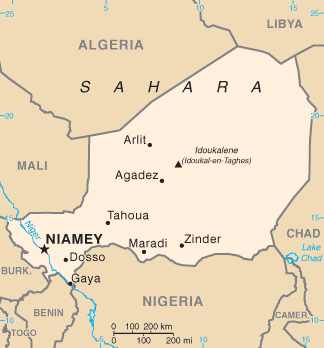 The northern half of Niger is occupied by the Sahara, which gradually gives way to the Sahel; a relatively sparse savannah vegetation of grasses and shrubs.
Embassy of the Republic of Niger in Washington:
2204 R Street, N.W., Washington, D.C. 20008.
Weather in Africa:
Local weather forecasts for destinations around Africa.
Agadez was founded by the Tuareg, in the 14th century.
Hausa states dominated southern Niger from the 10th century, until they were conquered by the Fulani in the early 19th century.
Capital of a Muslim state, from the 16th to the 19th century, Zinder was once a stop on the ancient Trans-Saharan trade route.
In south-central Niger, Zinder has an airport and is linked to Niamey by a road, completed in 1980.
The official language of Niger is French, but most of the people communicate in Hausa.
The capital of Niger sits across the river, about halfway between Mali and Nigeria.
Seagoing vessels can reach Niamey when the river is high, between March and September.
Niamey was a French fort from 1902, and succeeded Zinder as capital. Originally known as Niamma, it was later called Niame until the French arrived with their change of pronunciation.
There are a good selection of restaurants in Niamey; great if you've been eating too much foofoo with your hands in northern Nigeria.
The country has a small shore on Lake Chad, in the very south eastern corner of Niger, where fish is part of the diet.
Hotels in Niger


Hotel Terminus - Gaweye, Niamey, Niger.
The hotel has probably seen better days but it doesn't get much better than this in Niamey.

Guests at the Hotel Terminus were impressed with the level of service provided by staff and the generally clean and comfortable rooms.
You will probably pass through Maradi if you're travelling between Kano, in Nigeria, and Niamey.
The only river of note in Niger slices through the very last south-western portion of the country, between Mali and Nigeria, and forms part of Niger's border with Benin.

Add a Business Listing - Add a Destination Guide - Add a Place to Stay.



If you find Travel Notes useful, please take a moment to like us on Facebook and share with your friends on social media.
Africa Index - Africa Tourism - Africa Travel Websites.