Sahara Ahaggar National Park, Algeria by Azzedine Rouichi on Unsplash.
Travel Notes: Africa - Algeria Travel Notes.
Short URL: https://tnot.es/DZ
Algeria Travel and Tourism on Travel Notes

Find Algeria travel and tourist information with links to official travel and tourism websites and state resources for visitors to Algeria.
About Algeria
Stretching from the shores of the Mediterranean to the sands of the Sahara Desert, Algeria was Africa's second largest country; until the secession of South Sudan from Sudan.
Map of Algeria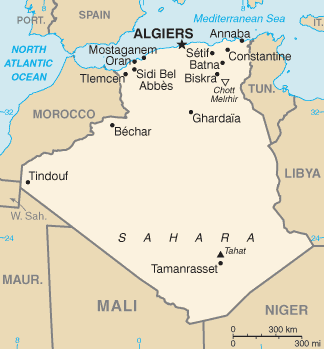 Countries neighbouring Algeria:
Morocco, Western Sahara, Mauritania, Mali, Niger, Libya and Tunisia.
Algeria Travel - Algeria Maps.
Weather in Africa:
Local weather forecasts for destinations around Africa.
Algeria History
Ever since one of the 20 companions of Hercules founded a trading centre here, Algeria has been rocked by rebellion and warfare.
After more than a century of rule by France, Algerians fought through much of the 1950s to achieve independence in 1962.
News From Algeria:
Disturbing massacres are full of contradictions. The CNN anchor has a hard time with the Algerian minister, who accuses Amnesty International of inflating the figures and not knowing the full story.
Algeria Landscape
Algeria travel may not be an option on many travel agent's itineraries, but people are always curious about the place.
At the end of the 1980's many travellers still enjoyed the Peugeot run to West Africa by way of Algeria, or came across the desert on motorbikes.
Not any more; even the Paris-Dakar has avoided this country in North Africa.
Algeria Language and Culture
Arabic is the official language of Algeria although French is widely spoken. In the Kabylia region Berber is more prominent.
Algeria Traditions and Customs
Algeria is a Muslim country and it's not wise to joke about Islam.
The Capital City of Algeria is Algiers
Map of Algiers
Out and About in Algeria
Adventures in Algeria.
For anyone doing a little bit of preparation, or joining a good organized tour, Algeria's treasures are again available to the curious and adventurous.
Main Cities in Algeria
Central Algeria:
Algiers, Bejaia, Blida, Bouire, Boumerdes, Médéa, Tizi Ouzou.
Northeast Algeria:
Annaba, Azazga, Batna, Biskra, Constantine, Dellys, Guelma, Jijel, Oum el Bouacthi, Sétif, Skikda, Souk Ahras, Tébessa.
Northwest Algeria:
Ain Temouchent, Arzew, Chlef, Gidi Bel Abbes, Mascara, Mostaganem, Oran, Relizane, Saïda, Sidi Bel Abbès, Tiaret, Tlemcen.
Saharan Algeria:
Chenachene, Djanet, El Golea, Ghardaïa, Illizi, Reggane, Tamanrasset, Timimoun, Tindouf.
Saharan Atlas:
Abadla, Aïn Sefra, Bechar, Beni Ounif, Bou Saâda, Djelfa, El Bayadh, Kenadsa, Laghouat, M'Sila, Naama.
Official Algeria Tourist Offices and Embassies
British Embassy in Algiers:
3 Chemin Capitaine Hocine Slimane, Algiers, Algeria.
Ministère du Tourisme et de l'Artisanat:
119 rue Didouche Mourad, Alger.
Office National du Tourisme Algerie:
2 rue Ismail Kerrar, boulevard de Che Guevara, Algiers, Algeria.
ONAT - National Tour Operator:
126 Bis A, Rue Didouche Mourad, Alger, Algérie.
US Embassy in Algeria:
05 Chemin Cheikh Bachir Ibrahimi, El-Biar 16030, Alger, Algerie.
Excursions Around Algeria
Cheche Tours:
Organises 4x4 desert expeditions in the spectacular Hoggar Mountains and to the impressive plateau of the Tassili N'Ajjer. These two National Parks are situated in the south of Algeria, in the very heart of the Sahara desert.
Expert Algeria Tours:
Runs cultural, historical, archaeological and adventure tours the length and breadth of Algeria from the Roman sites of the Mediterranean to the sand dunes of the Sahara.
Getting To and Around Algeria
Algeria by Air
Airlines and Airports - Flights.
Flights to Algiers - ALG
The national airline of Algeria is Air Algerie.
Algeria by Road
The easiest way to enter Algeria by road is from Tunisia.
Algeria by Ship
Algerie Ferries:
Sailings to Algeria from Marseilles, Alicante, Valencia and Genoa.
Algeria by Train
The Algerian train company is SNTF. Trains run to Algeria from Tunisia. Change at the border.
Algeria Locals and Frequent Visitors Share Their Travel Tips
Travel safely with prior travel planning.
Prepare yourself with our essential travel tips and visitor guides from locals, other travellers, travel guide writers and bloggers.
Popular Hotels in Algiers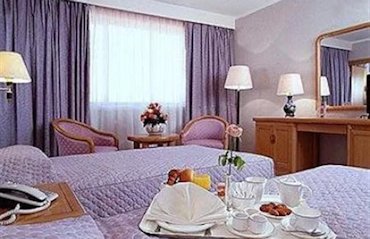 Grand Hotel Mercure Alger Aeroport: Route de l'universite BP 12 - Cite 5 juillet, Bab Ezzouar, Algiers, Algeria.
Close to Houari Boumediene Airport, a shuttle service is available for those staying at the hotel.
The Grand Hotel Mercure Alger Aeroport is a luxury hotel with a large swimming pool, business centre, and three restaurants.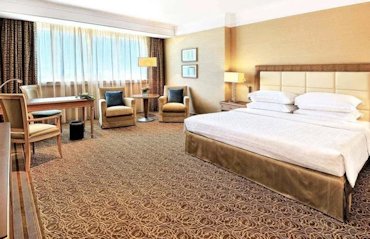 Sheraton Club des Pins Resort: Boite Postal 62, Club Des Pins, Algiers, Algeria.
Escape to the Mediterranean Sea at this 5-star Algeria beachfront hotel with indulgent amenities in a prime Algiers setting.
When Sheraton played host to the OAU African Summit, 57 heads of state stayed at the Sheraton Club des Pins resort.
Sofitel Algiers Hamma Garden: 172, rue Hassiba Benbouali, Algiers, Algeria.
Overlooking the Mediterranean and the city of Algiers, the hotel is close to the Hamma business centre and the Belcourt quarter.
Formerly home to the novelist Albert Camus, Sofitel Algiers Hamma Garden adjoins the Jardin d'Essai.
Travel Notes Online Guide to Travel
The Travel Notes Online Guide to Travel helps visitors plan their trip with country and city travel guides, local tourist information, reviewed web sites, and regular travel articles.

Join Michel on Meta-Travel.

Airlines and Airports.

Add a Business Listing - Add a Destination - Add a Place to Stay - Add URL.



Affiliates - Africa Tourism - Africa Travel Websites.
If you find Travel Notes useful, please take a moment to like us on Facebook and share with your friends on social media.