Disturbing massacres are full of contradictions, as always. The CNN anchor has a hard time with the Algerian minister, who accuses Amnesty International of inflating the figures and not knowing the full story.

What is the full story in Algeria?
Map of Algeria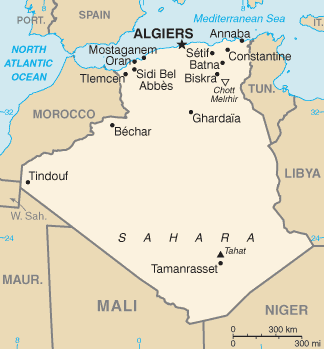 After years of Islamic insurgency, and over 80,000 slaughters later, the European Union, United States and Canada all agree that their think-tanks should be doing something about it.
But there's always a bigger problem.
The French have the most at stake, as former colonial rulers, but this time they are not as concerned about the forgotten country in North Africa as they are with the repercussions it could have in their own.
There is already a large Algerian community in France, and fears are that more people will try to escape to safety across the Mediterranean.
With the genuine refugees always comes the odd terrorist.
That is their thinking, and there have been enough Islamic funded bomb scares on French soil for the French to be even more concerned.
Our computer connections are bringing many people together in greater understanding, but we still can't stop these humiliations to humanity, committed in cold blood by fellow human beings.
Algerie Presse Service:
APS, Algeria's News Agency, was founded on December 1st, 1961 in the wake of the national liberation war to be its standard-bearer on the world media scene.
Algerian Ministry of Communication:
The official spin from the People's Democratic Republic of Algeria.
Travel Notes Online Guide to Travel
The Travel Notes Online Guide to Travel helps visitors plan their trip with country and city travel guides, local tourist information, reviewed web sites, and regular travel articles.
If you find Travel Notes useful, please take a moment to like us on Facebook and share with your friends on social media.