Ait Ben Haddou, Morocco by Toa Heftiba on Unsplash.
Travel Notes: Africa - Morocco Travel Notes - Updated 14 August, 2023.

Short URL: https://tnot.es/MA
Morocco Travel and Tourism on Travel Notes

Find Morocco Travel and Tourist Information with links to official travel and tourism websites and state resources for visitors to Morocco.
About Morocco
Known for its rich culture, history, and beautiful landscapes Morocco is a popular travel destination with many attractions and activities for tourists.
Be sure to visit the historic cities of Marrakech and Fez, explore the stunning Atlas Mountains, and experience the unique cuisine and culture of the region.
Map of Morocco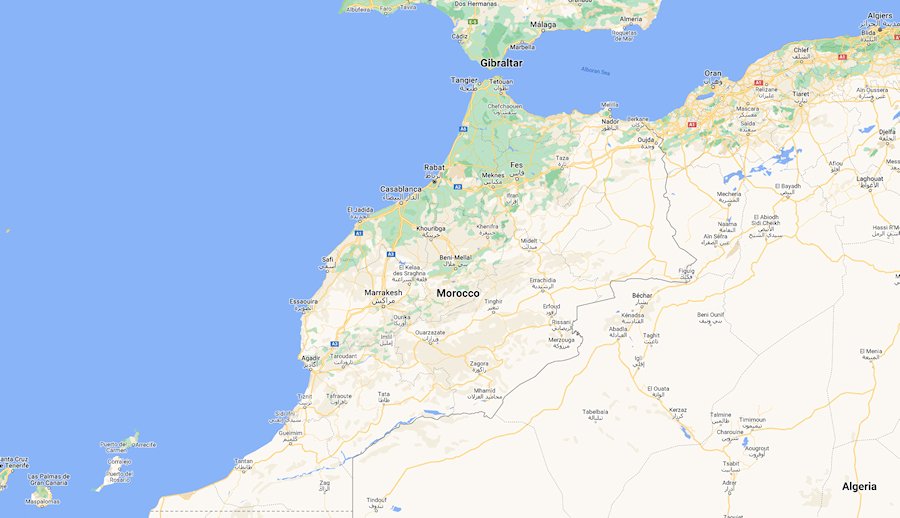 Morocco, Al Mamlakah al Maghribiyah in Arabic, is a hereditary monarchy. The monarch must be male, and he appoints the prime minister and cabinet.
Countries neighbouring Morocco: Western Sahara and Algeria.
Moroccans are descendants of the original Berbers, although fewer people are speaking the language.
From 1912 to 1956 Morocco was divided into French and Spanish protectorates.
The Spanish enclaves of Ceuta and Melilla, on the Mediterranean coast, are within Morocco, and several small islands off the northern coast of Morocco also belong to Spain.
The south-eastern boundary of Morocco, in the Sahara Desert, is still not well defined, and since 1979 Morocco has also occupied the neighbouring country of Western Sahara.
Morocco has been influenced by several ancient cultures, and more recently by the French.
Phoenician, Hellenic, Carthaginian, and Roman civilisations all passed through Morocco.
Christianity spread here in Roman times, but after the end of Byzantine rule in the late 7th century, Arabic influences, with its written language and the religion of Islam, remained the strongest.
At the height of the Almohad Empire, Morocco embraced most of north Africa, and large areas of Spain and Portugal.
The western African influence of dance also came from the south along the trade route.
The Archaeological Museum in Tetouan portrays this colourful history in its collections of Carthaginian, Roman, and Islamic art and artefacts.
Morocco has the highest mountains in north Africa, tempting many skiers to the region in winter too.
The Atlas Mountains run across Morocco from the north-east of the country to the south-west.
Most Moroccans live along the Atlantic coast, so travel to the Atlas range can be quite an adventure.
Royal Air Maroc
Royal Air Maroc (AT) is the national airline although many other international airlines also fly to Morocco.
Capitalizing on Morocco's geographical location as a hub between Europe and Africa, Royal Air Maroc is positioning itself as an essential air player at the international level.
Thanks to Royal Air Maroc, Casablanca has become an essential platform for air connections between Africa and the rest of the world.
Royal Air Maroc connects all of Morocco with Casablanca and more than 105 destinations worldwide.
Destinations include Abidjan, Abu Dhabi, Algiers, Amsterdam, Athens, Bamako, Barcelona, Bordeaux, Brussels, Cairo, Conakry, Dakar, Dubai, Dusseldorf, Frankfurt, Gaza, Geneva, Istanbul, Jeddah, Johannesburg, Las Palmas, Libreville, Lisbon, London, Lyon, Madrid, Malaga, Marseille, Milan, Montreal, New York, Niamey, Nice, Nouakchott, Paris, Riyadh, Rome, Strasbourg, Toulouse, Tripoli, Tunis, Vienna and Zurich.
Charter flights from Europe also land in Tangier.
Moroccan Airports:
Arrivals and departures around Morocco.
Morocco by Train
ONCF trunk line trains run through the heart of Morocco connecting some one hundred stations spread out over 1,907km of track.
If you're looking to travel to Agadir, Tetouan, or Nador there are bus connections from Marrakech, Tanger and Taourirt respectively.
Tangier is a seaport and tourist destination on a small bay of the Strait of Gibraltar.
Tangier was taken from the Arabs by the Portuguese in 1471, and given to Charles II of England as part of the dowry of Catherine of Braganza.
The English abandoned the city to the Moors, in 1684, because of continued piracy in the region.
Rabat is the capital of Morocco.
The city's 12th century Hassan Tower, with its 55-metre minaret, is a major attraction for visitors. The national library is also in Rabat.
Casablanca
You saw the film, now visit the largest city in the kingdom of Morocco.
Fez
Fez is a well preserved imperial city, rich in history. A visit to the old city is almost like being transported to another time.
Ouarzazate
Ouarzazate originated as a French outpost and is also a popular tourist area.
Around Morocco
Located between the snow of the Atlas and the sand of the desert, Kasbah Itran is a real balcony overlooking the life of Berber peoples in the Dades Valley.
South of the Souss Valley and beyond the western end of the Anti Atlas, Tiznit is an old walled medina town; originally the site of a cluster of Kasbahs, which were encircled in the 19th century by some 5km of pise wall.
Ringed by terracotta-red ramparts and palm-groves, filled with ancient Islamic monuments and superb restaurants, Morocco's accessible and exotic southern city is quickly becoming an international travel destination.
Founded in 1062, Marrakech was once the southern capital of the sultans and a visit to the old city is a must.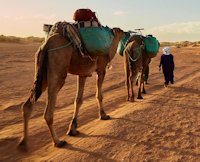 Roaming Camels Morocco:
Any company can get you to the mountains or the desert but only the best tour company will care about your experience along the way, so travel Morocco with a local guide to immerse yourself in this ancient land.
Marrakech Accommodation
Dar Ayniwen:
Set in a lush garden in the heart of the Marrakesh palm grove and only a ten minute drive from the city centre.
The official language of Morocco is Arabic, with French and Spanish also spoken. Less than 25 per cent of the population use Berber as their first language.
In tourist areas the touts can reel off a number of phrases in English, Dutch, German, and even Swedish.
Learning just a few Moroccan Arabic words and phrases will immediately set you apart from the average tourist, who simply relies upon French or English.
No shorts, bare arms or shoulders.
After shaking hands with someone, touch your right hand to your heart as a sign of respect.
Use your right hand for shaking hands, eating out of a common dish and handling merchandise or money.
The left hand is commonly used to clean oneself after using the toilet and is considered insulting when used for any right hand activity.
Before taking pictures of people, ask their permission (your guide will help you with that). In rural areas women will almost never agree, and men only occasionally.
As a general rule: donkeys, landscapes and buildings don't mind having their pictures taken.
Adventures of Morocco
Mystique blends with fabulous nature, friendly people and excellent food. Add to that first class infrastructure, low prices and a very high level of security, and you have all the reasons to start planning your visit to a country that everyone should see at least once.
Morocco Travel Guides - Morocco Maps.
Weather in Africa:
Local weather forecasts for destinations around Africa.
Travel Notes Online Guide to Travel
Africa - Asia - Caribbean - Europe - Middle East - North America - Oceania - South America.

The Travel Notes Online Guide to Travel helps visitors plan their trip with country and city travel guides, local tourist information, reviewed web sites, and regular travel articles.

Mozambique.
Travel and Tourism Guides on Travel Notes
If Travel Notes has helped you, please take a moment to like us on Facebook and share with your friends on social media.


Travel & Tourism With Industry Professionals.