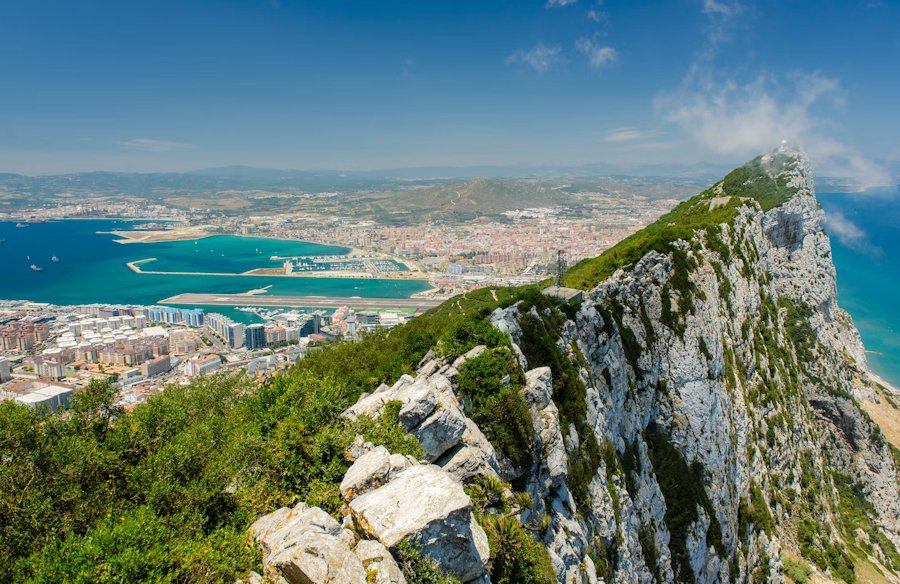 Gibraltar by Michal Mrozek on Unsplash.
Travel Notes: Europe - Gibraltar Travel Notes.

Short URL: https://tnot.es/GI
Gibraltar Travel and Tourism on Travel Notes

Find Gibraltar Travel and Tourist Information with links to official travel and tourism websites and state resources for visitors to Gibraltar.
About Gibraltar
Gibraltar is a British Overseas Territory located in the southern tip of the Iberian Peninsula.
A popular tourist destination, Gibraltar has many attractions for visitors; including the famous Barbary Macaques, the Rock of Gibraltar, several caves, tunnels, and other historical sites.
Map of Gibraltar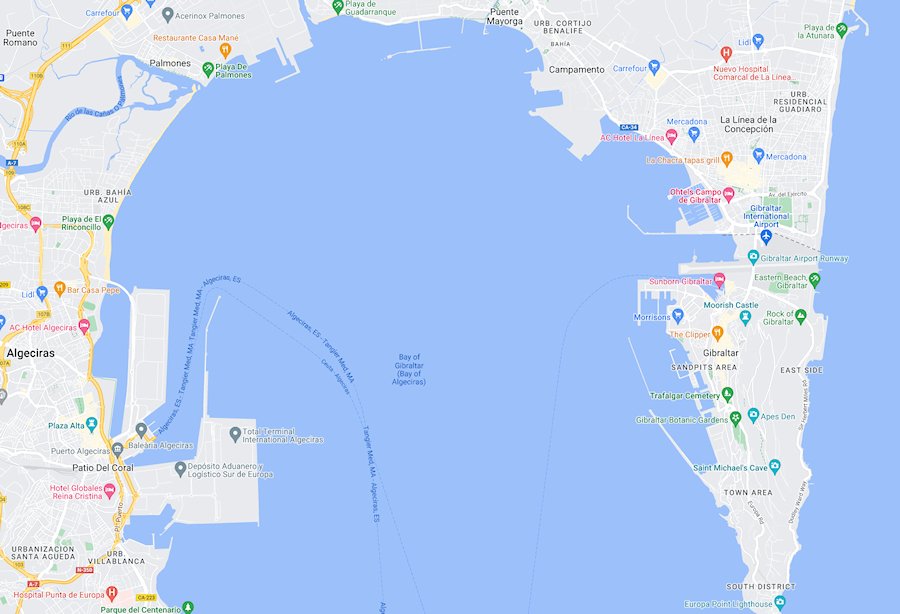 The Rock of Gibraltar is Britain's little outpost at the mouth of the Mediterranean, where the Spaniards drink Lipton. It is also a strategic naval base; with the rock being something of a fortress.
Gibraltar is a British Overseas Territory located on the southern coast of Spain, at the entrance of the Mediterranean Sea.
Gibraltar covers an area of approximately 6.7 square kilometers and has a population of around 34,000 people.
Despite its small size, Gibraltar is unique; a fascinating place to visit, with a rich history and culture.
Economy
Gibraltar's thriving economy is based on a diverse range of industries, including finance, tourism, and shipping.
It has a highly developed infrastructure and excellent transport links with Europe and the rest of the world.
Strategic Location
Gibraltar, with its strategic location at the entrance of the Mediterranean, has a long history of military importance.
Ancient Greeks called the two peaked rocks in the eastern Mediterranean the Pillars of Hercules.
The territory has been under British control since 1704 and has played a significant role in many of the major conflicts of the past three centuries.
Whether you're interested in history, nature, or just soaking up the Mediterranean sun, you're sure to find something to enjoy in Gibraltar.
The Rock of Gibraltar is a popular tourist attraction, offering stunning views of the surrounding sea and landscape.
The territory is dominated by a limestone rock, which rises 426 meters above sea level.
This rock is home to a population of Barbary macaques, the only wild monkeys found in Europe.
The northern pillar, the modern Rock of Gibraltar was known as Calpe, and the southern pillar, ancient Abila, is now called Jebel Musa; in Morocco's Spanish enclave of Ceuta.
The Phoenicians, early Mediterranean mariners, crowned the two rocks with silver columns to mark the limits of safe navigation.
After the Strait of Gibraltar comes the open sea of the Atlantic.
The Arabs called the Rock of Gibraltar Jabal Tariq, meaning Mount of Tariq, in honour of the Muslim general Tariq ibn-Ziyad who invaded Spain in 711.
Castillians captured Gibraltar in 1309, but the rock was soon regained by the Moors and held until 1462.
It was annexed to the Spanish Crown in 1502, and the rock was fortified after yet another north African invasion.
During the War of the Spanish Succession in 1704 combined English and Dutch forces captured Gibraltar, and the English commander took possession of the rock in the name of Queen Anne.
Gibraltar was blockaded by the French and Spanish during the European Wars in America, until the British destroyed the floating batteries of the besiegers on September 14, 1782.
In 1969 Spain closed its border with Gibraltar and travellers from mainland Spain had to take the boat from Algeciras to Tangiers and return on another one to Gibraltar.
The border with the Spanish mainland was fully reopened in February 1985.
Visitors to Gibraltar
Visitors to Gibraltar can explore its many historical sites and museums, enjoy its Mediterranean climate and cuisine, and take part in a wide range of outdoor activities, including hiking, rock climbing, and water sports.
If you are planning a visit to Gibraltar, there are a few things you might want to consider.
Currency
Gibraltar uses the Gibraltar pound, which is pegged to the British pound at a 1:1 exchange rate.
However, British pounds are also widely accepted, and many shops and restaurants also accept euros.
Getting There
Gibraltar has its own international airport, which is serviced by several airlines, including British Airways, EasyJet, and Ryanair.
You can also reach Gibraltar by car or bus from nearby Spanish cities such as Malaga and Seville.
Gibraltar by Car
If you arrive by car, park as soon as you can and walk to see the main town area, or take a taxi tour to see the rest.
The streets are narrow in Gibraltar and a complicated one way system is in operation.
Language
English is the official language of Gibraltar, but Spanish is also widely spoken. You should have no problem communicating in either language.
Passport and Visa Requirements
Gibraltar is a British Overseas Territory, so if you're a citizen of a country outside the EU or UK, you may need a visa to enter Gibraltar.
Make sure to check with the appropriate authorities before you travel.
Things to Do in Gibraltar
There's plenty to do in Gibraltar, whether you're interested in history, nature, or shopping.
Some of the top attractions include the Rock of Gibraltar, St. Michael's Cave, the Gibraltar Nature Reserve, and the Great Siege Tunnels.
You can also take a cable car to the top of the Rock for stunning views of the surrounding area.
The official language of Gibraltar is English, although Spanish is widely spoken.
Most of the civilian population are of Portuguese, Italian, Maltese, English, or Spanish descent.
We say civilian because Gibraltar is also a British navy base. The forces personnel swell the numbers and float their salaries into the bar economy.
The Gibraltar Chronicle has been published in Gibraltar since 1801. It became a daily in 1821 and is Gibraltar's oldest established daily newspaper and the world's second oldest English language newspaper to have been in print continuously.
An electronic version of Gibraltar's monthly magazine, The Gibraltar Magazine, contains features on Gibraltar, restaurant menus, local information and essential shopping guide.
Food and Drink
Gibraltar has a diverse range of restaurants and cafes, serving everything from traditional British fare to Mediterranean and Moroccan cuisine.
Make sure to try some of the local seafood, such as red mullet, squid, and tuna, which are caught in the waters surrounding Gibraltar.
Gibraltar Excursions
Where to Stay in Gibraltar
Gibraltar has a range of accommodation options, from budget hostels to luxury hotels. There are also plenty of Airbnb options available.
Port of Gibraltar
If you're looking for a place to stay in Gibraltar, it's a good idea to book in advance, especially during peak season.
The Caleta Hotel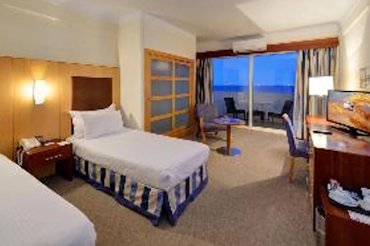 The Caleta Hotel: Sir Herbert Miles Road, Catalan Bay.
Located in a spectacular location, alongside the Mediterranean, this large Gibraltar hotel stands on the eastern side of the rock; beside the fishing village of Catalan Bay.
An attractive haven for British and European tourists for many years the Caleta Hotel is a popular choice for dining, amongst the locals seeking a Latin atmosphere in Nunos Italian restaurant.
The Rock Hotel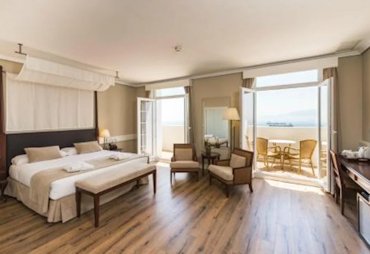 The Rock Hotel: 3 Europa Road, Gibraltar.
Built in 1932, by the Marquis of Bute, all rooms have a sea-view. Hotel amenities include a swimming pool with poolside menu. The main restaurant has panoramic views across Gibraltar Bay and the Spanish mainland. Also on site is the Lounge Bar, which opens out on to the Wisteria Terrace.
The Colonial-style Rock Hotel is located approximately two miles from Gibraltar Airport with views over the straits of Gibraltar to the Rif Mountains in Morocco.
Staying in La Linea de la Concepcion
If you prefer to base yourself in Spain and just visit Gibraltar for a day or two, you might want to consider staying in La Linea de la Conception.
Ohtels Campo de Gibraltar: Avenida Príncipe de Asturias.
This hotel is extremely well located for those who wish to spend a day in Gibraltar, for duty free shopping, or as a stop-off point to explore the rest of Cadiz and Andalucia.
Located in La Línea de la Concepción, Ohtels Campo de Gibraltar is a modern hotel with an outdoor swimming pool, restaurant and terrace.
Jobs in Gibraltar
Established in 2004, Recruit Gibraltar is an established recruitment agency in Gibraltar offering a quality recruitment service, free of charge, for people thinking about working in Gibraltar.
Gibraltar Travel Guides - Southern Spain.
Weather in Europe:
Local weather forecasts for destinations around Europe.
Travel Notes Online Guide to Travel
Africa - Asia - Caribbean - Europe - Middle East - North America - Oceania - South America.

The Travel Notes Online Guide to Travel helps visitors plan their trip with country and city travel guides, local tourist information, reviewed web sites, and regular travel articles.
Travel and Tourism Guides on Travel Notes
If Travel Notes has helped you, please take a moment to like us on Facebook and share with your friends on social media.


Travel & Tourism With Industry Professionals.

Greece.