Western Sahara by Daniel Born on Unsplash.
Travel Notes: Africa - Western Sahara Travel Notes.
Short URL: https://tnot.es/EH
Western Sahara on Travel Notes

Spanish Sahara, was partitioned between Mauritania and Morocco in 1976, and since 1979 has been occupied by Morocco.
Western Sahara Travel and Tourist Information with links to official travel and tourism websites and state resources for visitors to Western Sahara.
Map of Western Sahara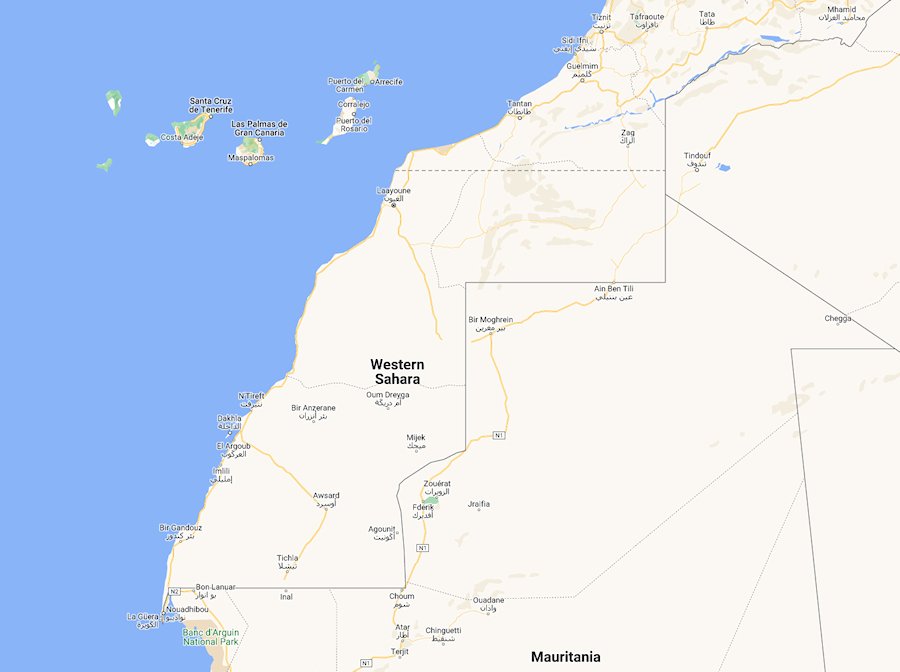 Countries neighbouring Western Sahara: Mauritania, Algeria and Morocco.
Western Sahara - Morocco Maps.
Weather in Africa:
Local weather forecasts for destinations around Africa.
Portuguese navigators visited the area near modern al-Aaiun, in 1434, but didn't establish lasting settlements.
The region was held by Spain in the early 16th century until Morocco took control and tried to rule over this part of the Sahara for more than three hundred years.
Spain came back into the picture in 1884, and established a protectorate over the coast from Cape Bojador to Cape Blanc.
Saharawi nationalists sought independence in the early 1970s, but Algeria, Mauritania, and Morocco, all laid claims to the area.
When King Hassan II of Morocco launched a massive non-violent invasion of Spanish Sahara in late 1975, Spain agreed to relinquish the area to Mauritania and Morocco.
Spain withdrew in February 1976, leaving two-thirds of the former Spanish Sahara occupied by Morocco and the rest by Mauritania.
Polisario guerrillas based in Algeria staged raids against Mauritanian and Moroccan outposts in Western Sahara between 1976 and 1978.
Mauritania surrendered its portion in 1979, only for Morocco to annex it all.
By February 1982, the Saharawi Arab Democratic Republic (SADR) was recognised by more than 70 nations and admitted to the Organisation of African Unity (OAU). Morocco suspended its OAU membership in 1985.
The region (including much of Morocco and Mauritania) was 'controlled' by various nomadic tribes - modern notions of sovereign 'rule' came with European colonizers.
The population of Western Sahara are mostly of Berber or Arab descent.
Most recently settlers from northern Morocco have been encouraged to migrate to Western Sahara through incentives offered to them by the Moroccan government.
The main towns of Western Sahara are al-Aaiun, or Laayoune - formerly the capital of Spanish Sahara - and Ad-Dakhla; formerly Villa Cisneros.
Travel Notes Online Guide to Travel
Africa - Asia - Caribbean - Europe - Middle East - North America - Oceania - South America.

The Travel Notes Online Guide to Travel helps visitors plan their trip with country and city travel guides, local tourist information, reviewed web sites, and regular travel articles.


Zaire (Democratic Republic of Congo).

Add a Business Listing - Add a Destination - Add a Place to Stay - Add URL.



Affiliates - Africa Tourism - Africa Travel Websites.
Travel and Tourism with Industry Professionals
If Travel Notes has helped you, please take a moment to like us on Facebook and share with your friends on social media.


Increase Bookings & Reach More Customers.