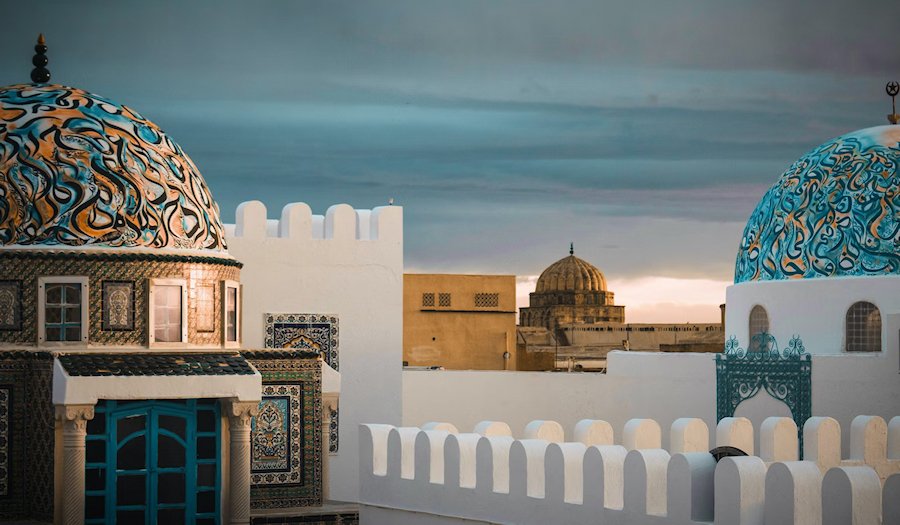 Kairouan, Tunisia by Haythem Gataa on Unsplash.
Travel Notes: Africa - Tunisia Travel Notes.

Short URL: https://tnot.es/TN
Tunisia Travel and Tourism on Travel Notes

Find Tunisia Travel and Tourist Information with links to official travel and tourism websites and state resources for visitors to Tunisia.
About Tunisia
Tunisia is known for its diverse landscapes, ancient history, and vibrant culture. Despite some safety concerns, it remains a popular destination for tourism.
Map of Tunisia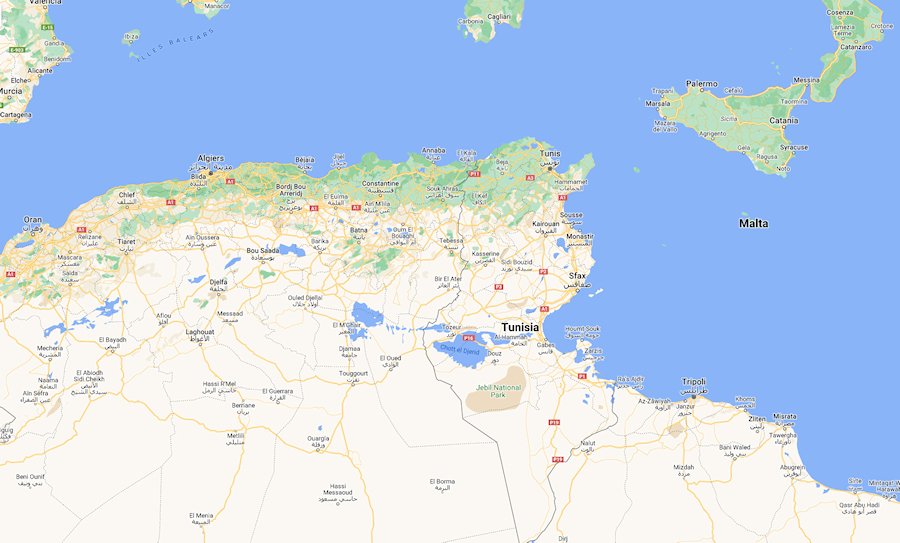 Tunisia is often thought of as the sun and sand capital of North Africa, and with over 1,200 kilometres of Mediterranean coastline that notion is not far wrong.
Countries neighbouring Tunisia: Algeria and Libya.
Tunisia's Mediterranean coast is indented by many harbours and inlets, notably the gulfs of Tunis, Hammamet, and Gabes.
The Carthaginian Empire once dominated most of northern Africa and at times the southern part of the Iberian Peninsula, Corsica, Sardinia, and parts of Sicily.
The expanding Roman Empire finally defeated the Carthaginians and sacked their capital during the last of the three Punic Wars (149-146 BC).
Most of what is now Tunisia then became part of the Roman Empire, until the Vandals came over from the Iberian Peninsula some three hundred years later.
Arabs took control of the area in the 7th century, and replaced the Roman-Christian culture with Islam.
It was during this period that the area became known as Tunisia.
Discover Tunisia
Tunisia is a captivating destination unlike any other. One that will surprise and delight you in so many memorable ways.
And with a variety of hotels from all inclusive resorts to luxury and boutique hotels, it's also one of the best value destinations on the Mediterranean with something for everyone.
Today a wealthy suburb of Tunis, Carthage is an important archaeological discovery also attracting many tourists.
The digs have revealed early Phoenician artefacts and buildings from Roman and Byzantine times with well preserved floor mosaics from the 3rd and 4th centuries AD.
The city was probably established as a Phoenician trading post towards the end of the 9th century BC.
The earliest artefacts unearthed by archaeologists at the site date from 800 BC.
The National Museum of Carthage is located on the Byrsa Hill.
The capital of Tunisia is divided into two parts: the old, walled, Muslim quarter; and the newer, European district.
The modern city of Tunis was built while Tunisia was under French rule (1881-1956), hence known as the European District.
Streets in the old town are narrow and winding, with interesting bazaars and admirable mosques.
Bardo Museum
The old Palace of the Bey houses a museum of arts, antiquities and interesting mosaics.
The official language of Tunisia is Arabic, although French and English are also spoken among the educated and in tourist areas.
Tunisians are essentially of Berber stock, who have come to regard themselves as Arabs; the Berber language is spoken by less than 2 per cent of the population.
Southern Tunisia contains the Sahara Desert.
About 40 per cent of the country's land area is sand, and camel caravans are still used as a means of transportation where water is scarce.
Adventures of Tunisia
Tunisia is one of Africa's most exciting and accessible destinations.
Jerba Island - Kerkennah Islands.
Tunisia Travel Guides - Tunisia Maps.
Weather in Africa:
Local weather forecasts for destinations around Africa.
Travel Notes Online Guide to Travel
Africa - Asia - Caribbean - Europe - Middle East - North America - Oceania - South America.

The Travel Notes Online Guide to Travel helps visitors plan their trip with country and city travel guides, local tourist information, reviewed web sites, and regular travel articles.
Travel and Tourism Guides on Travel Notes
If Travel Notes has helped you, please take a moment to like us on Facebook and share with your friends on social media.


Travel & Tourism With Industry Professionals.

Uganda.