Saaba, Burkina Faso by Yoda Adaman on Unsplash.
Travel Notes: Africa - Burkina Faso Travel Notes.

Short URL: https://tnot.es/BF
Burkina Faso Travel and Tourism on Travel Notes

Find Burkina Faso Travel and Tourist Information with links to official travel and tourism websites and state resources for visitors to Burkina Faso.
About Burkina Faso
Burkina Faso is a land-locked country in West Africa, formerly known as Upper Volta.
Upper Volta gained full independence from the French in 1960, and the name was changed to Burkina Faso in 1984.
Map of Burkina Faso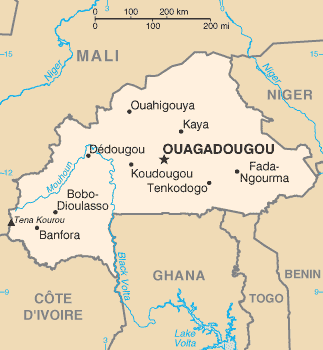 Countries neighbouring Burkina Faso:
Cote d'Ivoire, Mali, Niger, Benin, Togo and Ghana.
Burkina Faso Travel Guides - Burkina Maps.
Weather in Africa:
Local weather forecasts for destinations around Africa.
Burkina Faso was once a Mossi Kingdom, built up by those migrating from the north of present day Ghana.
By the 19th century, the Mossi states were considerably weakened and the French set up a protectorate over the kingdom of Ouagadougou in 1896.
French is still the official language of Burkina Faso.
Ouagadougou
Ouagadougou, the capital of Burkina Faso, was the centre of a powerful Mossi state around 1400, and you can visit the palace of a Mossi chief.
Bobo-Dioulasso
Bobo-Dioulasso, in the west of Burkina Faso, is smaller and much more interesting for travellers who like to get to know the people.
Bobo-Dioulasso is the site of some ancient tombs and there are also a few mosques.
Burkina Faso by Air
The international airport (OUA) is 8km from Ouagadougou.
The domestic airport in Borgo, is about 16km from Bobo Dioulasso.
Air Burkina (VH) is the country's national airline. The country also holds minority shares in the regional Air Afrique airline.
Other airlines flying to Burkina Faso include Aeroflot, Air Algerie, Air France, Air Ivoire, Ethiopian Airlines and Sabena.
Air Volta operates flights to Bouake (Cote d'Ivoire), Tambao and Bamako (Mali).
Burkina Faso by Road
You'll have no problem with buses to the major towns in Burkina Faso, during the dry season, although things start to get sticky when the rains arrive.
Shared taxis also run on set routes when full.
Burkina Faso by Rail
The only train line is between Ouagadougou and Bobo Dioulasso. Trains run daily although you may have people sitting in your lap.
Where to Stay in Ouagadougou
Lancaster Ouaga 2000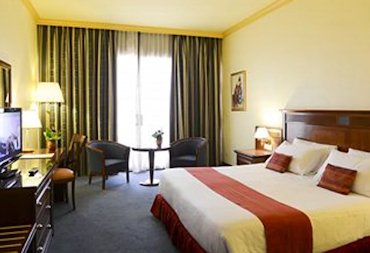 Lancaster Ouaga 2000: Avenue Pascal Zagre, Ouagadougou, Burkina Faso.
Located in the heart of the new administrative centre of Ouagadougou, the hotel's Tenakourou restaurant offers gusts a taste of gastronomic cuisine while the coffee shop and Bar Wamde are local meeting places.
Guests at the Lancaster Ouaga 2000 rated the clean rooms, stunning pool and tasty breakfast.
Sopatel Silmandé Hotel
Sopatel Silmandé Ouagadougou: Route de Kaya, Ouagadougou, Burkina Faso.
This luxury Ouagadougou resort hotel offers French cuisine and African specialities in the 'Samandin' restaurant while 'Le Beli' serves grilled food and fresh juices by the pool.
With a spectacular view of the nearby lake and surrounding park, guests at the Sopatel Silmandé Ouagadougou enjoyed the stunning pool, excellent service and great location.
Visit the countryside and markets of Burkina Faso and meet the Tuareg, Bells, Peuhl and Songhai people.
Burkina to Timbuktu Independent Adventure
Stroll around the central market in Ouagadougou, capital of Burkina Faso, before moving on to visit the Mossi, a strongly individualistic people who have resisted the wave of Islam that swept the Sahel.
Then travel on to Mali and Timbuktu.
Latest From Burkina Faso
Burkina Faso News:
Latest up to date news stories concerning Burkina Faso.
Travel Notes Online Guide to Travel
The Travel Notes Online Guide to Travel helps visitors plan their trip with country and city travel guides, local tourist information, reviewed web sites, and regular travel articles.

Join Michel on Meta-Travel.

Airlines and Airports.

Add a Business Listing - Add a Destination - Add a Place to Stay - Add URL.



Affiliates - Africa Tourism - Africa Travel Websites.
If you find Travel Notes useful, please take a moment to like us on Facebook and share with your friends on social media.