Adjamé Market, Aabidjan, Ivory Coast by Eva Blue on Unsplash.
Travel Notes: Africa - Côte d'Ivoire Travel Notes.
Short URL: https://tnot.es/CI
Ivory Coast Travel and Tourism on Travel Notes

Find Ivory Coast Travel and Tourist Information with links to official travel and tourism websites and state resources for visitors to Côte d'Ivoire.
About Côte d'Ivoire
Côte d'Ivoire, a former French colony, gained independence on August 7th, 1960.
Map of Côte d'Ivoire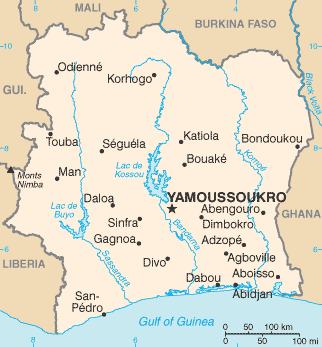 Countries neighbouring Côte d'Ivoire:
Liberia, Guinea, Mali, Burkina Faso and Ghana.
Ivory Coast Travel Guides - Ivory Coast Maps.
Weather in Africa:
Local weather forecasts for destinations around Africa.
Côte d'Ivoire by Road
As with much of West Africa, the shared taxi is a common way to get around Côte d'Ivoire.
Côte d'Ivoire by Rail
A railway links Abidjan with Bobo-Dioulasso and Ouagadougou, in Burkina Faso.
Although Abidjan is the largest city and one of the busiest ports in West Africa, it is not the capital of Côte d'Ivoire.
That honour was bestowed on the birthplace of Felix Houphouet-Boigny, the long serving president of Côte d'Ivoire (1960-93); by the president himself, in 1983.
If Yamoussoukro were not Felix Houphouet-Boigny's birthplace and chosen capital, it would still be in the middle of nowhere.
Grand plans were made for the small town in the savannah, with road grids laid and street lights erected.
Our Lady of Peace
Another one of the former president's personal follies was to build this massive church; in the style of the Vatican's St Peter's Basilica.
Separate quarters were built for the pope, who refused to visit unless money was spent on a hospital for the sick as well.
As well as being the transport hub of West Africa, Abidjan is where most of the diplomatic work is done.
Arriving in Abidjan
Felix Houphouet Boigny (ABJ) connects Abidjan with over 35 destinations.
Embassies in Abidjan
Ambassade de France en Côte d'Ivoire:
Rue Lecoeur - 17 BP 175 Abidjan 17.
Canadian Embassy in Abidjan:
Trade Centre Building, 6th and 7th floors,
23 Nogues Avenue, Plateau, Abidjan.
Embassy of The United States of America in Abidjan:
Rue Jesse Owens, 01 B.P. 1712 Abidjan 01, Côte d'Ivoire.
Where to Stay in Côte d'Ivoire
Travel Notes Online Guide to Travel
The Travel Notes Online Guide to Travel helps visitors plan their trip with country and city travel guides, local tourist information, reviewed web sites, and regular travel articles.

Join Michel on Meta-Travel.

Airlines and Airports.

Add a Business Listing - Add a Destination - Add a Place to Stay - Add URL.



Affiliates - Africa Tourism - Africa Travel Websites.
If you find Travel Notes useful, please take a moment to like us on Facebook and share with your friends on social media.