Adjamé Market, Aabidjan, Ivory Coast by Eva Blue on Unsplash.
Travel Notes: Africa - Côte d'Ivoire Travel Notes - Updated 05 June, 2023.
Short URL: https://tnot.es/CI
Ivory Coast Travel and Tourism on Travel Notes

Find Ivory Coast Travel and Tourist Information with links to official travel and tourism websites and state resources for visitors to Côte d'Ivoire.
About Côte d'Ivoire
Côte d'Ivoire can be a great travel destination for those interested in West African culture, history, and wildlife.
Popular tourist destinations in Côte d'Ivoire include the beaches of Grand-Bassam and Assinie, the vibrant city of Abidjan, and the Comoe National Park.
With the right preparations and precautions, you can have a safe and enjoyable trip.
Map of Côte d'Ivoire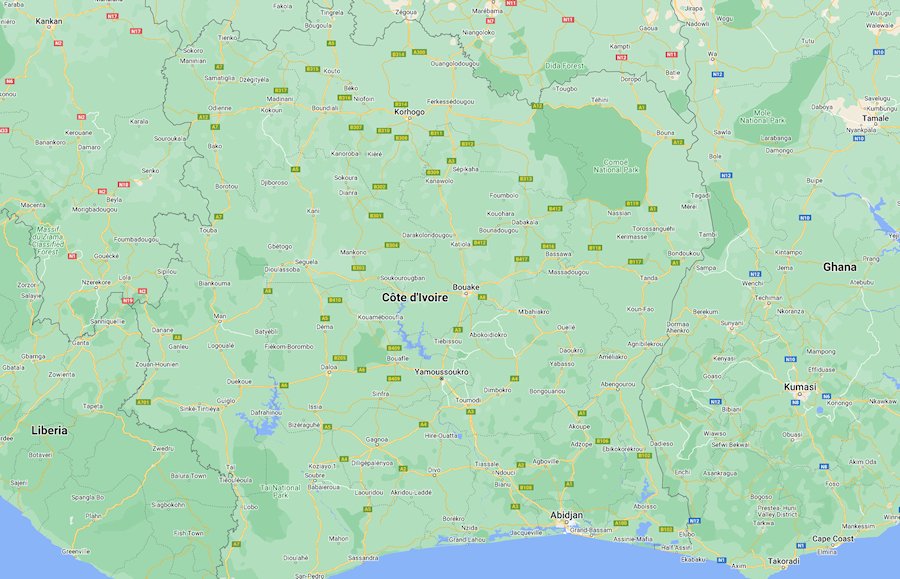 Countries neighbouring Côte d'Ivoire: Liberia, Guinea, Mali, Burkina Faso and Ghana.
Ivory Coast Travel Guides - Ivory Coast Maps.
Weather in Africa:
Local weather forecasts for destinations around Africa.
Côte d'Ivoire, also known as Ivory Coast, is a country located in West Africa.
Ivory Coast is bordered by Liberia to the southwest, Guinea to the north-west, Mali to the north and north-west, Burkina Faso to the north-east, and Ghana to the east. Its southern boundary is the Gulf of Guinea, which is part of the Atlantic Ocean
Its capital city is Yamoussoukro, while its largest city and economic capital is Abidjan.
Brief History
Côte d'Ivoire has a rich history, with evidence of human habitation dating back to the Paleolithic era.
It was a center of the transatlantic slave trade in the 18th century and later became a French colony in the late 19th century.
The former French colony gained independence on August 7th, 1960.
Economy
Côte d'Ivoire is a major producer of cocoa, coffee, and palm oil, and its economy is heavily dependent on agriculture.
It has also seen significant growth in the industrial and service sectors in recent years.
The country gained independence from France in 1960.
Language and People
Côte d'Ivoire has a population of over 26 million people, with a diverse ethnic and religious makeup.
French is the official language, although many indigenous languages are also spoken.
Political Progress
The country has experienced political turmoil and violence in the past, including a civil war that lasted from 2002 to 2011.
However, Côte d'Ivoire has since made progress towards stability and democracy, and is considered one of the fastest-growing economies in Africa.
Côte d'Ivoire is a beautiful country located in West Africa known for its vibrant culture, diverse landscapes, and delicious cuisine.
If you're planning a trip to Côte d'Ivoire one of the most popular destinations is Abidjan, the country's largest city and economic capital.
Comoé National Park
Another must-see destination in Côte d'Ivoire is the Comoé National Park. This park is home to a wide range of wildlife, including elephants, lions, and antelopes.
You can take a guided safari tour of the park to see these animals up close in their natural habitat.
Grand-Bassam
For a taste of Côte d'Ivoire's rich history and culture, you might also want to visit the city of Grand-Bassam.
This UNESCO World Heritage Site was the country's first capital under French colonial rule and features a number of historic buildings and museums.
Ivorian Cuisine
No trip to Côte d'Ivoire would be complete without sampling some of the country's delicious cuisine.
Ivorian cuisine is heavily influenced by French, African, and Arab culinary traditions, and features a range of dishes made with locally-sourced ingredients like seafood, plantains, and yams.
Côte d'Ivoire has a lot to offer visitors, from its vibrant cities to its stunning natural landscapes and rich cultural heritage.
Côte d'Ivoire by Road
As with much of West Africa, the shared taxi is a common way to get around Côte d'Ivoire.
Côte d'Ivoire by Rail
A railway links Abidjan with Bobo-Dioulasso and Ouagadougou, in Burkina Faso.
Abidjan is a bustling metropolis that offers a range of activities, from shopping and nightlife to cultural and historical attractions.
As well as being the transport hub of West Africa, Abidjan is where most of the diplomatic work is done.
Arriving in Abidjan
Felix Houphouet Boigny (ABJ) connects Abidjan with over 35 destinations.
Embassies in Abidjan
Ambassade de France en Côte d'Ivoire:
Rue Lecoeur - 17 BP 175 Abidjan 17.
Canadian Embassy in Abidjan:
Trade Centre Building, 6th and 7th floors,
23 Nogues Avenue, Plateau, Abidjan.
Embassy of The United States of America in Abidjan:
Rue Jesse Owens, 01 B.P. 1712 Abidjan 01, Côte d'Ivoire.
Where to Stay in Côte d'Ivoire
Although Abidjan is the largest city and one of the busiest ports in West Africa, it is not the capital of Côte d'Ivoire.
That honour was bestowed on the birthplace of Felix Houphouet-Boigny, the long serving president of Côte d'Ivoire (1960-93); by the president himself, in 1983.
If Yamoussoukro were not Felix Houphouet-Boigny's birthplace and chosen capital, it would still be in the middle of nowhere.
Grand plans were made for the small town in the savannah, with road grids laid and street lights erected.
Map of Yamoussoukro
Our Lady of Peace
Another one of the former president's personal follies was to build this massive church; in the style of the Vatican's St Peter's Basilica.
Separate quarters were built for the pope, who refused to visit unless money was spent on a hospital for the sick as well.
Travel Notes Online Guide to Travel
Africa - Asia - Caribbean - Europe - Middle East - North America - Oceania - South America.

The Travel Notes Online Guide to Travel helps visitors plan their trip with country and city travel guides, local tourist information, reviewed web sites, and regular travel articles.


Kenya.
Travel and Tourism Guides on Travel Notes
If Travel Notes has helped you, please take a moment to like us on Facebook and share with your friends on social media.


Increase Bookings & Reach More Customers.