Short URL: https://tnot.es/LR
Liberia Travel and Tourism on Travel Notes

Find Liberia Travel and Tourist Information with links to official travel and tourism websites and state resources for visitors to Liberia.
About Liberia
Liberia's coastline stretches from the Mano River in the north-west to the River Cavally in the south-east; almost 600 kilometres.
Countries neighbouring Liberia are: Sierra Leone, Guinea and Cote d'Ivoire.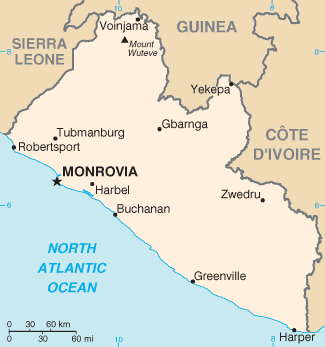 Liberia was born out of the American Colonisation Society, founded in 1816 to resettle freed American slaves in Africa.
Native rulers granted an area of land to US representatives for this purpose.
The site was Cape Mesurado, at the mouth of the St Paul River.
The new colony was christened Liberia (liberty) and the Cape Mesurado settlement, Monrovia; in honour of United States President, James Monroe.
Liberia became an independent republic in July 1847.
Weather in Africa:
Local weather forecasts for destinations around Africa.
Liberia's low registry costs make it a popular flag of convenience for merchant shipping.
The flag of Liberia can be seen on many tankers around the world.
The US dollar is also legal tender in Liberia, and is preferred by many.
Getting around Liberia can be difficult because much of the country's infrastructure was neglected during the battle years of the nineties.
Hotels in Liberia:
Find hotels in Liberia with special online rates.
The official language of Liberia is English, although it is only spoken by about 20 per cent of the people.
The rest of the Liberians speak various African languages.
Liberia News:
Latest Liberian news from the All Africa channel.
The Perspective:
Aims to confront the issues head on by concentrating on telling the truth, exposing the root causes, underlining contributing factors and identifying the class divisions which are the undercurrent of the various problems in Liberia.
World News Network - Liberia:
Collecting links to news stories relating to Liberia.

Add a Business Listing - Add a Destination Guide - Add a Place to Stay.



If you find Travel Notes useful, please take a moment to like us on Facebook and share with your friends on social media.
Africa Index - Africa Tourism - Africa Travel Websites.