Short URL: https://tnot.es/GN
Guinea Travel and Tourism on Travel Notes

Find Guinea Travel and Tourist Information with links to official travel and tourism websites and state resources for visitors to Guinea.
About Guinea
The Republic of Guinea, a former French colony, gained independence on October 2nd, 1958.
Countries neighbouring Guinea are: Guinea Bissau, Senegal, Mali, Cote d'Ivoire, Liberia and Sierra Leone.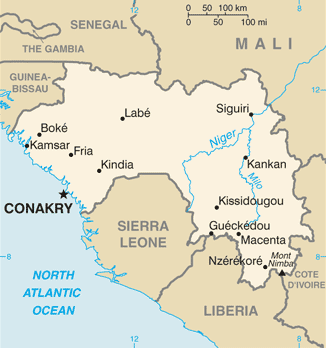 Coming from Ivory Coast, across the Nimba Range, you will pass through some of the most traditional of African villages constructed in small groups of round houses.
Weather in Africa:
Local weather forecasts for destinations around Africa.
The Mandingos, under Samory Toure, managed to control much of the interior in the 1880s and, thanks to modern weapons, were able to hold off the French; until 1898.
The Fulani people live mainly in the Futa Jallon, while the Malinke- speaking Mandingo group are more concentrated in Upper Guinea.
The coast tends to be the domain of the Susa people.
Guinea by Road
The journey from Ivory Coast is one of the most interesting in West Africa.
Guinea by Rail
The major rail route is between Conakry and Kankan in the east.
Guinea by Boat
From Conakry, an interesting way to visit Sierra Leone is by boat, to Freetown.
The people of Guinea are predominantly Muslim.
The Torobde clan of the Fulani helped spread the faith of Islam throughout Guinea, from the highland areas of the Futa Jallon during the early 18th century, after the Mandigo rulers in the north and east were coveted by the empires of Mali and Songhai.
Only those living in the Mossi states continued with their animistic beliefs.
Conakry, the capital of the Republic of Guinea, is built on Tombo Island and the nearby Kaloum Peninsula.
When in Conakry, visit the National Museum to learn more about the peoples of Guinea.
Hotels in Guinea:
Find hotels in Guinea with special online rates.
Hotels in Conakry
Hotel Ghi Conakry:
The Grand Hotel de L'Independance is about 20 minutes by foot from the centre of Conakry.

Add a Business Listing - Add a Destination Guide - Add a Place to Stay.



If you find Travel Notes useful, please take a moment to like us on Facebook and share with your friends on social media.
Africa Index - Africa Tourism - Africa Travel Websites.