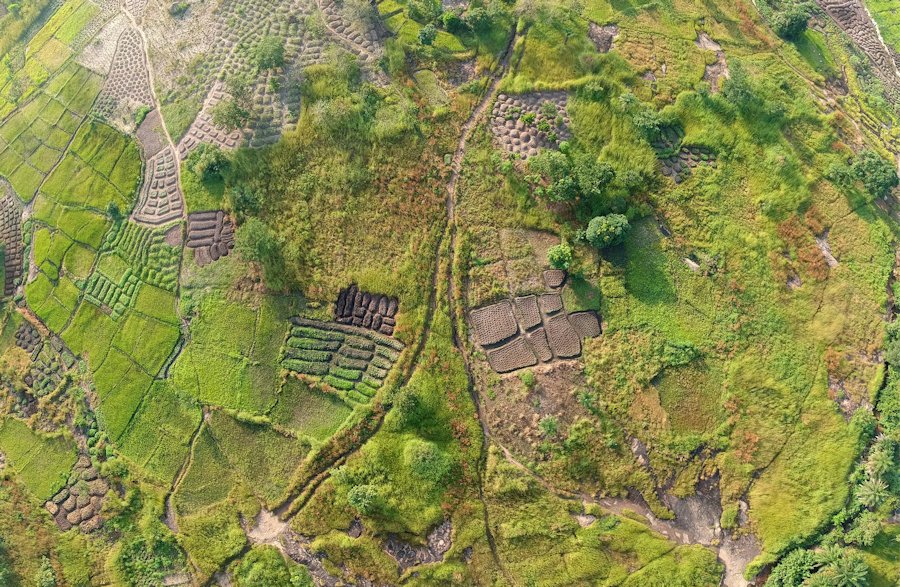 Kindia, Guinea by Tim Oun on Unsplash.
Travel Notes: Africa - Guinea Travel Notes - Updated 14 August, 2023.
Short URL: https://tnot.es/GN
Guinea Travel and Tourism on Travel Notes

Find Guinea Travel and Tourist Information with links to official travel and tourism websites and state resources for visitors to Guinea.
About Guinea
A remote location and limited tourism infrastructure makes travel to Guinea rare. Those who do make the journey find it an unique and immersive experience.
Countries neighbouring Guinea: Guinea Bissau, Senegal, Mali, Cote d'Ivoire, Liberia and Sierra Leone.
Map of Guinea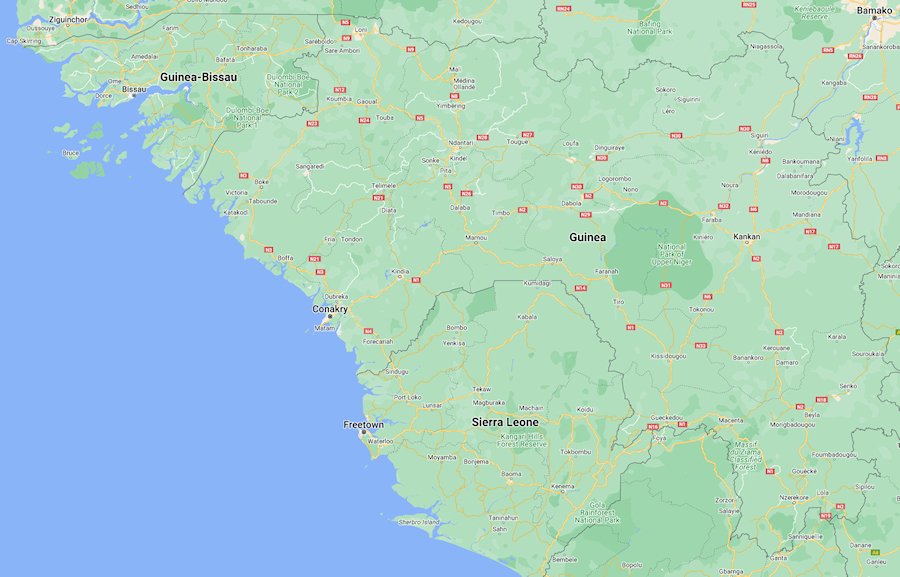 The Republic of Guinea shares borders with Guinea Bissau to the north-west, Senegal and Mali to the north, Cote d'Ivoire to the east, Liberia to the south, and Sierra Leone to the south-west.
The capital city of Guinea is Conakry.
Located on the west coast of Africa, the Republic of Guinea, a former French colony, gained independence on October 2nd, 1958.
Cultural Heritage
Guinea has a rich cultural heritage, with a variety of traditional music and dance styles./p>
The djembe drum, which is a popular instrument used in many West African music traditions, has its roots in Guinea.
The country is also known for its colourful textiles, pottery, and basketry.
Eonomy
Guinea has a diverse economy that is based primarily on agriculture and mining.
The country is rich in natural resources, including bauxite, iron ore, gold, and diamonds.
Guinea is the world's largest producer of bauxite, which is used to make aluminum.
Other important industries include fisheries and forestry.
Language
The official language of Guinea is French, although many people also speak local languages, such as Soussou, Malinke, and Pular.
Poverty
Despite its natural resources, Guinea remains one of the poorest countries in the world, with high rates of poverty and unemployment.
The country has also struggled with political instability and human rights abuses.
Religion
The majority of Guineans practice Islam, although there are also significant Christian and animist communities.
Traditional beliefs and practices also continue to play a role in many areas of life.
The Mandingos, under Samory Toure, managed to control much of the interior in the 1880s and, thanks to modern weapons, were able to hold off the French; until 1898.
The Fulani people live mainly in the Futa Jallon, while the Malinke- speaking Mandingo group are more concentrated in Upper Guinea.
The coast tends to be the domain of the Susa people.
Most African of West Africa
Coming from Ivory Coast, across the Nimba Range, one passes through some very traditional African villages; constructed in small groups of round houses.
If you are planning a trip to Guinea, there are a few things you should know.
First, it's important to check the current travel advisories from your government, as Guinea has experienced political instability and occasional violence in recent years.
Assuming it's safe to travel, there are several attractions to consider visiting in Guinea.
Conakry
Guinea's capital city, is a bustling metropolis with a lively market and several museums, including the National Museum of Guinea and the Guinea Palais du Peuple.
The city also has several beaches along the coast, although they can be crowded and polluted.
Outside of Conakry
There are several national parks and wildlife reserves that are worth a visit.
These include the Mount Nimba Strict Nature Reserve, which is an UNESCO World Heritage site, and the Badiar National Park, which is home to a variety of wildlife, including elephants, lions, and chimpanzees.
Traditional Food
When it comes to food, Guinea has a variety of traditional dishes, including rice and peanut sauce, grilled fish, and maafe (a stew made with meat and vegetables in a peanut sauce).
The country also produces several local beers, such as Guinea Gold and Flag Speciale.
Traditional Music
Guinea is also known for its traditional music and dance, and there are several festivals and performances throughout the year, such as the Festival des Arts et Cultures de Guinée in Conakry and the Fête de la Musique in June.
Conakry, the capital of the Republic of Guinea, is built on Tombo Island and the nearby Kaloum Peninsula.
Map of Conakry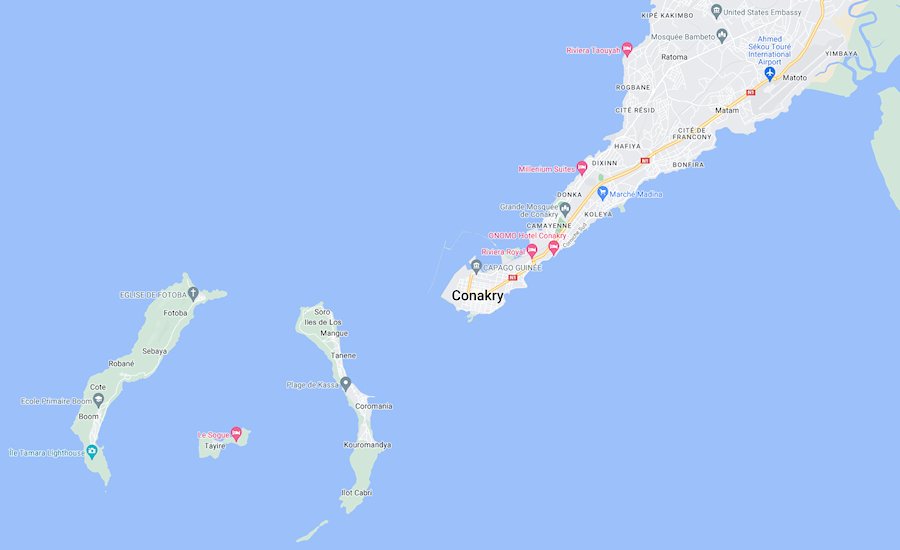 When in Conakry, visit the National Museum to learn more about the peoples of Guinea.
Where to Stay in Conakry
Hotel Ghi Conakry
Grand Hotel de L'Independance: 2nd Ave, BP 287, Downtown Oceanfront, Conakry.
The hotel opened in 1954 as the Hotel de France and was renamed when Guinea gained independence, in 1958.
The Grand Hotel de L'Independance is about 20 minutes by foot from the centre of Conakry.
Travelling around Guinea can be a rewarding experience, but it's important to be aware of safety concerns and to do your research before you venture around the country.
Guinea by Road
The journey from Ivory Coast is one of the most interesting in West Africa.
Guinea by Rail
The major rail route is between Conakry and Kankan in the east.
Guinea by Boat
From Conakry, an interesting way to visit Sierra Leone is by boat, to Freetown.
The people of Guinea are predominantly Muslim.
The Torobde clan of the Fulani helped spread the faith of Islam throughout Guinea, from the highland areas of the Futa Jallon during the early 18th century, after the Mandigo rulers in the north and east were coveted by the empires of Mali and Songhai.
Only those living in the Mossi states continued with their animistic beliefs.
Travel in West Africa - West Africa Maps.
Weather in Africa:
Local weather forecasts for destinations around Africa.
Travel Notes Online Guide to Travel
Africa - Asia - Caribbean - Europe - Middle East - North America - Oceania - South America.

The Travel Notes Online Guide to Travel helps visitors plan their trip with country and city travel guides, local tourist information, reviewed web sites, and regular travel articles.

Guinea-Bissau.
Travel and Tourism Guides on Travel Notes
If Travel Notes has helped you, please take a moment to like us on Facebook and share with your friends on social media.


Travel & Tourism With Industry Professionals.