Short URL: https://tnot.es/GW
Guinea-Bissau Travel and Tourism on Travel Notes

Find Guinea Bissau Travel and Tourist Information with links to official travel and tourism websites and state resources for visitors to Guinea Bissau.
About Guinea-Bissau
Guinea-Bissau is sandwiched between Guinea and Senegal and encompasses some 60 offshore islands; including the Bijagos Islands.
Countries neighbouring Guinea-Bissau are: Senegal and Guinea.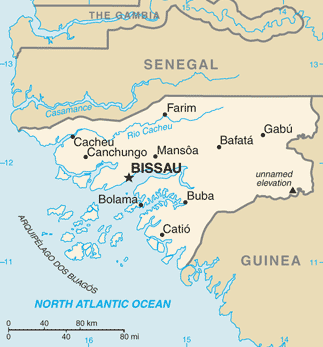 Guinea-Bissau is mainly low-lying and swampy with many large estuaries. The capital, Bissau, is located on one such estuary - near the mouth of the Geba River - in the middle of Guinea-Bissau's Atlantic coastline.
Nuno Tristao, a Portuguese slave trader, visited the area in 1446, but a Portuguese trading post wasn't established at Bissau until 1687.
The British briefly had a settlement at Bolama in the late 18th century.
Portugal had their land claims disputed by the French and British; and couldn't establish sufficient control over Guinea Bissau, until 1915.
Within 60 years Guinea Bissau became independent; helped in part by the overthrow of the dictatorship in Portugal, during the early 1970's.
Weather in Africa:
Local weather forecasts for destinations around Africa.
Airlines & Airports:
Guinea-Bissau is serviced by Air Bissau and TAP Air Portugal. Air Mauritanie and TACV also connect Bissau with Mauritania and Cape Verde.
Bissau's Osvaldo Vieira Airport (OXB) is 8km from Bissau. If you get to the airport too early, you might find it locked.
Adventurous travellers can travel overland from Guinea or Senegal.
Hotels in Guinea-Bissau:
Find hotels in Guinea-Bissau with special online rates.
A commonwealth of Portuguese-speaking countries was formed on July 17th, 1996, to preserve the Portuguese language, coordinate diplomatic efforts, and improve cooperation among its members: Angola, Brazil, Cape Verde, Guinea-Bissau, Mozambique, Portugal, and Sao Tome and Principe.
Portuguese for Travellers:
Teach yourself basic Portuguese before you travel to Guinea-Bissau.

Add a Business Listing - Add a Destination Guide - Add a Place to Stay.



If you find Travel Notes useful, please take a moment to like us on Facebook and share with your friends on social media.
Africa Index - Africa Tourism - Africa Travel Websites.