Short URL: https://tnot.es/ST
Sao Tome Travel and Tourism on Travel Notes

Find Sao Tome Travel and Tourist Information with links to official travel and tourism websites and state resources for visitors to Sao Tome e Principe.
About Sao Tome
The archipelago is made up of the islands of Sao Tome, Principe, and several small islets.
The island republic of Sao Tome and Principe lies about 200 km west of Gabon, in the Gulf of Guinea.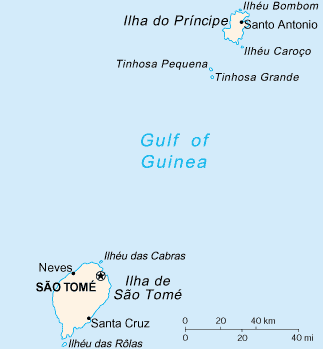 Sao Tome is the largest and southernmost of the major islands. The capital is also called Sao Tome, and is on the north-east coast of the island of Sao Tome.
The first Portuguese navigators to discover the islands, while searching for a route to India in the early 1470s, probably found no inhabitants.
The Portuguese shipped convicts and Jews here, and imported African slaves to work their sugar fields.
After cacao was introduced in 1822, Sao Tome and Principe went on to become a leading world producer.
Sao Tome and Principe gained independence on July 12th, 1975, after the coup in Portugal, and many plantation owners fled the islands.
Weather in Africa:
Local weather forecasts for destinations around Africa.
Airports and Airlines:
An International airport serves Sao Tome.
Hotels in Sao Tome and Principe



Pestana Equador Ilheu das Rolas:
Avenida Marginal 12 de Julho, Ilheu das Rolas, Sao Tome and Principe.
Located on Ilheu das Rolas, about 60km from the capital of Sao Tome and Principe, the Pestana Equador is ideal for romantic holidays or nautical sports. Access is only by boat, departing from Porto Alegre, on the island of Sao Tome.

Guests at the Pestana Equador Ilheu das Rolas enjoyed the great location, welcoming staff and outstanding views.
The official language of Sao Tome is Portuguese; although 90% of the population speaks Fang, a Bantu language.
A commonwealth of Portuguese-speaking countries was formed on July 17th, 1996, to preserve the Portuguese language, co-ordinate diplomatic efforts, and improve co-operation among its members: Angola, Brazil, Cape Verde, Guinea-Bissau, Mozambique, Portugal, and Sao Tome and Principe.
Portuguese for Travellers:
Teach yourself basic Portuguese before you visit Sao Tome and Principe.

Add a Business Listing - Add a Destination Guide - Add a Place to Stay.



If you find Travel Notes useful, please take a moment to like us on Facebook and share with your friends on social media.
Africa Index - Africa Tourism - Africa Travel Websites.