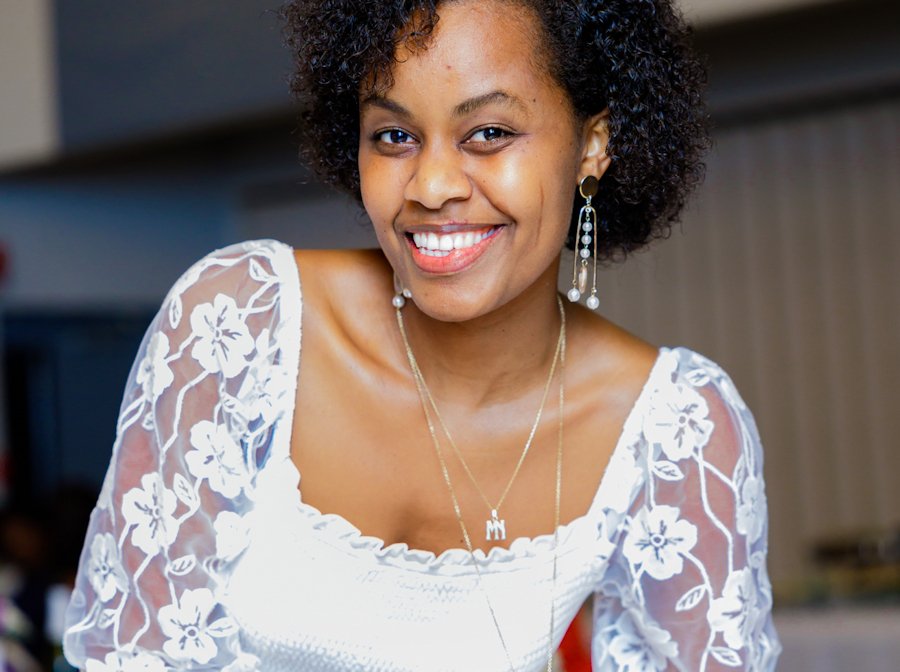 Burundian by Herve on Unsplash.
Travel Notes: Africa - Burundi Travel Notes.
Short URL: https://tnot.es/BI
Burundi Travel and Tourism on Travel Notes

Navigate the beauty of Burundi. From bustling cities to tranquil escapes, find the perfect balance for an unforgettable African adventure.
About Burundi
Burundi is an off-the-beaten-path destination in East Africa with an unpredictable security situation and possible health risks.
However, there are local tour guides and companies that do offer tours and excursions for those interested in exploring the country's natural beauty and cultural attractions.
Countries neighbouring Burundi: Rwanda, Tanzania and Democratic Republic of the Congo.
Map of Burundi
Burundi is bordered by Tanzania to the east and south, Rwanda to the north, and the Democratic Republic of the Congo to the west.
The capital of Burundi is Bujumbura.
Burundi is a small land-locked country in east central Africa, closely tied to Rwanda.
It has a population of approximately 12 million people and its capital is Bujumbura, which is located on the north-eastern shore of Lake Tanganyika.
Burundi Settlement
Burundi has a rich history that dates back to pre-colonial times when various kingdoms and chiefdoms existed in the region.
Burundi was settled by Hutu farmers, in the early 14th century, who imposed their language and customs on the Twa.
Migrating Tutsis established themselves as feudal rulers over the Hutu in the 15th century, as they did in neighbouring Rwanda.
Colonization
Germany occupied Burundi, then called Urundi, in the 1880s; along with Ruanda.
Belgium were given a mandate over the Territory of Ruanda-Urundi after World War I, but did little to inject political stability into the region.
Burundi became an independent constitutional monarchy on July 1st, 1962, but the reign of the Mwami lasted less than four more years.
Economy
The country's economy is primarily agricultural, with coffee and tea being the main cash crops. Other important industries include mining, manufacturing, and tourism.
Language
The official languages of Burundi are Kirundi and French.
Post Independence
Burundi has experienced political instability and conflict throughout much of its post-independence history.
The country has been plagued by ethnic tensions between the Hutu and Tutsi populations, which have led to several rounds of violence and political crises.
In 1993, a civil war broke out, which lasted until 2005 and claimed the lives of an estimated 300,000 people.
In recent years, Burundi has made some progress towards peace and stability, with a new constitution adopted in 2018 and peaceful elections held in 2020.
However, the country still faces significant challenges, including poverty, corruption, and the ongoing threat of violence and insecurity.
Burundi is known for its beautiful scenery, including mountains, lakes, and waterfalls.
Popular Tourist Destinations in Burundi
Gitega National Museum
Gitega National Museum showcases the history and culture of Burundi, with exhibits on traditional music, dance, and art.
Kibira National Park
Kibira National Park is located in the north-west of Burundi and is home to a wide range of wildlife, including primates, elephants, and antelopes.
It's also a great place for bird watching.
Lake Tanganyika
This is the second deepest lake in the world and is shared by four countries, including Burundi.
Visitors can enjoy activities such as swimming, fishing, and boat rides on the lake.
Rusizi National Park
Located near the border with the Democratic Republic of Congo, Rusizi National Park is home to hippos, crocodiles, and a variety of bird species.
Saga Beach
Saga Beach, located on the shores of Lake Tanganyika, is a popular spot for swimming and sunbathing.
When traveling to Burundi, it's important to note that the country has had a history of political instability and sporadic violence.
It is recommended to check the latest travel advisories from your home country and to exercise caution while traveling.
It is also recommended to get necessary vaccinations before traveling to Burundi and to take measures to prevent malaria.
Although Burundi has no coastline as such, the south-west of the country, including the capital Bujumbura, does have access to Lake Tanganyika; the second deepest freshwater lake in the world.
Map of Bujumbura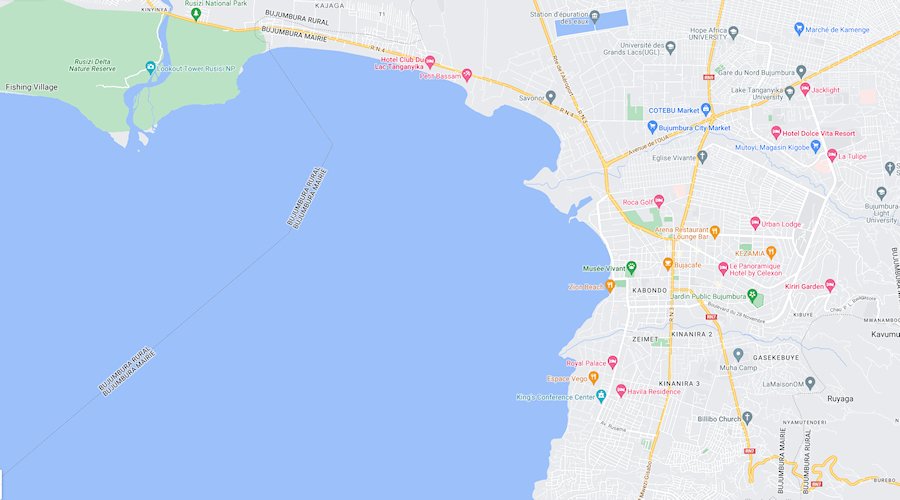 Where to Stay in Bujumbura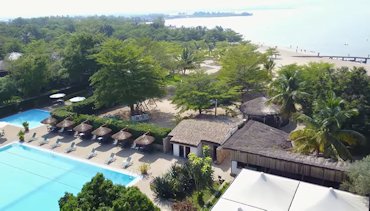 Hotel Club du Lac Tanganyika: Chaussee d'Uvira, Bujumbura, Burundi.
Set within a luxuriant park of five hectares, behind a wide beach, on the north side of Lake Tanganyika, the hotel was visited by Princess Caroline of Monaco in 2007.
Guests at the Hotel Club du Lac Tanganyika loved the beach, the stunning pool and the largest hotel establishment in Burundi's great location.
Gitega
Gitega, in the middle of Burundi, is the former royal residence.
Burundi Travel Guides - Burundi Maps.
Weather in Africa:
Local weather forecasts for destinations around Africa.
Travel Notes Online Guide to Travel
Africa - Asia - Caribbean - Europe - Middle East - North America - Oceania - South America.

The Travel Notes Online Guide to Travel helps visitors plan their trip with country and city travel guides, local tourist information, reviewed web sites, and regular travel articles.
Travel and Tourism Guides on Travel Notes
If Travel Notes has helped you, please take a moment to like us on Facebook and share with your friends on social media.


Travel & Tourism With Industry Professionals.

Cameroon.