Togo by Jordan Rowland on Unsplash.
Travel Notes: Africa - Togo Travel Notes.

Short URL: https://tnot.es/TG
Togo Travel and Tourism on Travel Notes

Find Togo Travel and Tourist Information with links to official travel and tourism websites and state resources for visitors to Togo.
About Togo
With beautiful beaches, vibrant markets, and stunning landscapes, Togo offers visitors an unique blend of traditional African culture and modern amenities.
During the 18th and 19th centuries, the area of Togo had the Ashanti Kingdom to the west (Ghana), and the Kingdom of Dahomey to the east (Benin).
Map of Togo
Countries neighbouring Togo: Ghana, Burkina Faso and Benin.
The German protectorate of Togoland was established in 1884.
During the first month of World War I (August 1914), French and British forces invaded the region and forced the Germans to surrender the territory.
In 1920 Lome and the entire coastline, comprising the eastern two-thirds of the pre-1914 German colony, were assigned to France as French Togo.
The smaller, western section was administered by Britain as part of the Gold Coast.
French Togoland achieved independence on April 27, 1960, as Togo.
The capital of Togo is situated on the Gulf of Guinea, near the border with Ghana.
Lome grew after 1897 as the capital of German Togoland.
A period of Anglo-French control (1914-1922) and to French control (1922-1960), before becoming the capital of independent Togo in 1960. Population (1985 estimate) 400,000.
Hotels in Togo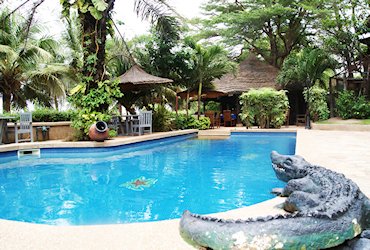 Napoleon Lagune: 01 Rue 20, Lome, Togo.
The hotel has cosy rooms and a year-round outdoor pool and views of the lake.
Guests who stayed at the Napoleon Lagune liked the stunning views, comfortable beds and level of service provided by staff.
Togo varies in width, from 40 to 130km, as it extends about 550km up from the Gulf of Guinea, between Benin and Ghana.
Togo by Road
The coastal road runs through Lome between Benin and Ghana, while another road goes north to Burkina Faso.
The official language of Togo is French, while Ewe and Kabre are the main African languages used.
Republique Togolaise:
News and articles about Togo; in French.
Togo Travel Guides - Togo Maps.
Weather in Africa:
Local weather forecasts for destinations around Africa.
Travel Notes Online Guide to Travel
Africa - Asia - Caribbean - Europe - Middle East - North America - Oceania - South America.

The Travel Notes Online Guide to Travel helps visitors plan their trip with country and city travel guides, local tourist information, reviewed web sites, and regular travel articles.
Travel and Tourism Guides on Travel Notes
If Travel Notes has helped you, please take a moment to like us on Facebook and share with your friends on social media.


Travel & Tourism With Industry Professionals.

Tunisia.