Nigeria Road Market by Edmond Ihoeghian on Unsplash.
Travel Notes: Africa - Nigeria Travel Notes - Updated 14 August, 2023.

Short URL: https://tnot.es/NG
Nigeria Travel and Tourism on Travel Notes

Find Nigeria Travel and Tourist Information with links to official travel and tourism websites and state resources for visitors to Nigeria.
About Nigeria
Nigeria is the most populous country in Africa, and takes its name from that of its major river, the Niger.
Known for its diverse cultures, delicious cuisine, beautiful landscapes, and bustling cities, visitors to Nigeria can enjoy a wide range of activities, including attending traditional festivals and weddings, exploring historical landmarks and museums, visiting vibrant markets, and enjoying the nightlife in Lagos.
Map of Nigeria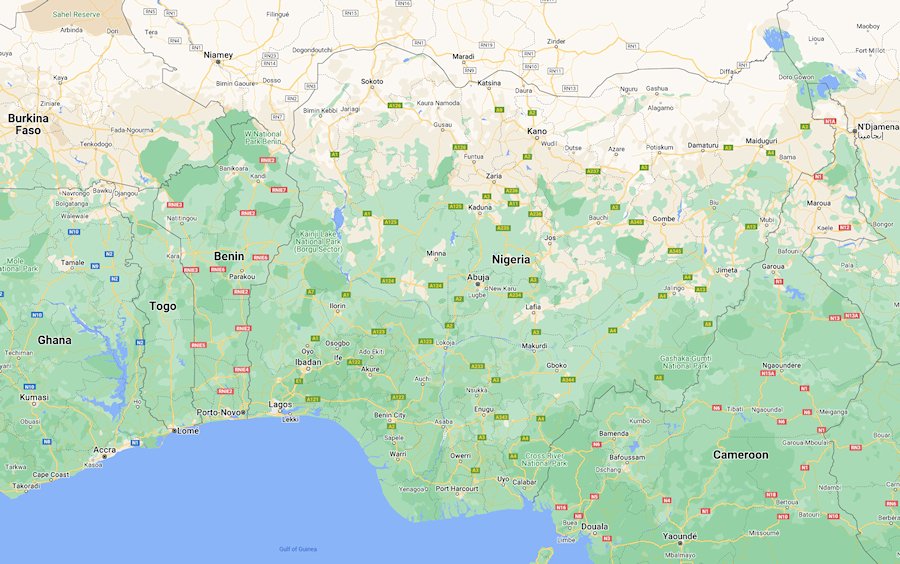 Countries neighbouring Nigeria: Benin, Niger, Chad and Cameroon.
Nigeria was once a number of ethnically based kingdoms and rival Yoruba states until the British brought them under its control, in the early 1900s.
The country became independent on October 1, 1960, but tension among its ethnic groups soon followed.
The Yoruba were mainly in the south-west, the Ibo in the south-east, and the Hausa and Fulani in the north.
When Nigeria came under military control, in 1966, the mainly Christian Ibo people tried to separate from Nigeria.
After suffering a massacre at the hands of the mainly Islamic Hausa and Fulani people, who dominated the government, the Ibo formed the Republic of Biafra (1967-1970).
This sparked off a civil war, and an estimated million people died in Biafra; from starvation, caused by food shortages.
Nigeria by Road
Nigeria's excellent network of roads include motorways linking Lagos to Ibadan and Benin City.
Nigeria by Rail
Like many European countries, railways in Nigeria have declined in importance because of competition from the expanding road system.
Nigeria by Air
Security at Lagos airport has not always been considered at its best in recent years.
International airports serve Lagos on the coast and Kano in the north, while smaller airfields provide services to other major cities. Nigeria Airways is the state-owned airline.
Bellview Airlines flies from Lagos to Abuja, Amsterdam, Banjul, Bombay, Freetown, Kano, Nairobi and Port Harcourt.
The Niger river enters Nigeria at the north-western border with Niger and Benin, and empties into the Atlantic Ocean in the south; forming the largest delta in Africa.
In this area you can find mangrove forests, lagoons, and swamps; and of course crocodiles and snakes.
In the Northeast, the rivers drain into Lake Chad.
Large African mammals have mostly disappeared from Nigeria, as a result of man's heavy presence in the country.
Abuja, in the centre of Nigeria, replaced Lagos - the largest city - as the national capital in December 1991; after 15 years of planning and construction.
Planners sought to create a national city in an ethnically neutral area, where none of Nigeria's social and religious groups would be dominant.
Lagos is built on several islands and parts of the mainland, on the Bight of Benin.
It is still considered the cultural and commercial capital of Nigeria, and at times it seems as though the whole country is in the streets.
The old city is on western Lagos island.
The main ethnic group of Lagos are the Yoruba people, and it was on this old Yoruba settlement that early Portuguese traders bestowed the name of one of their home ports.
Landing in Lagos:
Lagos might not be the ideal starting point for a trip to West Africa, but at least the Nigerians speak English, and to travel West from here gives you the beaches of Gambia to relax on at the end of it all.
Where to Stay in Lagos
The Wheatbaker Lagos
The Wheatbaker Lagos: 4 Onitilo Road (Lawrence Road), Ikoyi, Lagos.
The 5-star Wheatbaker Lagos is a stylish and modern luxury boutique hotel, ideal for the corporate traveller.
Guests at The Wheatbaker Lagos said the rooms were in good condition, comfortable and immaculate. They were also impressed with the level of service provided by staff.
Buzz Nigeria:
News and entertainment website designed with Nigerians in mind.
The official language of Nigeria is English.
Hausa is the most widely spoken of the African languages, mainly in the north; followed by Yoruba, Ibo, Kanuri, and Tiv.
Nigeria has a rich cultural tradition.
Terracotta sculptures and Benin bronze work from the region are famous throughout the world.
Traditional storytelling has also influenced the modern written work of Amos Tutuola, Wole Soyinka, Chinua Achebe, and Ben Okri.
This House Has Fallen:
To understand Africa, you have to understand Nigeria, and few Americans understand Nigeria better than Karl Maier; presenting you with a bracing, disturbing, evocative report on the state of Africa's most populous, potentially richest, and most dangerously dysfunctional nation.
Nigerian Museums
The Nigerian government has tried to stop the sale and shipment of major Nigerian works of art out of the country, and has requested the return of art taken out during the colonial era.
This gives the visitor to Nigeria a culturally rich choice of museums to visit in many towns outside of Lagos: Benin City, Ibadan, Ife, Ilorin, Jos, and Kaduna.
Nigeria Travel Guides - Nigeria Maps.
Weather in Africa:
Local weather forecasts for destinations around Africa.
Travel Notes Online Guide to Travel
Africa - Asia - Caribbean - Europe - Middle East - North America - Oceania - South America.

The Travel Notes Online Guide to Travel helps visitors plan their trip with country and city travel guides, local tourist information, reviewed web sites, and regular travel articles.

Reunion.
Travel and Tourism Guides on Travel Notes
If Travel Notes has helped you, please take a moment to like us on Facebook and share with your friends on social media.


Travel & Tourism With Industry Professionals.